Publié le par Bernard Duyck
The SERNAGEOMIN and Onemi relate twelve volcano tectonic earthquakes associated with fracturing of rocks, on January 14 between 4:20 p.m.and 5:20 p.m. local (7:20 p.m. and 8:20 p.m. GMT) with epicenter located 15 km ENE from the crater El Agrio of Copahue volcano . The strongest observed magnitude of 3.1.

The level of technical alert remains Amarillo; no change is perceptible in emissions.

Source: Reporte Especial actividad sismica REAV Vn. #Copahue Por evento sísmico 3.1ml 17: 20hrs 14-01-2016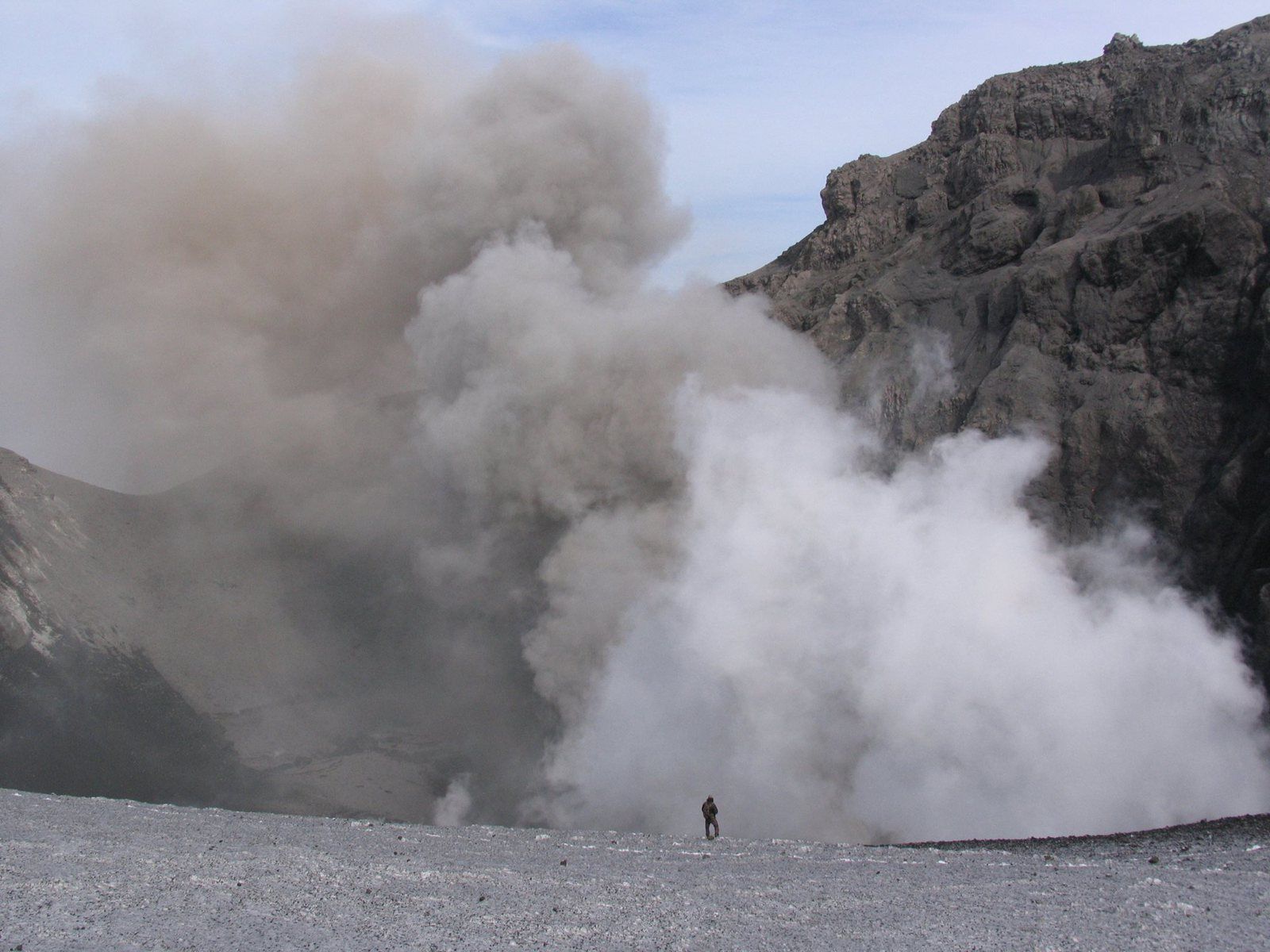 Copahue - the wide of the active crater is given by the man in the center - photo 10.14.2014 / LESVA - Laboratorio de Estudio de Volcanes Activos y Seguimiento
This January 15 at 12:53 loc., a moderate explosion occurred at Ubinas / Peru, accompanied by a plume of ash and gas that climbed to about 3,000 meters above the crater.

The ashes were scattered over more than 10 km to the south, with an impact on Querapi, Ubinas, Tonohaya, San Miguel, Anascapa, Huatagua and Sacohaya.

Source: INGEMMET - OVI
The Volcanofiles group reported on mid-January there are two lava lakes at Erebus, the active volcano the southernmost of the planet: respectively the Ray lake, a persistent lava lake and the Werner lake, a lava lake non-persistent.

This is not the first time that several lava lakes occupy the inner caldera of Erebus.

The Global Volcanism Program indicates the existence of three lava lakes during a site visit in 1987 by American and New Zealanders scientists ... an activity unchanged from the previous year. The active phonolite lake measurement then 30 m in diameter and level can fluctuate from 2 to 5 meters within an hour. Two other smaller lakes, less than 10 meters in diameter, are present, one described as transitional, the other only appears when the lava level is maximum in the main lake.
Morphology of the summit caldera of Erebus - left, in 1987 / GVP - Courtesy of Philip Kyle; right, Doc. Csatho and others (2008) according LIDAR images of 30.12.2001 - Doc. Global Volcanism Program - NB : orientation is different for the two documents - remember that the main lava lake is in North Est of the inner caldera.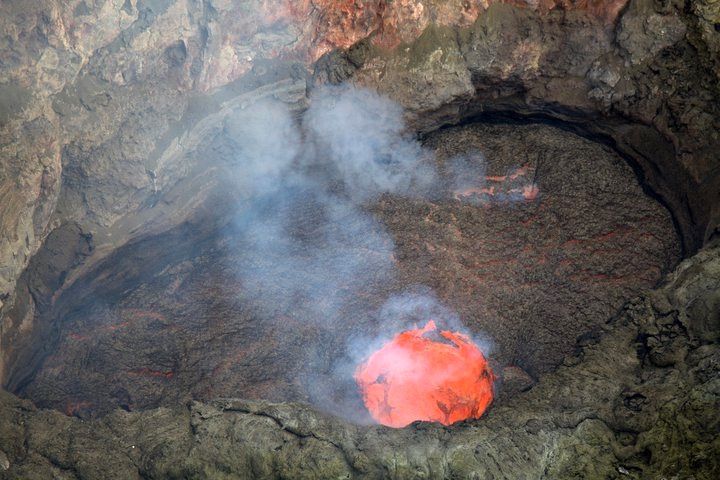 Erebus - Ray lava lake, partly encrusted - 25.12.2010 - photo Mount Erebus Volcano Observatory / MEVO
During observations to the top of the Erebus in 2010, scientists report the dimensions of the two lakes present in the inner caldera: Ray lake, discovered in 1972, measures approximately 750 m², and is positioned in the northeast section of the crater therein; Werner lake measures about 166 m². (Csatho & al).

Sources :
- Global Volcanism Program - Erebus
- Volcanofiles
- MEVO - Mount Erebus Volcano Observatory