Publié le par Bernard Duyck
The dome of the Santiaguito keeps a low outgassing white, interrupted in the morning of 28 February by an explosion that generated a plume of gray ash amount to 3,200 m asl before to move south. Ash falls are recorded on 8-12 km.

Source: INSIVUMEH / Guatemala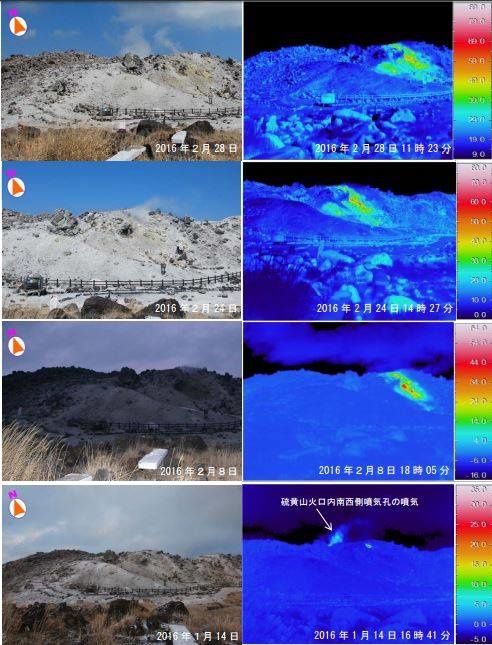 Surface temperature in the southwest of the crater of Kirishima Iozan between 01.14.2016 and 02.28.2016 - little change, but fumarolian activity confirmed - Doc. JMA
The JMA has raised the Kirishima at "Warning - a.k.a. near Crater warning" (Volcanic Warning System for volcanoes where volcanic alert levels are not applied)), following a larger number of earthquakes;
Between 2h and 17h local on February 28, 2016, 53 volcanic earthquakes, with a shallow epicenter, were recorded around the crater Iozan. Denying access to the fumariolan site was enacted by local authorities on February 19, due to high levels of H2S, and possible big cinders drops in a radius of 1 km. in case of eruption.
This same warning level was introduced in October 2014 before being abandoned in May 2015. Earthquakes resumed in July 2015 and then in February 2016.
Sources :
Japan times – Volcanic alert is issued as Kyushu's Mount Io rumbles - link
Japan Meteorological Agency / JMA - Kirishima (Ebino (Iozan Ioyama)) Near volcanic activity commentary article - link