Publié le par Bernard Duyck
This February 23 at 3:22 UTC, webcams of the INGV Catania recorded an explosion to the northeast crater of Etna, with ejection of incandescent material at tens of meters above the crater edge and producing a plume of ash dispersed to the NE by the strong winds. Small ash emissions followed, gradually decreasing, but continuing until late morning.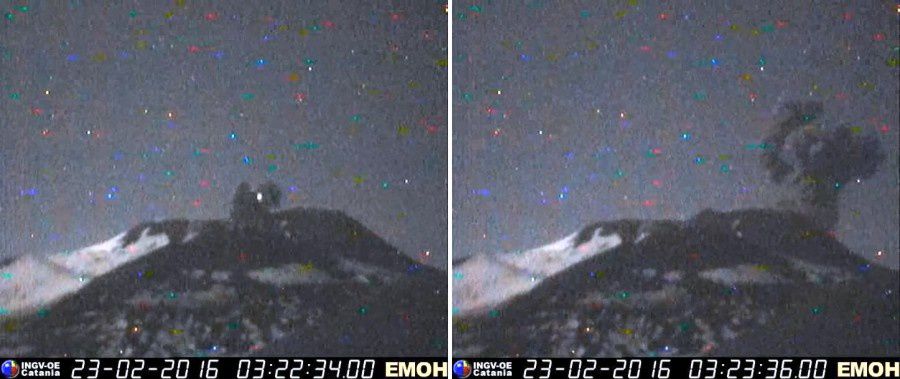 Etna - 02.23.2016 / 3:22 - 3:23- - note on the left image: lightning in the plume - webcam EMOH Monte Cagliato / INGV Catania
A visit to the summit craters by the teams of the Observatory on February 19 showed a significant outgassing from the open pipe of northeast crater, while other summit craters were characterized by a limited outgassing. The Voragine and Bocca Nuova were covered with snow, except in areas where the eruptive deposits from the end of 2015 emitted vapors.
Source : INGV Catania - Aggiornamento 23.02.2016 - link
In short, news of other active volcanoes:

In Dukono on Halmahera / Indonesia, ash emissions continue, with a rising ash plume 3,000 meters before extending 70 km to the SW on 02/23/2016 (VAAC Darwin)

In Sinabung, several pyroclastic flows were reported last February 23 at 12:37 ET 2:33 p.m..

In Colima, explosions accompanied by plumes ( to 2.000 m.) resumed quickly after the announcement of the installation of a new dome.

In Nicaragua, a loud explosion at Momotombo was accompanied by an ash plume rising about 2,000 meters and pyroclastic flow on 23 February.

A beautiful plume is reported to Masaya by the Red of Comunicadores
Momotombo - ash plume and pyroclastic flow of 23.2.2016 / 15h59-16h - Photo Ineter & Red sismologica - a click to enlarge.