Publié le par Bernard Duyck
In Momotombo, as microseismic activity recorded by seismographs remain high, INET and Red Sismologica of Nicaragua suggested possible future eruptions.

This Feb. 19, two major explosions rocked the volcano, at 1:08 and 9:43. On the Webcam of the first explosion, we see the spread on the flanks of the fallout.



Momotombo - explosion 02.19.2016 / 9:45 - webcam seismic station El Cardon / Ineter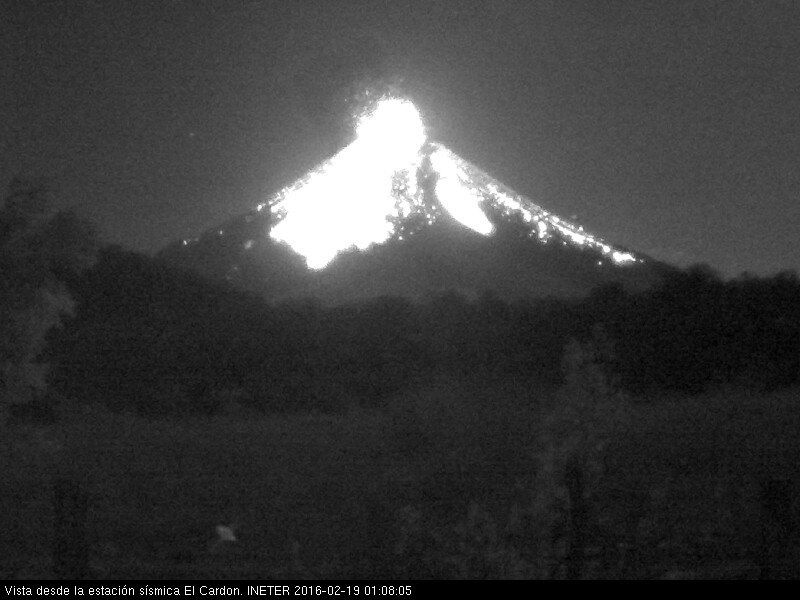 Momotombo - explosion 02.19.2016 / 1:08, seen by the webcam of the seismic station El Cardon / Ineter
Momotombo - the plume from the explosion seen by 9:45 Canal2Nicaragua
In Guatemala, in addition to Santiaguito pursuing his ash emissions and that Fuego has small explosions, the INSIVUMEH recommends to restrict the access to Pacaya.

Pacaya has an activity on the rise, characterized by small explosions, the expulsion of bluish gas (sulfide gas) and low-level white fumaroles.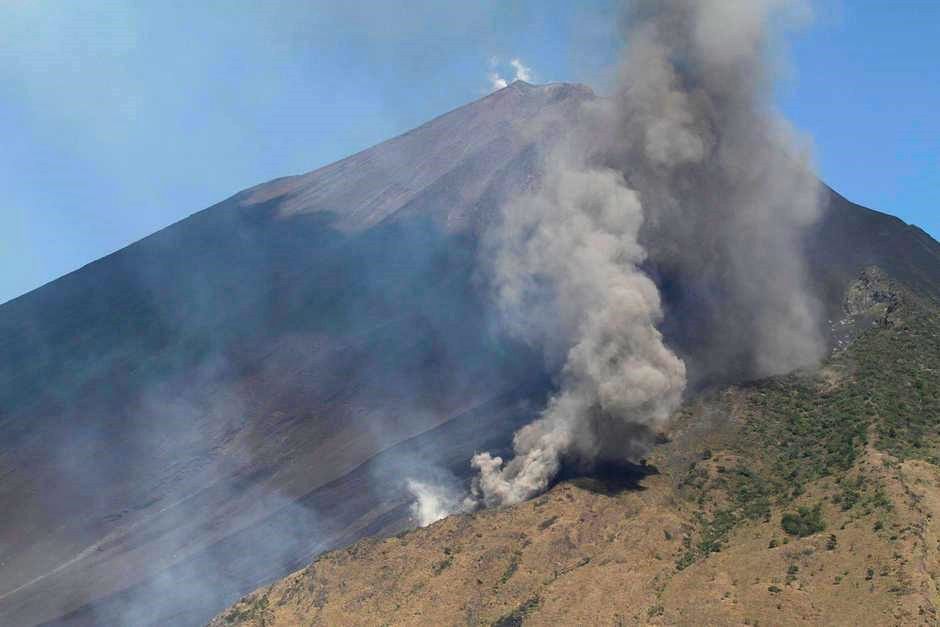 Pacaya - photo taken by the INSIVUMEH January 11, 2014 (used by Soy502) illustrating the current situation.
In Colima, who had accustomed us to explosive eruptions decorated with fine ash plumes, the situation appeared calmer ... what intrigued volcanologists from the University of Colima.

Nick Varley, a research professor chartered with a few students a private reconnaissance flight, which revealed the existence of a new dome, 25 meters in diameter and 10 meters high, in the crater of a diameter about 300 meters. The temperature measurement in the thermal camera gives values ​​of 700 ° C, corresponding to 850 ° C if the measure had been manual.
The new dome will take time to fill the crater during an effusive episode, before the new start of an explosive sequence.
Seismicity of Nevados de Chillan, Chile, remains high, with 924 episodes, which 63 VT related to fracturing rocks (the strongest of 3.2 M), 858 LP events related to fluid dynamics and 3 earthquakes tornillo type, associated with resonance in the ducts. The tremor was also well represented with 175 discrete episodes.

Webcams show the occurrence of occasional explosions in the vicinity of Nuevo and Arrau craters area..

An overflight conducted with Onemi (see video) identified a third crater, aligned on 150 meters with the other to the north - northeast, and a decreaseof the fumerolian activity in relation to a decrease in temperature since January, indicating a decrease in heat transfer from the hydrothermal system.

Source: SERNAGEOMIN - Reporte de Actividad Volcánica (RAV) / LED REGIÓN Biobio Año 2016 febrero - Volumen 03
On the island of Sumatra, the Sinabung introduced on 02.19.2016 at 8:03 p.m. a great explosion; she was accompanied by glowing gas, a black plume and some incandescent fall of rocks (without pyroclastic flow)
.