Publié le par Bernard Duyck
In Nicaragua, Momotombo activity does not fall !
Many explosions and expulsion of incandescent material took place last February 21 ... view by webcams at 3:53, 9:00 a.m., 12:53 and 3:45 p.m. local time.

Sources: Ineter & Red sismologica of Nicaragua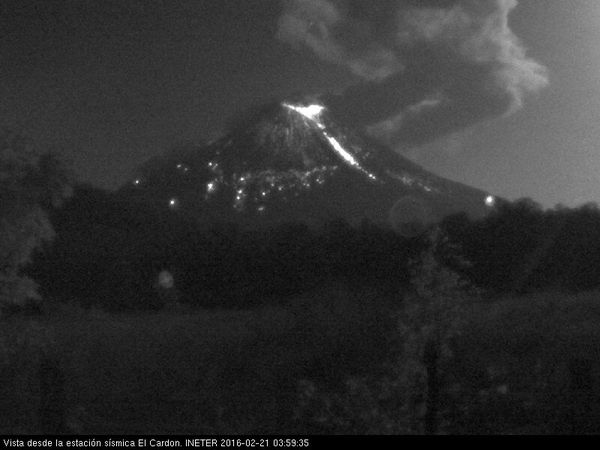 Momotombo - 02.21.2016 respectively to 3:53, 3:56 ET 3:59 local - webcam picture of the seismic station El Cardon / Ineter
Among the seismic swarms recorded in Maca region of Peru in connection with geological faults in the Colca Valley, some have been identified as related to the activity of the volcano Sabancaya, according to the OVS / PGI.
Thirty one representative events, with magnitudes between 2.5 and 5.4, occurred between 7:40 p.m. on February 19 and 6:51 on February 20. For now, located to 5-8 km south of Maca, they could influence the volcanic massif in case of rapprochement..

Sources: IGPeru / OVS

In northern Kuril Islands, a thermal anomaly was detected at Alaid volcano on 20 and 21 February. It is linked to the volcanic activity, since a low emission of ash was observed by satellite on February 20 at 10:29 p.m. UTC., with extension of the ash cloud over 50 km eastward.
The Alaid volcano could disrupt air traffic in the far north. The aviation alert code is Yellow.
Its last eruption was in 2012.

Source: KVERT