Publié le par Bernard Duyck
Erta Ale - turbulence in the lava lake south pit crater - Video Guy Saint-Cyr January 2016 / Adventure and volcanoes
The summit caldera of the shield basaltic volcano Erta Ale, located in the Danakil Depression in Ethiopia, is known to house one or two lava lakes for decades.

Latest related photos by Guy de Saint-Cyr has given me want to trace changes of the lava lake, virtually permanent, sheltered in the south pit crater.

Erta Ale - turbulence in the lava lake south pit crater - Video Guy Saint-Cyr January 2016 / Adventure and volcanoes
One of the first expeditions to Erta Ale dates from the mid 19th century, led by Captain Giulietti, head of a group of 14 men. They will be slaughtered by the Afar warriors.

In the 20th century:

The first observations of a glow that can make you think of the existence of a lava lake date back to 1906.

In 1967, a Franco-Italian team, made of volcanologists Haroun Tazieff and Giorgio Marinelli, observed for the first time the presence of two lava lakes, housed at a depth of 165 meters in the pit craters north and south.

The level and activity of two lava lakes will fluctuate until the overflow of the southern lake in 1972. In 1973-1974 the two lakes are overflowing episodically and lava flows will cover the southern flanks, then the northern flanks of the volcano.

Between 1984 and 1986, the levels remain relatively stable, at a depth of 70 to 110 meters.

February 1987 brings an important change: the disappearance of the lava lake north attested by satellite photos. The South Lake is still active, but reduced to a diameter of 46 meters, according to photos from NASA in September 1988.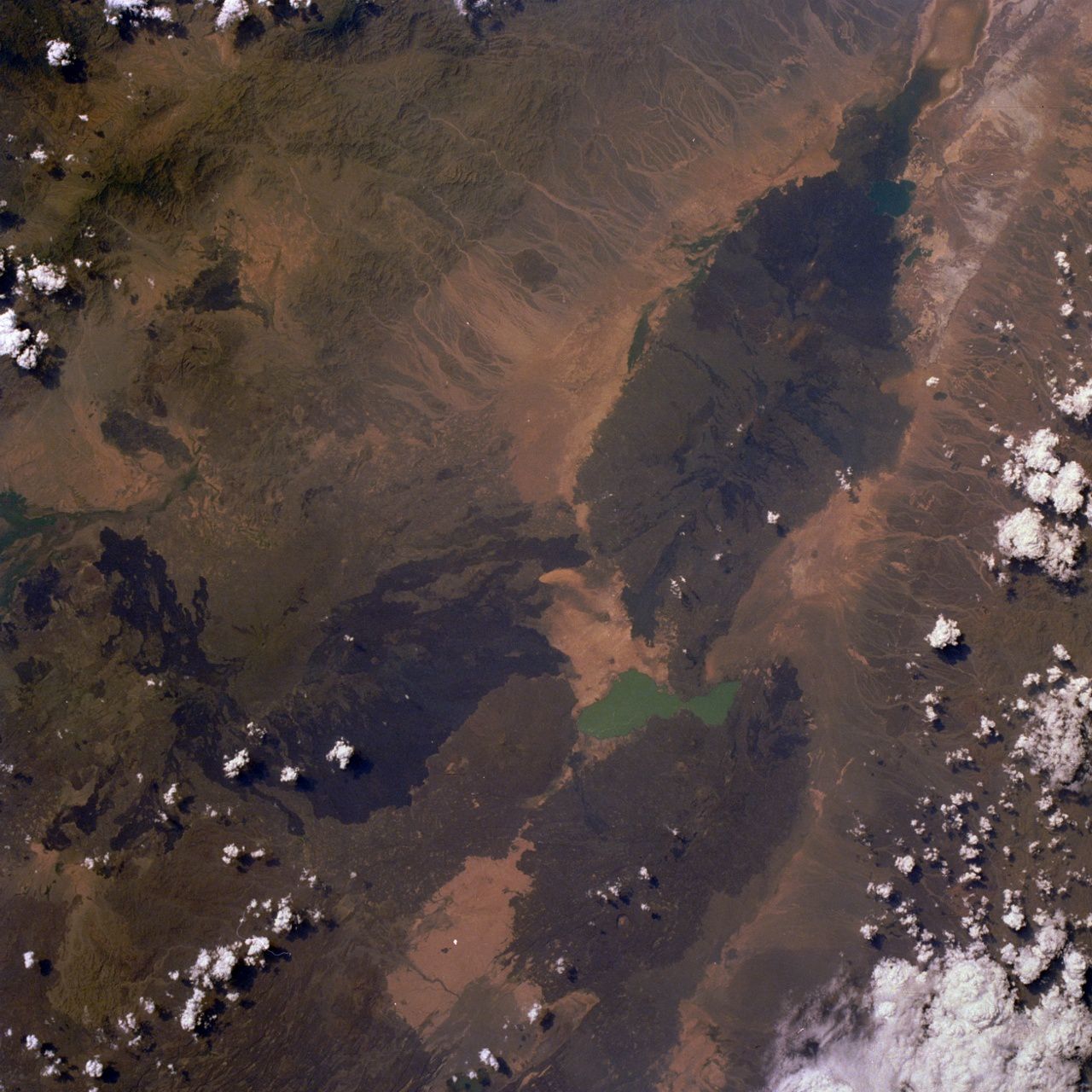 The massive of Erta Ale - photo STS026-033-080 NASA / 30.09.1988 - 11:35 GMT (Erta Alle, a shield volcano located within the Rift Valley of northern Ethiopia, is visible in this near-vertical photograph taken north of turquoise Afrera Ye Ch'ew Lake. The volcano, called "the smoking mountain" by the local tribesmen, has an active lava lake (barely discernible in the photograph) Approximately 150 feet (46 meters) wide, qui has-been in a constant state of eruption since the late 1960s.)
In 1992, the south pit crater with a diameter of 100 meters is occupied by a lava lake about 40 x 70 meters, to a depth of 100 meters.
In 1995 the south pit crater has grown: with a diameter of 140 meters, it has a lake shaken by numerous fountains of 60-100 meters, to a depth of 90 meters.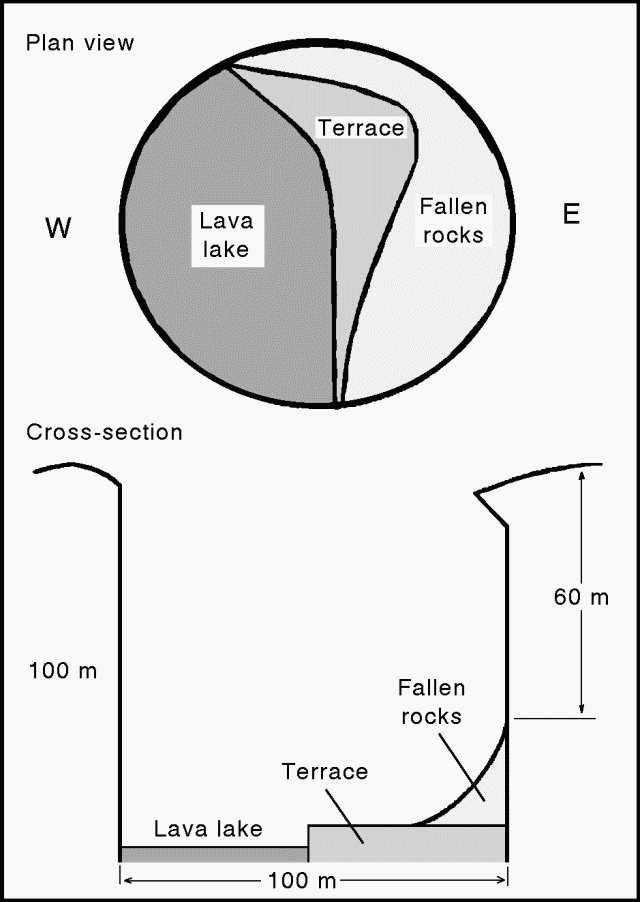 Erta Ale - Plan and cut of the south pit crater in November 1992 - Courtesy of P. Vetsch / in Global Volcanism Program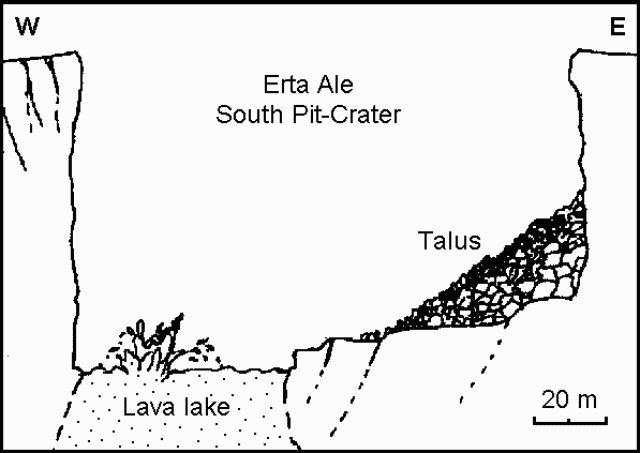 Erta Ale - the south pit crater cut in December 1995 - Courtesy of P. Vetsch / in Global Volcanism Program
To follow : the fluctuations of the lava lake in the 21st century, with more photographic documents.
Sources :
- Haroun Tazieff - L'odeur du soufre - expédition en Afar - aux éditions Stock (1975)
- Guy de Saint-Cyr - Carnets de trek - Erta Ale, Dallol, lac de sel Karoum - aux éditions NVB (2006)
- Global Volcanism Program - Erta Ale