Publié le par Bernard Duyck
An international study, led by researchers from the Laboratory of magmas and volcanoes (IRD / CNRS / Université Blaise Pascal), the University of Buffalo and the Geological Survey of the United States, sheds a new light on understanding physical mechanisms responsible of pyroclastic flows generated during the volcanic super-eruptions.

The authors examined the Peach Springs Tuff deposits in connection with the eruption of the Silver Creek Caldera in Arizona there are 18.78 +/- 0.02 million years.

To replace among the very large eruptions of the last millennia, Peach Springs Tuff is characterized by ignimbrites corresponding to a volume of 1,300 cubic kilometers of magma, and deposits found at more than 170 km from the issuing caldera, still thick at this location of about ten meters.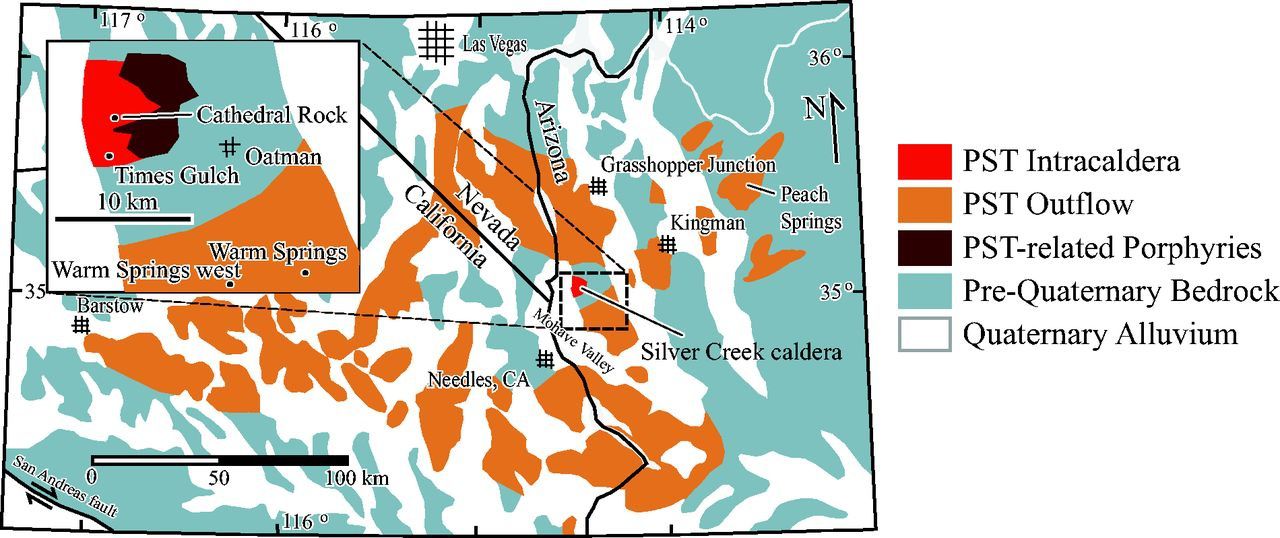 Silver Creek caldera location and areas of deposits of Peach Spring Tuff (intra-caldera in red and in orange out caldera) - modified from Wells & Hillhouse (1989).
The presence of large blocks present before the eruption and trained by the pyroclastic flows (see photo below) is questionable ... they could not be moved by flows of order acceptable speeds.

Laboratory simulations have shown that a pressure gradient generated at the base of the flow can lift the particles of substrate, which are then incorporated into the flow and carried further downstream.

The application of the experimental law, which connects the particle size of the substrate driven at the speed of the flow, to the case of Peach Springs Tuff allowed to set the speed of the pyroclastic flows between 5 and 20 meters per second, the duration of eruption between 2.5 h and 10 h, and the flow to 107-108 m3 / s, ratios ten to one hundred times higher than those characterizing the well documented eruptions of Pinatubo, Tambora or Novarupta (Katmai).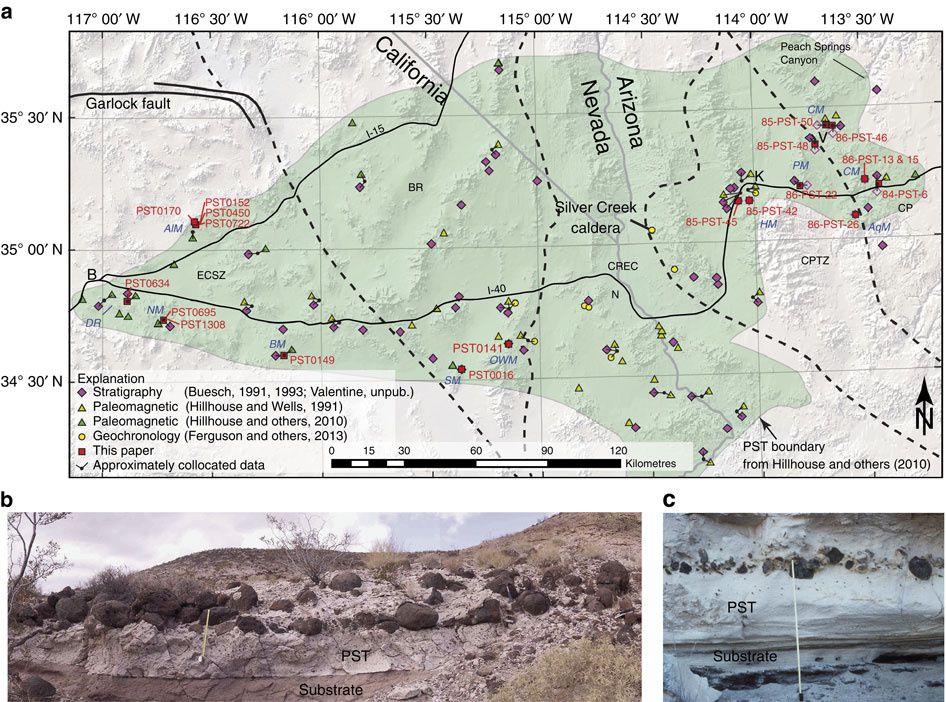 Map correlating Peach Spring tuff and Silver Creek Caldera, and photo of great lithic clasts near the base of Peach Spring Tuff to PST0695 location, Kane Wash area, Newberry Mountains, California / in Nature
The study, which reveals the existence of dense flows, caused by an eruptive flow rate and a pressure of interstitial gas impressive and sustained, requires a new interpretation of ignimbrites generated by past super-eruptions and will help to better assess the volcanic hazards of future eruptions, particularly along the Andes, or in Indonesia and Vanuatu.
More in ...
Sources :
- Nature communications - Slow-moving and far-travelled dense pyroclastic flows during the Peach Spring super-eruption - O.Roche & al - link
- INSU - CNRS : Nouveau regard sur les écoulements pyroclastiques lors des super-éruptions volcaniques - link
- IPGP - Dynamic pore-pressure variations induce substrate erosion by pyroclastic flows - O. Roche & al. - link
- The Evolution of the Peach Spring Giant Magma Body: Evidence from Accessory Mineral Textures and Compositions, Bulk Pumice and Glass Geochemistry, and Rhyolite-MELTS Modeling - link
- Geology - Silver Creek caldera -The tectonically dismembered source of the Peach Spring Tuff - Ch.A.Ferguson & al.- link