Publié le par Bernard Duyck
In the Kuril islands, the volcano Alaid still has a thermal anomaly identified by Mirova / Modis.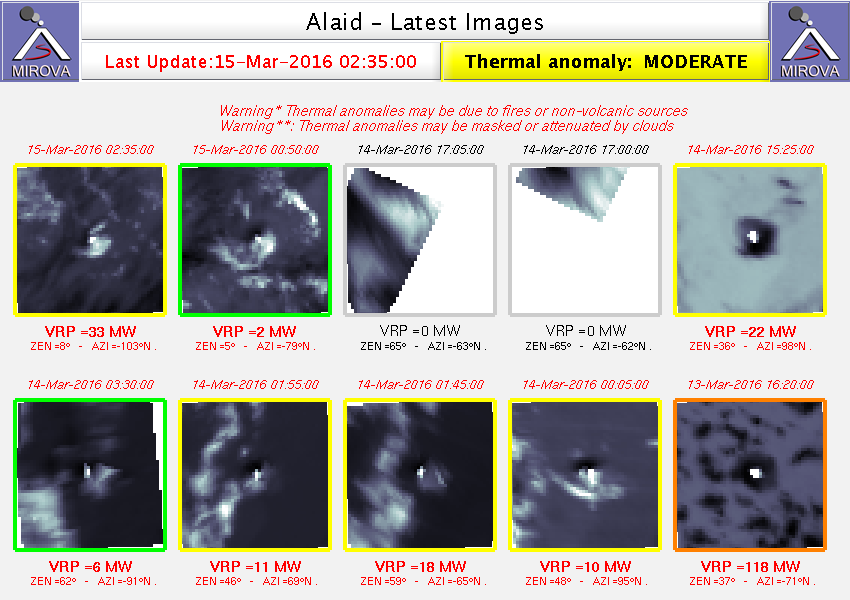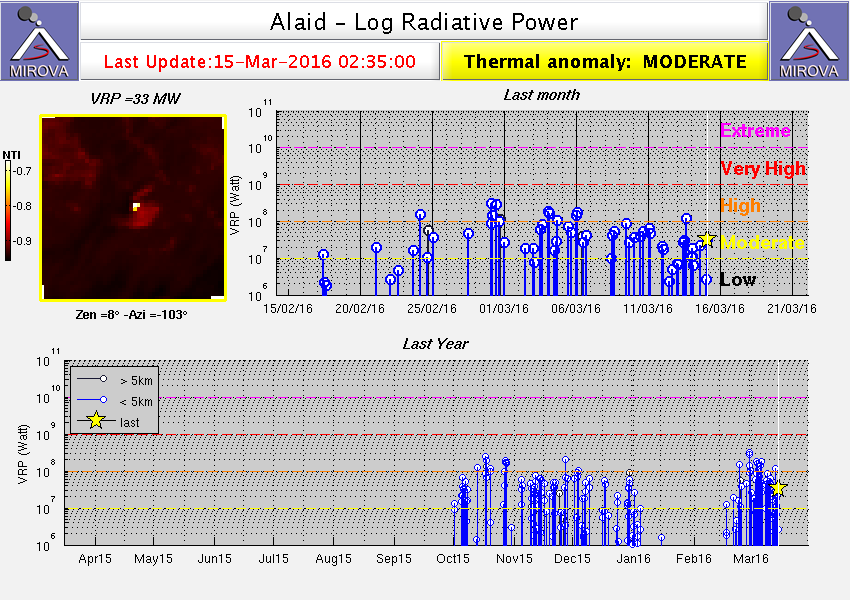 Alaid - variable thermal anomaly between 13 and 15 March; and summary table of March - Doc. Mirova / Modis
In Mexico, Popocatepetl has presented on 13 March 5 explosions, respectively, 10:07, 12:40, 01:18 p.m., 8:00 p.m. and 9:01 p.m. and four explosions on March 14, respectively at 2:10, 3:42, 7:30 and 9:42. The winds have scattered the plume towards the northeast. The level of tremor rose from 44 episodes the 13.03 to 324 episodes on 14.03 .

In Colima, intermittent explosions continue ... some examples through webcams.

In DRC, a team of VolcanoDiscovery reports that the Nyiragongo was "unusually noisy" during the night of 10 March, suggesting an important activity both in the lava lake that at the new NE vent , observed since 1 March.

Photos posted on 12 and 13 March show that the lava flow from the new vent divided into several branches and reaches the edge of the lava lake.
The INGV Catania did enjoy of an animation formed by images of ground deformation of Etna between February 2015 and February 2016. They were taken by the Sentinel-1A satellite, equipped with a SAR interferometric sensor band C, capable of measuring deformation with sub-centimeter accuracy.

It may be noted the inflation of Etna, in blue, until November 2015; eruptive activity from December 2015 then caused a deflation and a movement, in red, of the northeastern flank of the volcano. Movement of the Eastern bloc, together with a greater deformation around the block Timpe, and finally the spread to the south of the eastern flank deformation as a consequence of the activation of the fault San Gregorio-Acitrezza in the second half of January 2016.

To see on: http://www.ct.ingv.it/images/Sentinel/Sentinel_asce_2015_2016_low.GIF