Publié le par Bernard Duyck
In Santiaguito, a small explosion caused a collapse in Caliente dome, generated pyroclastic flows on the northeast flank of the volcano, and a plume of gray ash that enveloped it. The winds pushed the ashes to a SSE sector and Others to Quetzaltenango.

Source: Conred & INSIVUMEH

In Tungurahua, the activity continues with, during the night of 7 to 8 March, explosions accompanied by plumes of up to 3,000 meters above the crater, incandescent rockfalls on all sides, and pyroclastic flows in the west quebradas about 1,200 to 1,500 meters below the crater.
In the March 8, a continuous plume of ash moderately loaded gas is reported overcoming the crater of 1,000 meters.
The ash-related to explosions in the week affecting maize crops ; the IGEPN recorded an accumulation of 7.700 g / m² in the Choglontús sector since 02.26.2016.

Source: IGEPN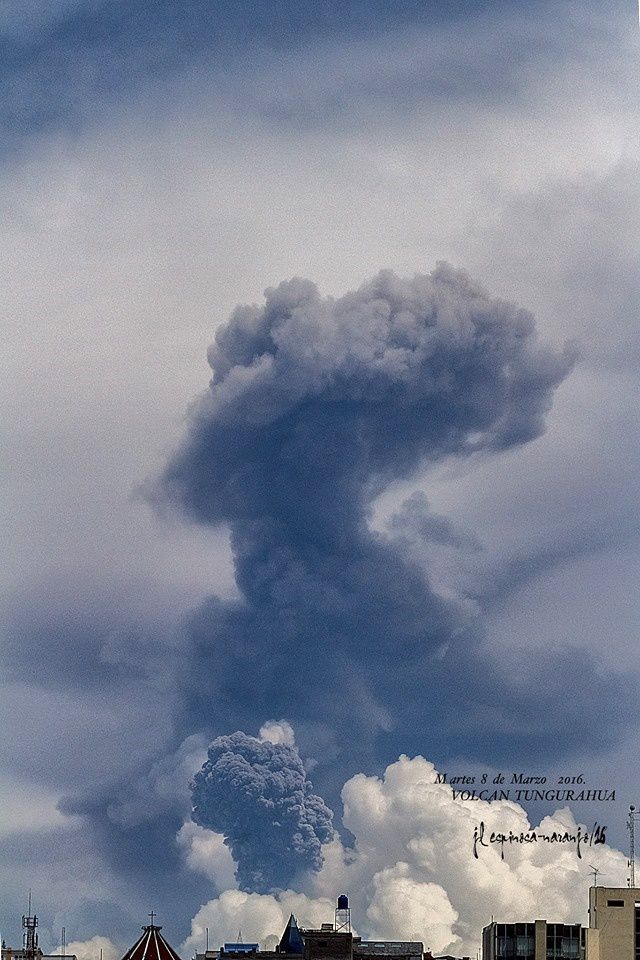 Tungurahua - 03.08.2016 / 1:56 p.m. - explosions and plumes succeed - photo by José Luis Espinosa-Naranjo Ficoa Park.
To the left, Corn crops in Choglontús, west of Tungurahua, affected by ash - photo P. Espín Bedón / OVT-IGEPN - to the right, dispersions areas of ashes on 03/08/2016 - a click to enlarge.
In Indonesia, the VSI has raised the alert level of two volcanoes:

Since 8 March / 0h00, the level of Lokon is passed to III / Siaga, following an increase of seismicity: 3 earthquakes VT , 25 deep volcanic earthquakes, 138 shallow earthquakes and a continuous volcanic tremor was recorded.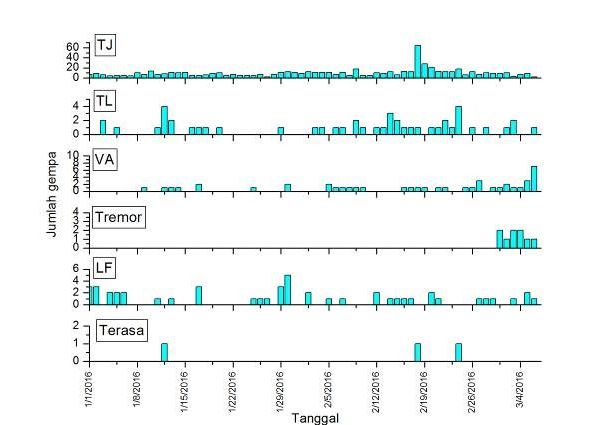 Makian - photo Ruska Hadian / VSI - risk map and seismic activity from January 1 to March 6, 2016 / VSI
The alert level of Gunung Kie Besi, on the island of Makian, is passed on March 7 at 10am local to II / waspada, following an increase in its seismic activity, without other visible external changes.
This stratovolcano forms a small island south of Ternate in the Moluccas, saw its number of shallow volcanic earthquakes increased since January.
Since late February, LP earthquakes and tremor, associated with fluid movements are recorded. The tremor became continuously since March 7.
These changes are interpreted by volcanologists as signs of a magma intrusion, and a possible rise of magma towards the surface. It is recommended not to approach within 1.5 km. the summit crater.

The volcano of Makian has a wide summit crater of 1,500 meters, containing a small lake side NE; four parasitic cones punctuate its western flank, and two valleys extend from the top to the coast on the north and east sides of the island. Its last eruption was in 1988 ; of VEI 3, it has caused many deaths and damage.
The Sinabung tirelessly pursues its activity, yesterday with a plume rising to 2,000 meters.