Publié le par Bernard Duyck
The Nevado del Ruiz continues to present episodes of energetic volcanic tremor associated with ash emissions.
The latest was recorded by the network and webcams of Colombian Observatory of Manizales on 3/18/2016 at 6:06 local. The plume of gas and ash reached a height of 1,700 meters above the volcano, spreading out to the west.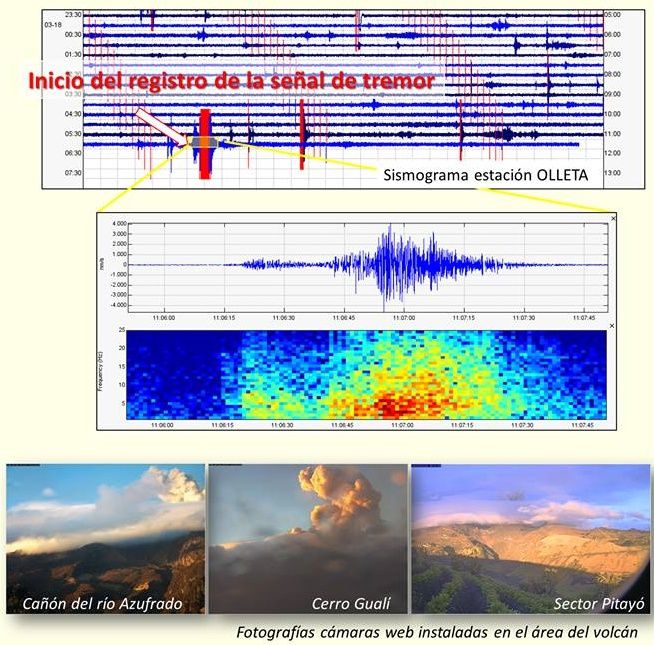 Nevado del Ruiz - 03/18/2016 - tremor recorded at the station Oletta and plume photographed by the various webcams - doc. SGC Manizales
In Ecuador, the new phase of activity of the Sangay, which began on March 5 continues;
On March 11, there was an increase in the number of explosions, and from 04h local time March 17, the presence of a continuous tremor between explosions; these of high intensity to 13h local time before gradually decreasing.

No image of the volcano due to a permanent cover; the population does not report to ash fallout for now.

Source: IGEPN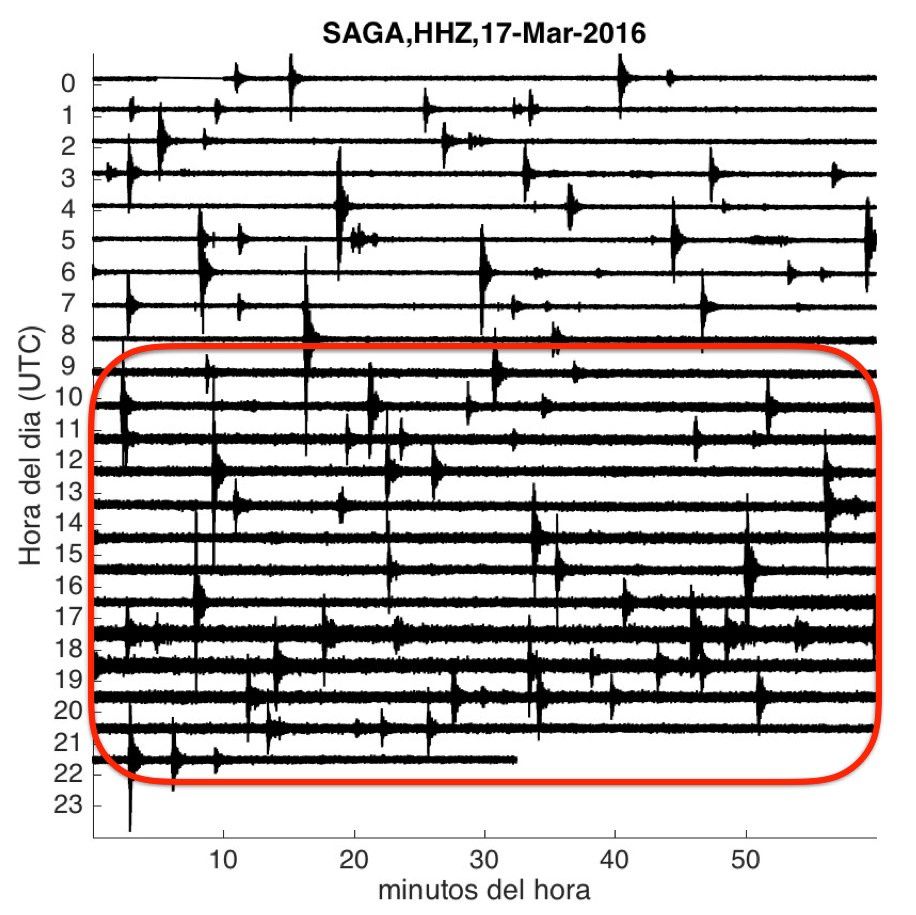 Sangay - recording of station SAGA on 03/17/2016 - in the red box, tremor observed from 04h loc - IGEPN
SERNAGEOMIN / OVDAS signals a change in the seismic activity of Nevados de Chillan, on March 18, 2016 at 8:44.

LP earthquakes, in connection with the internal fluid movements, follow each other at a rate of 3 to 4 per minute and suggest an increasing activity of the surface magmatic system.

The technical alert level remains in Amarillo, accompanied by a prohibited zone of 2 km around the crater.

A tour of Nyiragongo, by the teams of the Volcanological Observatory of Goma / OVG, was conducted on 10 and 11 March. The report notes that the lava flow of the secondary wells continues to spread on the 3rd platform, divided into two arms ... as we have seen in the pictures. She began to pour slowly into the main lava lake.

The secondary well continues to show an intense activity, with fountains reaching ten meters and intermittent explosions. The main well present always an activity of fountaining north and east sides.

Temperature measurements in Kibumba cracks, on the eastern flank, the top (south side) and Shaheru indicate a slight decrease in temperature, proof that they are not supplied and the activity is concentrated in the crater. Fracture of Shaheru has a slight expansion of the order of 1.1 mm.

Source: OVG Report 03/12/2016 - http://www.ovggoma.org/wp-content/uploads/2016/03/Rapport-OVG-du-10-au-11-mars-2016.pdf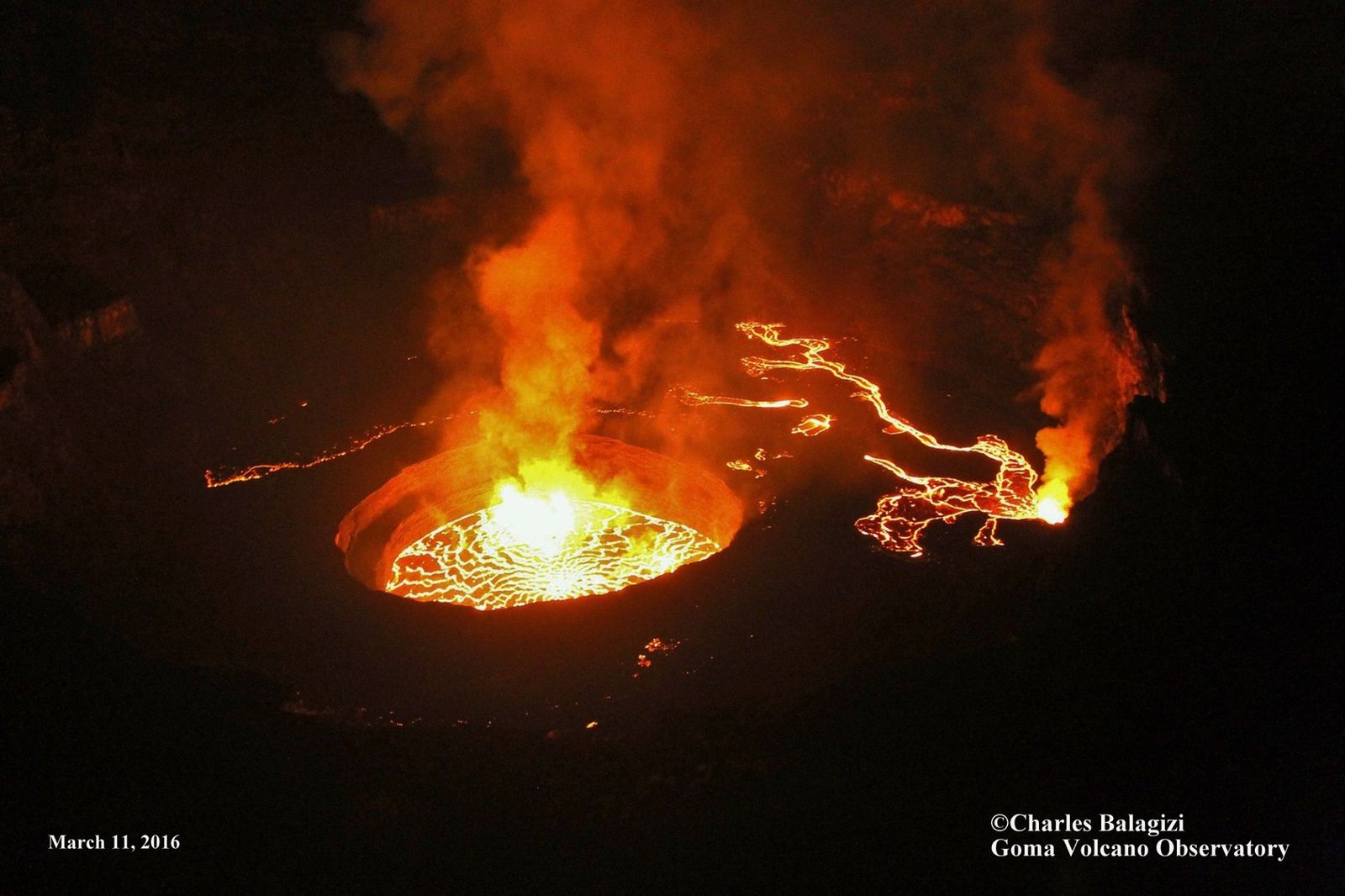 Nyiragongo - two active wells on 11/03/2016 - and lava flows of the secondary wells on the 3rd platform - photo Charles Balagizi / OVG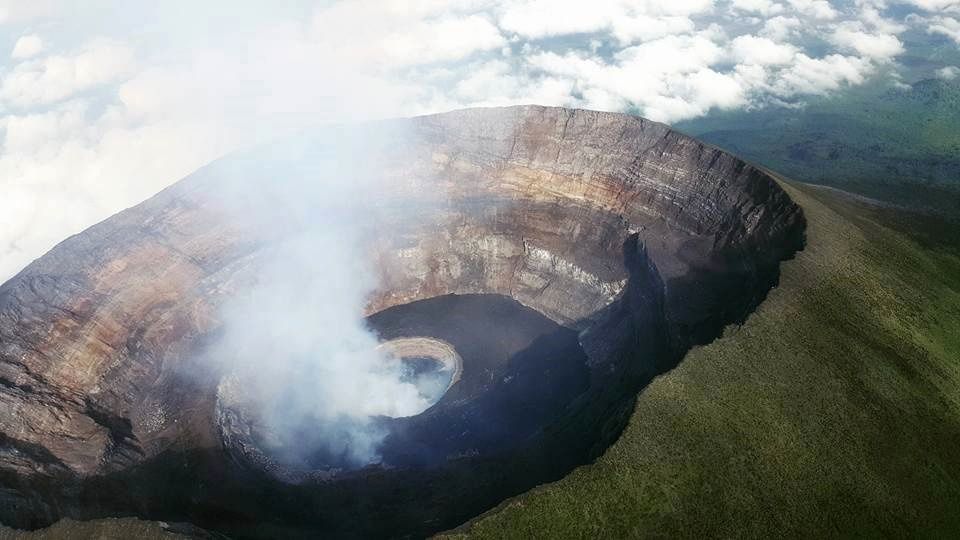 Nyiragongo - aerial view of the crater 11/03/2016 with gaseous emanations from the two wells - photo Instagram / yano_bwk
After a week of bad weather, Etna has emerged on March 17, in a white coat and topped with a few puffs of brown ash from the North-East crater

Source: Communication Boris Behncke