Publié le par Bernard Duyck
Over the past sixteen million years, southern Idaho was covered by deposits from a series of massive volcanic eruptions, reaching more intense heat than that produced by those of Yellowstone.

A team of researchers from various universities (see sources) revealed evidence of 12 rhyolitic eruptions, previously undiscovered, in the Cassia Hills; these massive eruptions are considered to have been produced by different sources, all in a stretch of deep volcanic basin.

These explosive eruptions "type Snake River" are dated between 11.3 Ma and about 8.1 Ma. They set up rheomorphic ignimbrites and associated strongly welded ash layers.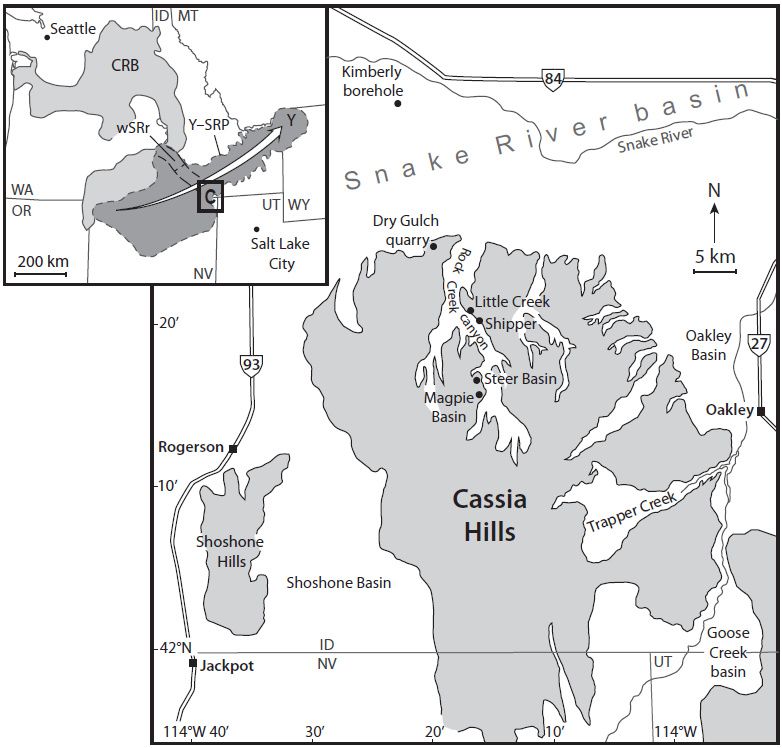 Map of the Cassia Hills in southern Idaho (C in inset) showing main canyons and locations mentioned in the text. Gray—elevated terrain (main map) ; CRB—Columbia River basalts; Y-SRP—Yellowstone–Snake River Plain volcanic province showing NE migration of the Yellowstone hotspot track (white arrow); Y—Yellowstone; wSRr—western Snake River rift. State abbreviations in inset: ID—Idaho; MT—Montana; NV—Nevada; UT—Utah; WY—Wyoming; WA—Washington; OR—Oregon / Credit: GSA Bulletin and Thomas R. Knott et al. / Department of Geology, University of Leicester, LE1 7RH, UK.
Among these eruptions, an ignimbrite known as Castelford Crossing eruption, dated around 8.1 Ma, can be considered as a super-eruption, with emission corresponding to about 1.900km³. It covered an area of ​​14,000 km², and exceeds 1.35 km thickness within a subsided, proximal caldera-like depocenter.
Elemental analysis identifies three successive trends to rhyolitic compositions less evolved, separated by periods of sharp returns to more advanced compositions. The researchers suggest that these three cycles reflect increasing amounts of basaltic magma from the mantle; these cycles might have begun when the North American tectonic plate moved westward, passing over the Yellowstone plume.

During the same period, this area recorded faulting in a northwesterly direction, related to the opening of the rift in the western Snake River and the east-west extension of the Basin and Range. During these various eruptions, activity caused subsidence of the crust of over 3,000 meters, differentiating the region compared to the higher Yellowstone plateau.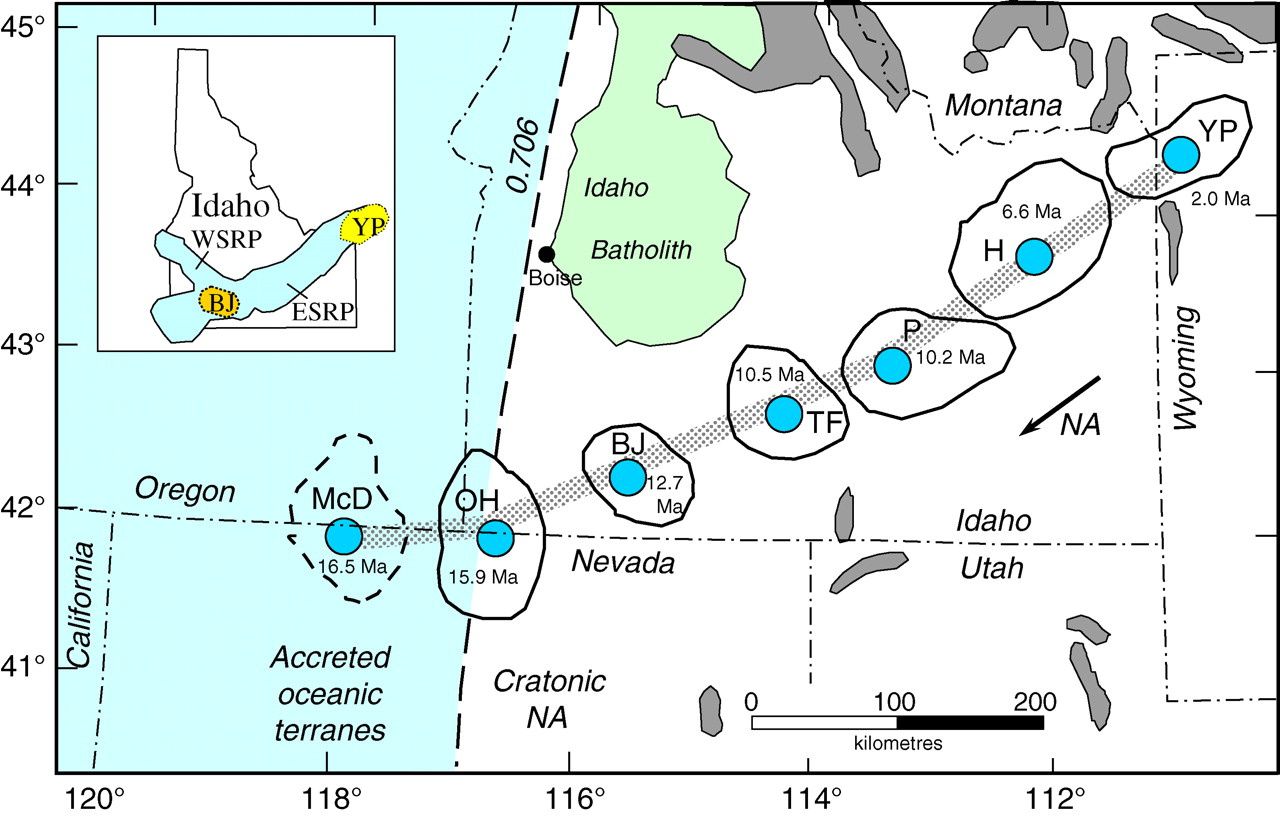 Calderas left by the Yellowstone hot spot at the SRP / Snake River Plain ... probably a document to specify in the future - OH: Owyhee-Humboldt volc. field; BJ: Bruneau-Jarbidge volc. field; TF: Twin Falls volc. field; P: Picabo volc.field; H: Heise volc. field; YP: Yellowstone Plateau volc.field
Source :
Mid-Miocene record of large-scale Snake River−type explosive volcanism and associated subsidence on the Yellowstone hotspot track: The Cassia Formation of Idaho, USA – by Th. Knott & al.- link