Publié le par Bernard Duyck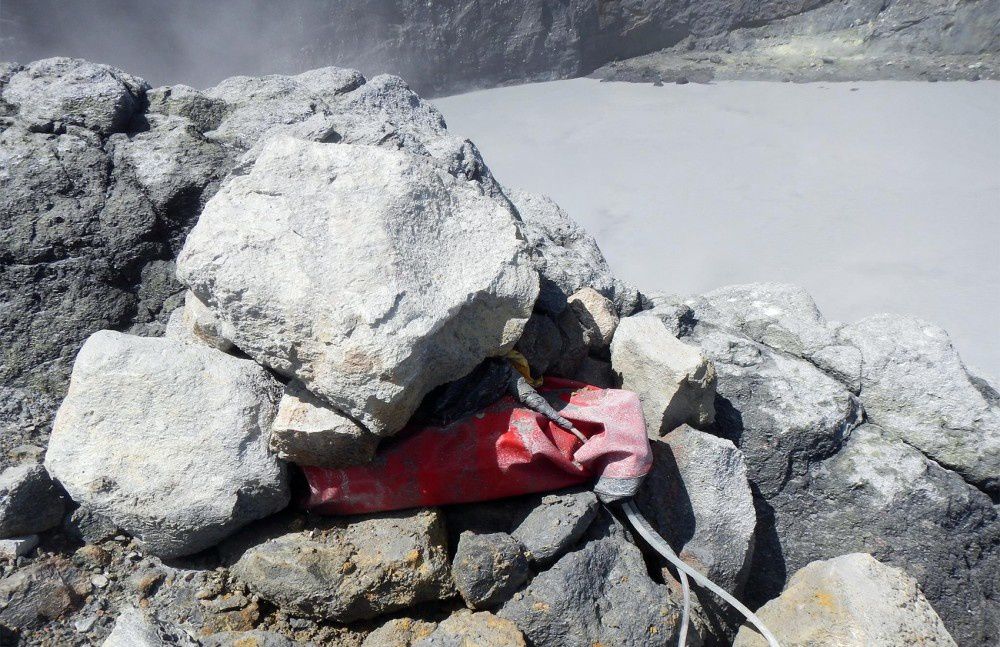 Rincon de La Vieja - Monitoring equipment of crater and its acid lake (gray in color) - Via OVSICORI / Jorge Viales)
Some clarifications by the Ovsicori on the situation in Rincon de La Vieja:

The plume of ash and steam produced during the phreatic eruptions of 9 and 10 March reached a respective height of 700 and 850 meters above the crater; for comparison, the plume of the highest phreatic eruption at Poas in 2014 reached 500 meters.
The characteristics of the ash emitted changed between February and March: in February, they were rich in elemental sulfur formed in the ultra-acid crater lake. In March, the presence of rocky debris altered, hydrothermal minerals, and elemental sulfur, which 3 to 10% of fresh material ... suggests the possibility of a magmatic character in addition to the phreatic character for the past eruptions, and erosion of the superficial hydrothermal system by phreatic eruptions.
Degassing of the lake is more intense in March and present a magmatic character ; acid waters are measured at up to 55 ° C in the convection cells. These factors suggest a move towards more energy eruptions in the coming weeks, which can generate lahars.

Source: OVSICORI

In Nicaragua, a new explosion marked the Momotombo on March 11, 2016, at 1:09, according Ineter. The seismic network reported for its part an earthquake of M 1.9 at a depth of 1,500 meters.

A small lake formed in the crater of Ubinas, in Peru, following heavy water and snow falls. The director of the OVS specifies that "this is the first time since the beginning of the current eruptive process of Ubinas in September 2013 that the accumulation of water is observed in large quantities in the crater."
Although the level of seismicity of Ubinas remains moderate, associated with a slight build-up pressure, the OVS did not rule out low to medium explosions in the future.

Phenomena not directly related to an eruption, but to climate changes, highlights the Chimborazo and Osorno volcanoes :

In Chimborazo, a lahar, formed of a large amount of mud and stones, came down the quebrada Gallo Rumi, on the southwest flank of the volcano, March 10, 2016.

And in Osorno Volcano, located in the Lake District in Chile, there is a thaw leaving large areas without snow ... which caused a closure of access to the summit on March 10 by CONAF.

Osorno Volcano and the ski center Puerto Varas - photo Marisa Garrido