Publié le par Bernard Duyck
From Mexico to Chile, it's all the volcanoes that seem to become unstable ... at least in the news. Some photos from north to south ...

In Mexico, Popocatepetl made 41 "exhalations" of low intensity in 24 hours. Seventy minutes of harmonic tremor accompanied a series of explosions. Incandescence was seen overnight, illustrated by a beautiful image of the webcam Mexico.

Source: CENAPRED

In Nicaragua, Momotombo, since its reactivation on December 1, 2015, continues to present explosions, fortunately without danger to the public; Ineter counts 88 explosions between 01/12/2015 and 01/03/2016. On 1 March, at 6:46, the explosions ejected incandescent tephra and gas during 16 minutes. On 2 March, three explosions were recorded ... and it goes on 3 March.

The Ineter signals a fracture to the bottom of the crater of Telica, and the presence of a small amount of lava. On March 1 and 2, there is emission of ash on the webcam images.

The latest report from the Ineter mentions an increase in the magma circulation inside the crater Santiago of the Masaya, and the union of two close vents in the western part of the crater. Volcanic tremor remains high; and monitoring of the gas emitted will be performed by the technical teams.
On March 2, the seismic network recorded an earthquake of Mw 1.6 at a depth of 1.8 km near the Masaya. Their conclusions are expected.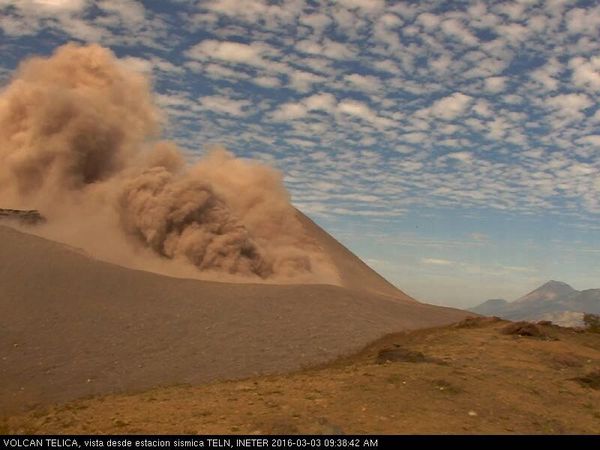 Telica - respectively on 01.03.2016 / Photo RSNN - on 02.03.2016 / 5:11 p.m. and on 03/03/2016 / 9:38 / Ineter pictures - a click to enlarge
In Colombia, Manizales Observatory recorded on March 3 at 9:23 local time, a volcanic tremor episode of major energy level at Nevado del Ruiz, combined with emission of ash.
The gray plume rose to 3,000 meters observed by the guards of the National Park Los Nevados, in movement towards the southwest of Arenas crater.

Sources: SGC Manizales & Periodico La Patria.
Despite an activity classified as moderate by the Ecuadorian Observatory , Tungurahua presented on the night of March 2, 2016 Strombolian explosions, accompanied by bombs that fell on nearly 1,000 meters on the flanks of the volcano. This activity was accompanied by cannon noise and vibrations felt in the area.

From 21:30, a continuous gas plume moderately loaded in ash reached 1,000 meters above the crater before dispersing into a western sector, causing ash fall on Chontapamba and Pillate, where 70 families and 130 head of cattle are exposed ; fields of maize and grass in the area are covered with a thin layer of black ash.

Sources: El Comercio & IGEPN
In Chile, the Webcam reveals new gas and a little ash emissions on March 3 at the Nevados de Chillan complex.

The OVDAS & SERNAGEOMIN maintain the alert level to amarillo, along with a danger zone 2 kilometers radius from the crater.