Publié le par Bernard Duyck
A photo of Ken H. Rubin, Professor of Geology and Geophysics, Univ. Hawaii, in the "Volcano Monday" shows the Torfajökull ... the "forgotten volcano".

According to the legend, the glacier (and volcano) is named after an Icelandic historical figure, Torfi Jónsson í Klofa, living near the glacier during the arrival of the plague in Iceland in 1493. Another source mentions of a farm worker named Torfi, which would have removed the farmer's daughter and reportedly fled with him to the glacier.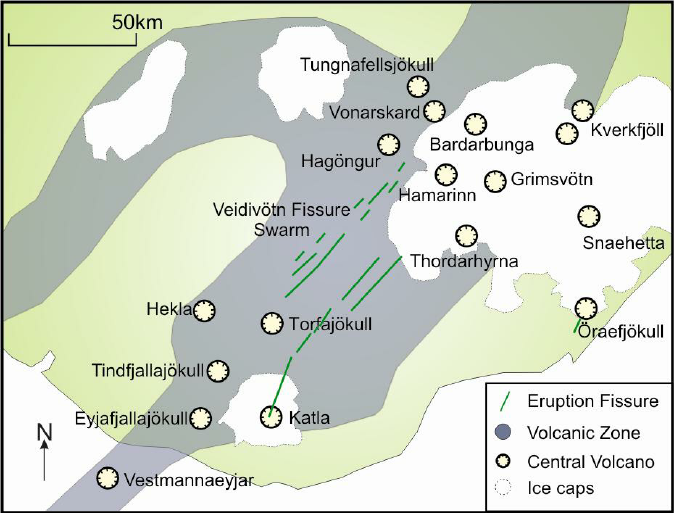 Location of Torfajökull in the EVZ / East volcanic zone in Iceland, between the Vatnajökull and Myrsdalsjökull
Little is said about this rhyolitic stratovolcano, located north of Myrdalsjökull and south of Lake Torisvatn in the neo-volcanic area, at the junction with the east rift zone.

A caldera of 16 km to 12 km is formed during the Pleistocene, there are some 500,000 years; the complex, mainly rhyolitic, covers 600 km² and rises 500 meters above the surrounding basaltic plains, lying on a WNW-ESE axis.
Most rhyolitic flows were issued under the ice, forming hyaloclastite,s which form a ridge and dome breaches.

During the post-glacial period, only a small crack zone at the western end of the complex was active, producing lava flows and tephra and lava dome formation.
The most recent activity has formed the lava flow / lava field Hrafntinnuhraun about 900 years.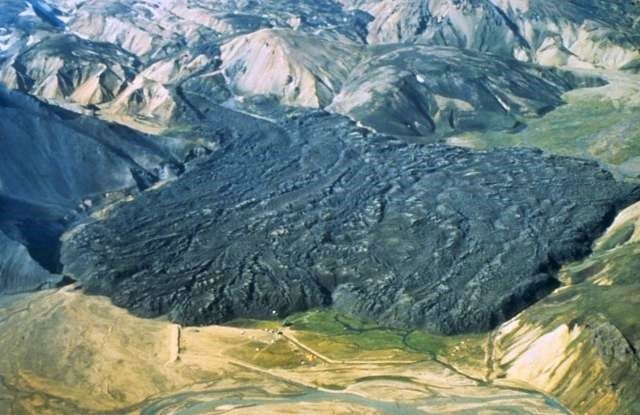 The viscous Laugahraun lava flow (~ 1477), on the northern edge of the caldera Torfajökull - photo R.Williams / USGS / GVP
The fissure system has been active in the same period as the basaltic fissure system Veidivötn / Bárðarbunga in the year 1477. Note that the two volcanic systems are different in several respects: the volcanic fissure swarm of Bárðarbunga is part of the rift zone, and ejects only basaltic magma, while the Torfjökull volcano has no fissure swarm clearly defined, displays a limited divergence, and ejects predominantly rhyolitic magma.

The small ice cap Torfajökull lies largely outside the southeast edge of the caldera.

A large area of ​​130-140 square kilometers is the site of a strong thermal activity. Recent seismic swarms of magnitude less than 2.0, in July and December 2015, and February 2016, are related to changes in hydrothermal activity of the volcano and hot springs.

The "Boiling pans", or boiling thermal pools with a sand and gravel bottom, form characteristic shapes of geothermal activity. The presence of microbial material is prevalent in areas of hot springs and carbonate deposits, and specific thermophiles have been found.

Sources :
- Global Volcanism Program – Torfajökull
- Iceland Geological Survey – Torfajökull, a rhyolite volcano and its geothermal resource – by Kristján Saemundsson ISOR - link
- Science Direct - Low-frequency earthquakes at the Torfajökull volcano, south Iceland – by Heidi Soosalu & al. - link
- Proceedings World Geothermal Congress 2000 / Kyushu – Chemistry of fumaroles and hot springs inthe Torfajökull geothermal aera – by Magnús Ólafsson and Jón Örn Bjarnason - link