Publié le par Bernard Duyck
Discovered in 1501 by the Portuguese navigator Joo Nova, Ascension Island (so named since found the day of the religious celebration) was only then visited occasionally. The only source of fresh water, Dampier's springs, was found by William Dampier in 1701.

When Charles Darwin visited the island in 1843, he was confronted with "a barren volcanic desert" ... on the coasts dominate young basalts, where no vegetation grows, while the highlands of the interior seem a little greener, dressed in grasses and ferns, with no trace of trees.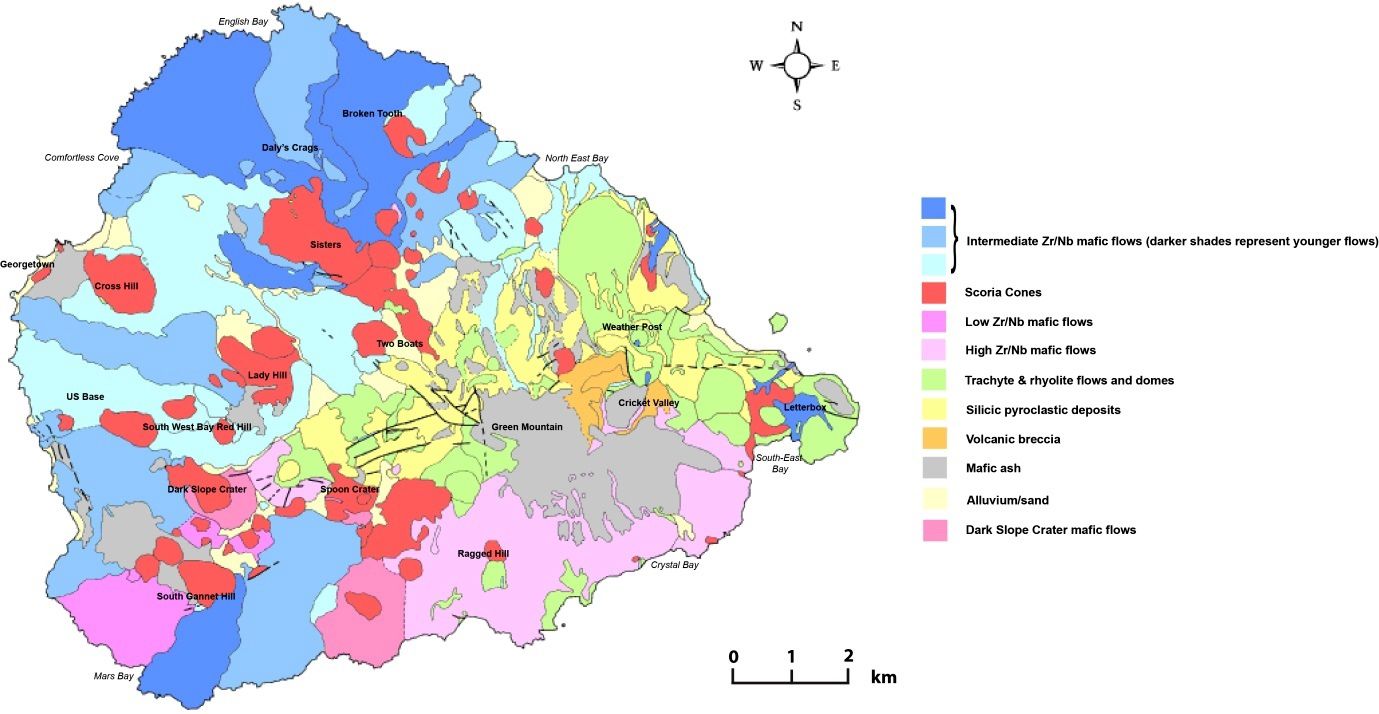 Geological map of the deposits of the Ascension island - a click to enlarge - Doc. The volcanic history of Ascension island - Durham University / From Weaver et al., 1996.
Although the British navy has established a vegetable garden on Green Mountain in 1815, it was until in 1847 that Joseph Hooker, a botanist accompanying Darwin, cares for them to send bulk trees and shrubs; its purpose is to establish forests on the hills in order to capture and retain the moisture, increase the rainfall, soil improvement and ultimately to do of Green Mountain and the rest of the island a more hospitable place for vegetation .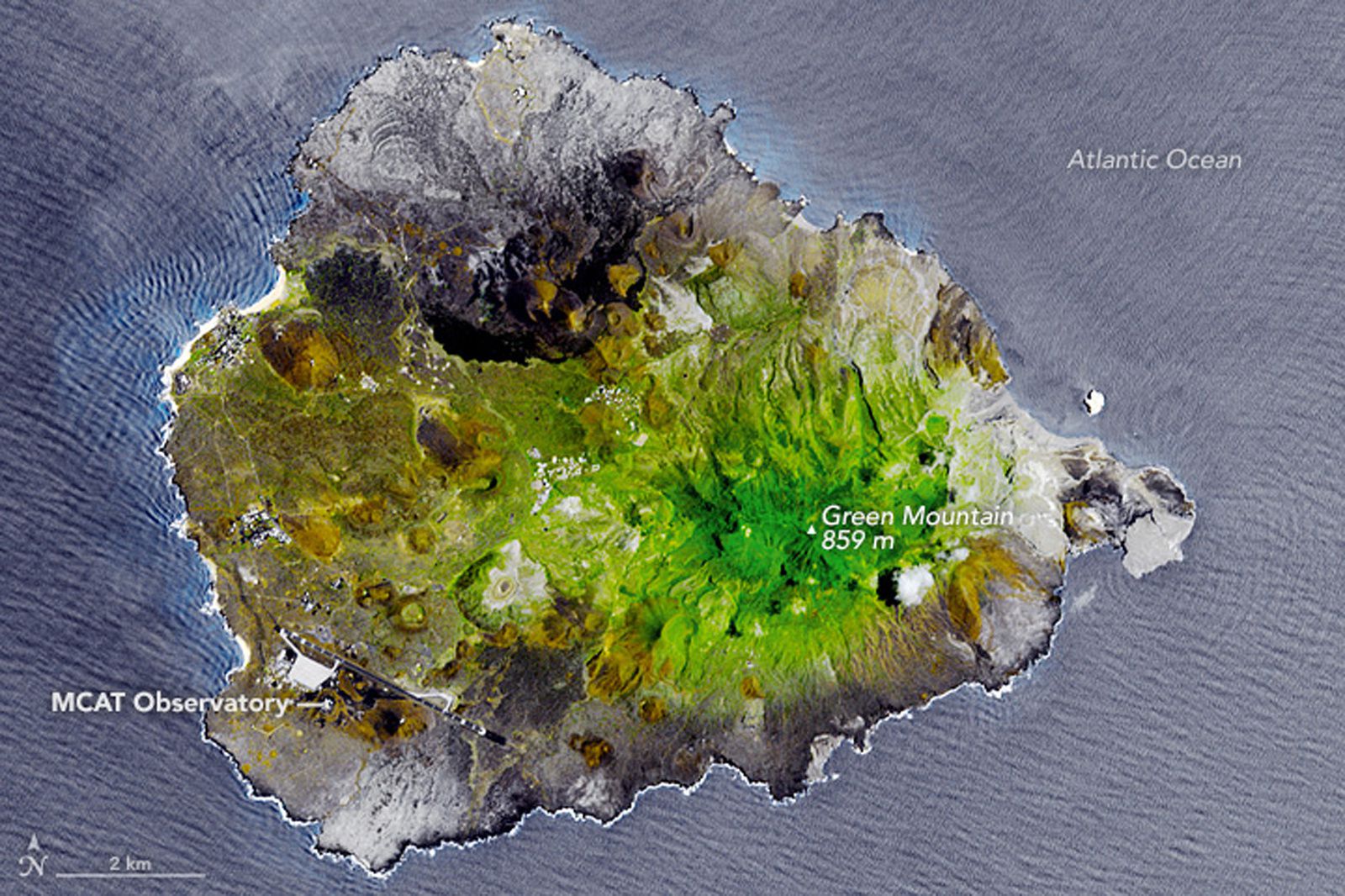 Ascension Island - 11.03.2010 - explained below - NASA Earth Observatory image by Jesse Allen picture, using data from NASA / GSFC / METI / ERSDAC / JAROS, and U.S./Japan ASTER Science Team. Caption by Adam Voiland.
A satellite image, acquired on March 11, 2010 by the Terra satellite / Aster from NASA, shows the presence of vegetation today on Green Mountain and part of the island. The forests, densely vegetated areas, appear in dark green; in light green, they are areas less provided in plant. The brown and black colors characterize areas with little or no vegetation.


To the relatively dry base of Green Mountain, there are only grasses, shrubs and thorny mesquite. Between 330 and 600 meters above sea level, where the humidity increases, prickly pears and acacia trees have taken root. In the fog zone, above 600 meters, banana, juniper, ginger, bamboo, yew, pine trees, and other plants grow there in abundance.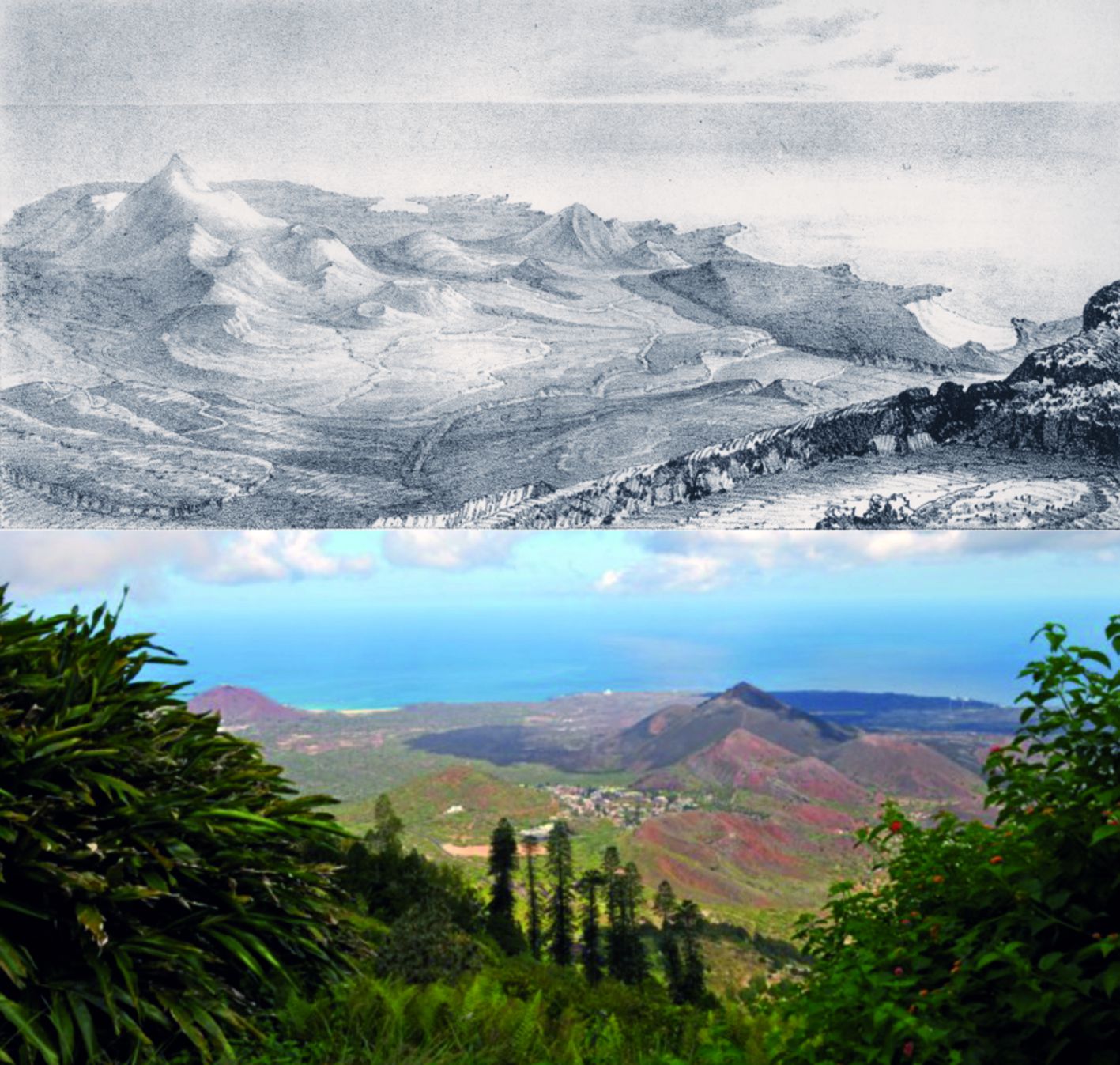 Ascension Island - Top, drawing published in 1835 by Captain Henry Brandeth describing the cinder cones and barren plains under Green Mountain - Downstairs, 2012 photo of the same view, showing installed vegetation - doc in The Greening of Green Mountain, Ascension Island./ ref. in sources
For the attention of potential visitors to this remote volcanic island,
- Ascension island - the official website - http://www.ascension-island.gov.ac/
- For the readers of the Journal L.A.V.E. : an Excellent travelogue of Elizabeth and Luc Thomas / Journal No. 179 / March 2016.
Sources :
- The Greening of Green Mountain, Ascension Island. - by David C. Catling, Stedson Stroud – 08.04.2016 - link
- Nasa Visible Earth - Greening Ascension Island - 07.04.2016 - link
- The volcanic history of Ascension island - Durham University - link