Publié le par Bernard Duyck
To understand the behavior of the ice sheet that covers Greenland, scientists at the GFZ / German Research Center for Geoscience have used the geological history of the North Atlantic region.

Secrets of Greenland past are buried under a thick icecap up to 3 km. The new techniques combining the seismic, gravimetric, radar surveys, analysis of ice coring, ground and satellite observations , have located an area of geothermal stream revealing the location of the crossing of Greenland above the "Iceland's mantle plume".
This area of ​​thermal anomaly, oriented east-west, corresponding to a widespread melting under the icecap and an increasing slip at its base to a distance of 750 km., from the highest point of the Greenland ice cover in the direction of North Atlantic.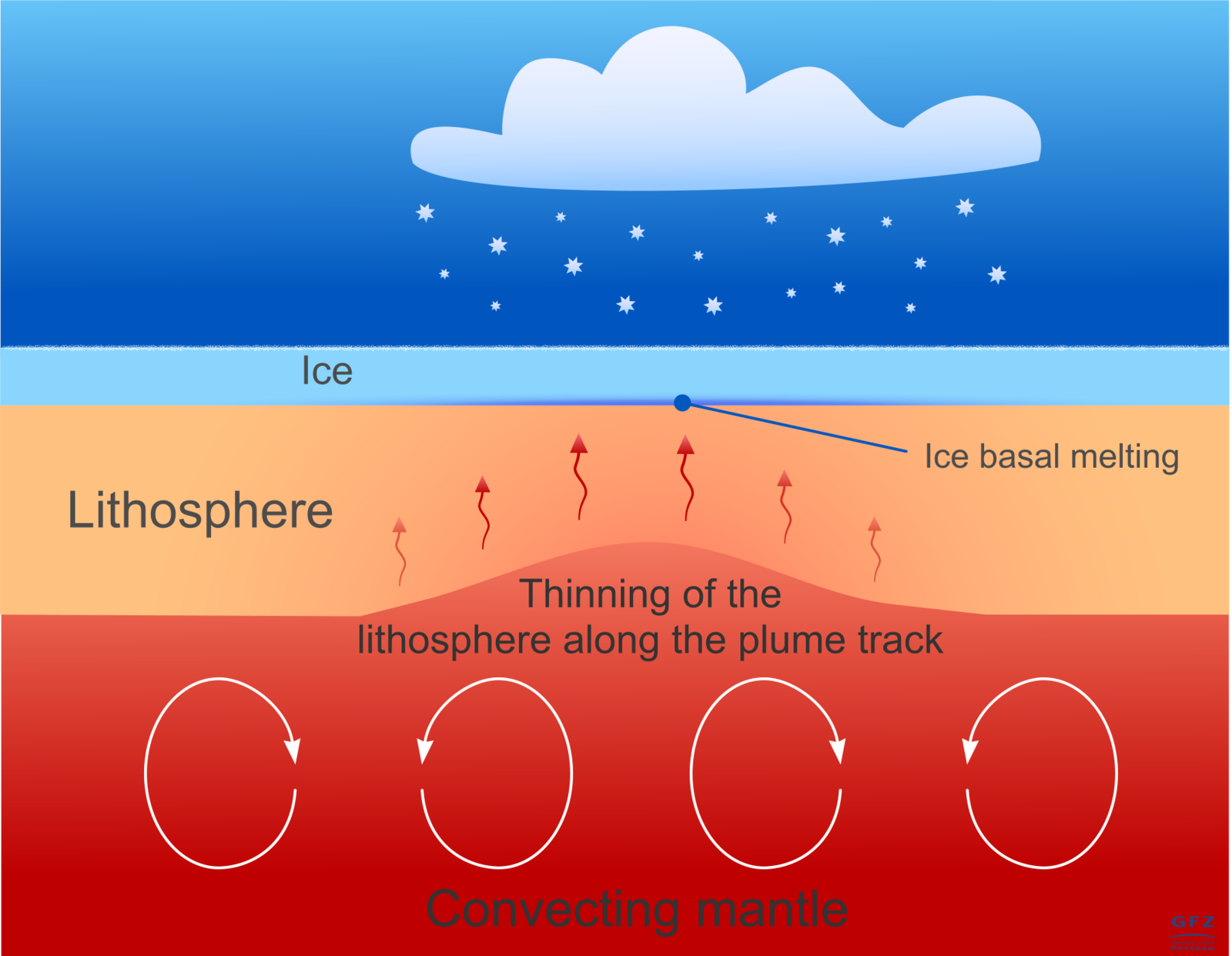 Conceptual scheme of interaction between the mantle and the Greenland ice sheet above the mantle plume - according A.Petrunin / GFZ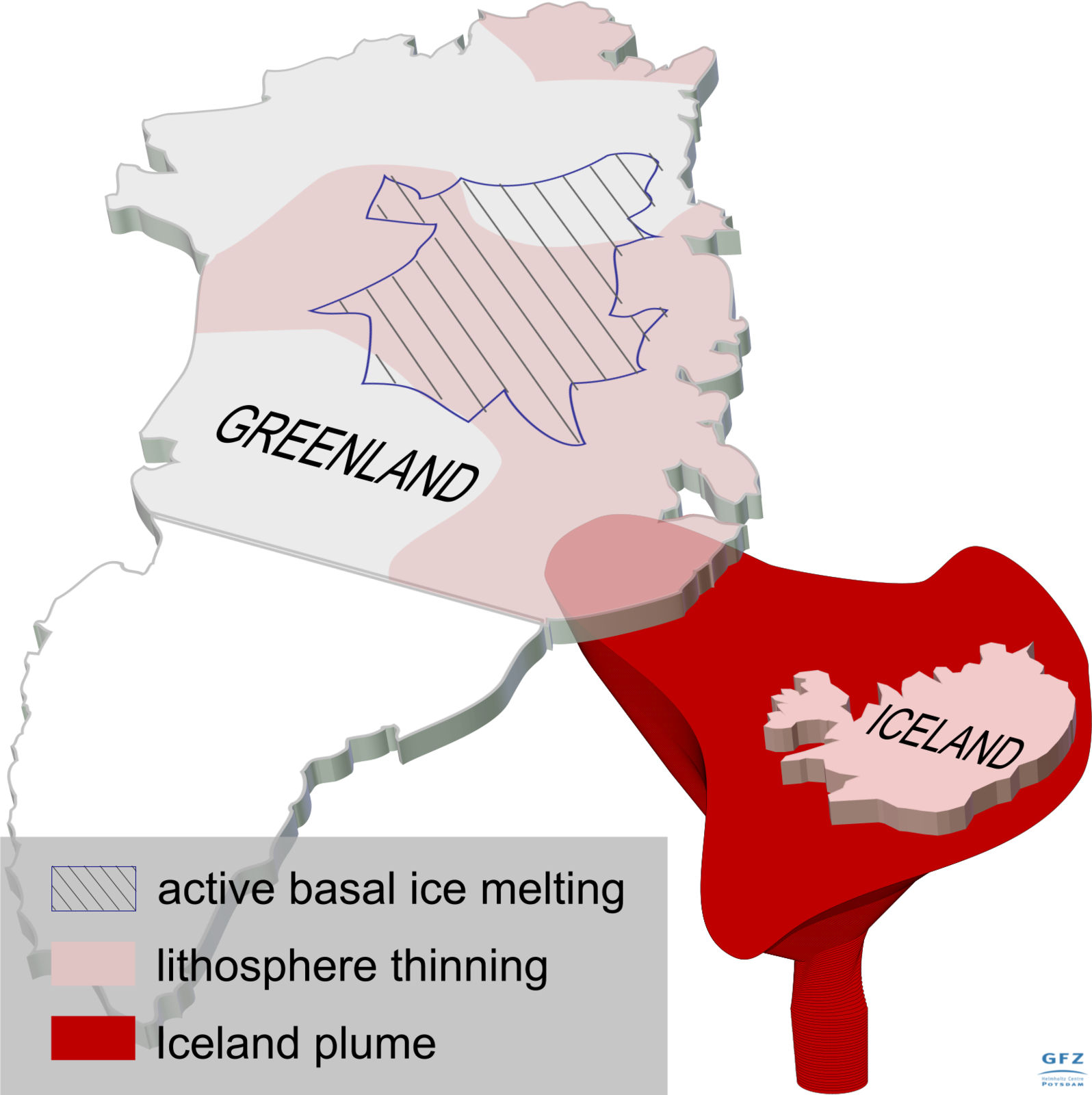 Current location of Icelandic plume and areas where it induced a lithospheric thinning and active melting of the base of the ice covering Greenland - red, Icelandic plume mantle; pink, lithospheric thinning; hatched, zone of active basal melting ice - according A.Petrunin / GFZ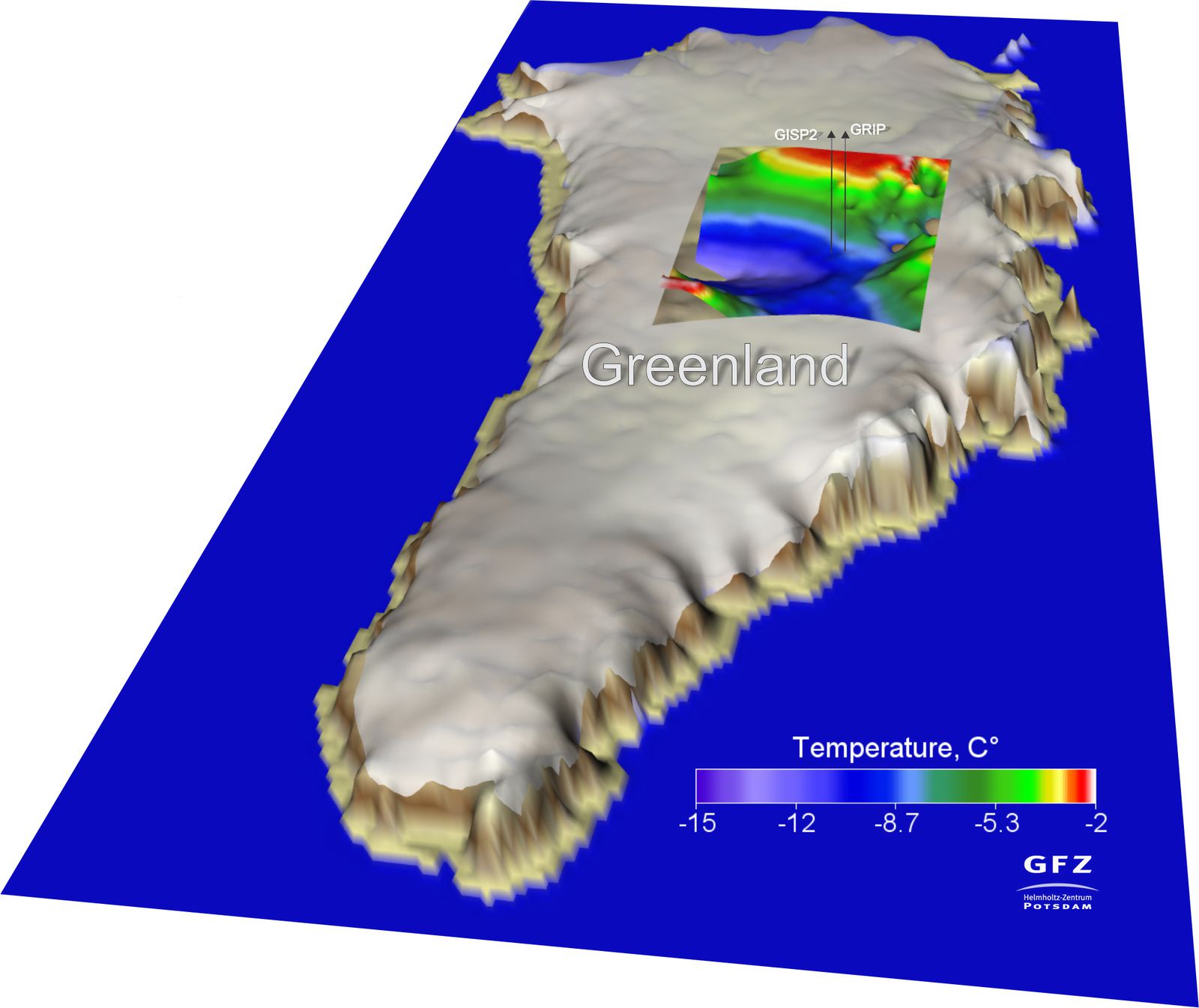 Basal model of temperatures of ice on the ice cap covering the summit region of Greenland - GRIP & GISP2 indicates drilling locations - Doc. A.Petrunin / GFZ
Between 80 and 35 million years ago, tectonic processes do moving Greenland over a hot mantle plume, now in charge of volcanic activity in Iceland, under which it is positioned.
The mantle of molten materials have thinned the lithosphere deep under a quarter of the surface of Greenland, and created an area where subglacial meltwater are abundant, lubricate the base of the cap and make it run faster.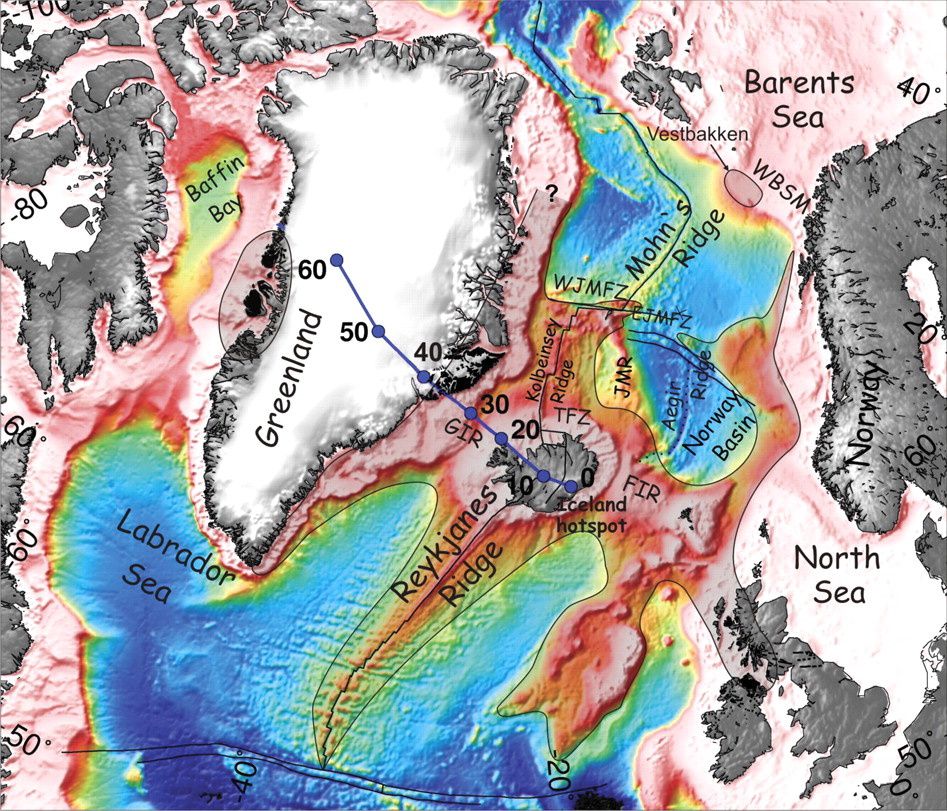 North Atlantic tectonic and position of the Icelandic mantle plume over time (according to one hypothesis) - doc. GSA pub
The study indicates that about half of the ice north-central Greenland rests on a thawed bed, and melt water is channeled to the ocean through a dense hydrological network under the ice.

"Geothermal anomaly resulting from the action of the Icelandic mantle plume there are tens of millions of years is an important driver for the current subglacial hydrology and high-speed ice" explains Irina Rogozhina from GFZ . ... "This must be included in studies of the future response to climate change."
Source :
Melting at the base of the Greenland ice sheet explained by Iceland hotspot history. Nature Geoscience, Advance Online Publication, 04 April 2016, DOI: 10.1038/NGEO2689 Rogozhina, I., Petrunin, A., G. , Vaughan, A., P., M., Steinberger, B., Johnson, J., V., Kaban, M., K., Calov, R., Rickers, F., Thomas, M., Koulakov, I., 2016.