Publié le par Bernard Duyck
The activity of the Santiaguito (Guatemala) remains important with two blasts on 22 May 2016.
The first explosion, not audible, to 8.30 a.m. local time, generated a plume reaching 3,500 meters asl, with falls of ash on the surrounding communities. The second explosion, about 13 p.m. local time, was accompanied by a plume rising to 5,000 meters asl, before moving over a 40 km area south and west, and pyroclastic flows on the eastern and western flanks, over 2 km. Ash falls were reported on villages east of the cone.

Sources: INSIVUMEH and Conred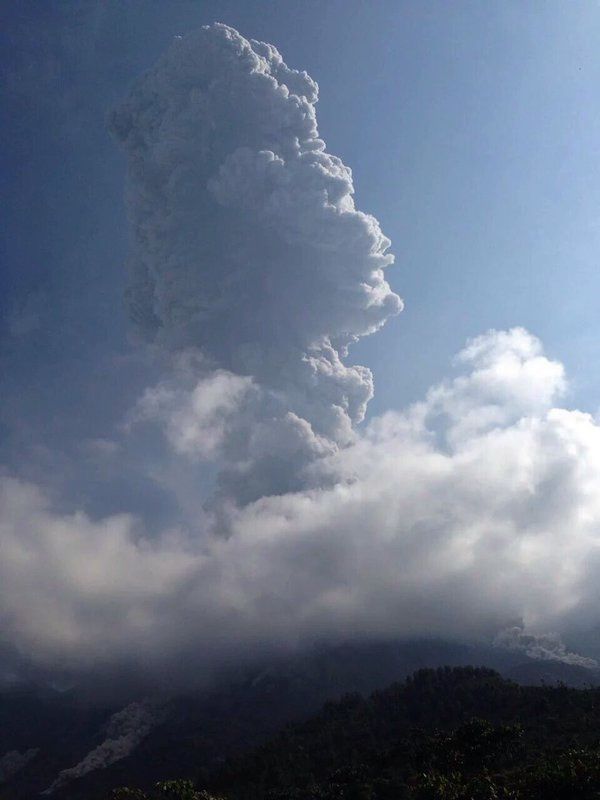 Santiaguito - explosion 05.22.2016 / 13h loc. - Plume and pyroclastic flows on the eastern and western flanks - photo Conred
The Turrialba (Costa Rica) continues to emit ash passively; these emissions have only been monitored by the webcam on the Irazu, the summit webcam of Turrialba being deprived of electricity (because of ash and rain) and irreparable for the moment because of the activity .

Seismicity is dominated by volcanic tremor.

Explosions were observed at 6:30, 7:55 and 15 p.m. local. The ash impact the Valle Central, in the areas of San Jose, Heredia and Alajuela, and reaches more distant places, such as Puriscal and the Pacific.

Sources: Ovsicori and RSN

The Nevado del Ruiz (Colombia) continues to present regular ash emissions ; following those of 17,18 and 20 May, two issues were detected yesterday May 22

The first local to 2:35, associated with a tremor pulse, is characterized by a rising ash plume to 1,300 meters above the summit. A second pulse of tremor at 5:51 local time, associated with emission of ash forming a plume to 2,300 meters above the volcano, visible because of perfect visibility.

Source: Servicio Colombiano Geologico - Manizales.