Publié le par Bernard Duyck
The activity reported on May 17 to northeast crater of Etna (NEC) with ejection of bombs and fallout of pyroclastic material on the sides of the cone, was accompanied this May 18 by an ash plume in the morning, quickly dispersed to east, and a light glow at the vent of 25 November 2015 of NSEC.

By late morning, the inclinometer installed in Punta Lucia, quote 3000 meters northwest of the northeast crater, has experienced a rapid inflation of the summit area.
Shortly after 24:50 local, INGV recorded the departure of eruptive activity in the Voragine, which quickly evolved in pulsating lava fountains. Simultaneously, the Strombolian activity of the northeastern crater fell, giving way to an emission of black ashes and then stopped.

The magnitude of the tremor has increased rapidly with the start of the climax, and its source past
from the NEC to the Voragine.


from the NEC to the Voragine. Etna - amplitude of variations of the tremor at 18.05.2016 / 5:18 p.m. - Doc. INGV Catania
Etna - lava fountains recorded by thermal cameras on 18/05/2016 at 11:46 and 11:47 loc / 1:46 p.m. and 1:47 p.m. GMT time - a click to enlarge - Doc. INGV Catania
The plume of Voragine rose to 3000-3500 meters above the summit before being taken away to the east-southeast by the winds. During the afternoon, lava overflowed the western rim of the Bocca Nuova-Voragine depression, to supply small flows westward and the Valle del Bove

Source: INGV Catania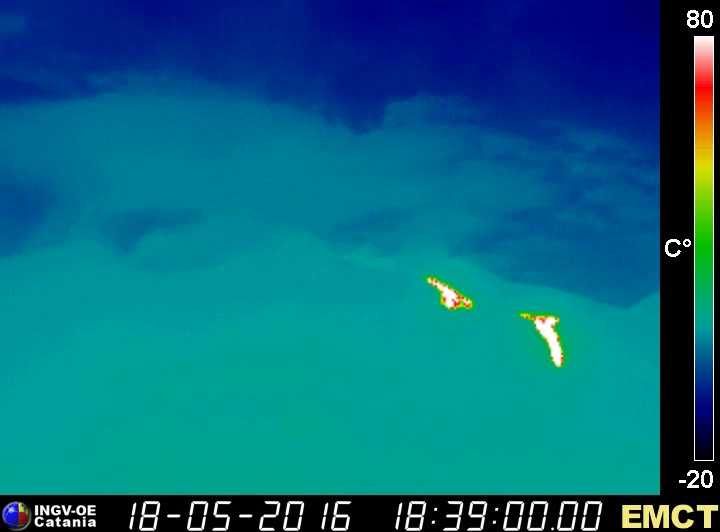 Etna - signing lava flows in the thermal camera - 05.18.2016 / 6:39 p.m. loc - Doc. INGV cam therm Emct0373
The Fuego issued on 18 May at 10:30 local pyroclastic flows, described as moderate, which roamed the ravines Las Lajas and Honda; Ash column associated rose to 5,500 meters asl before spreading to the south-southwest at 15 km.

Ash fallout were moderate to El Rodeo, La Rochela, Osuna, Panimace, Morelia, Sangre de Cristo and Yepocapa.

According to Gustavo Chigna, volcanologist of INSIVUMEH, this sudden eruption happened without noise, without explosions. The authorities are coordinating the evacuation actions of students from a school in San Juan Alotenango.

Sources: INSIVUMEH & Conred / Guatemala
In Costa Rica, Turrialba experienced a passive emanation of ash, steam and gas, on May 18 from 12:50; it lasted two hours after and the plume is maintained between 500 and 700 meters high.

Source: Red Sismologica Nacional / RSN