Publié le par Bernard Duyck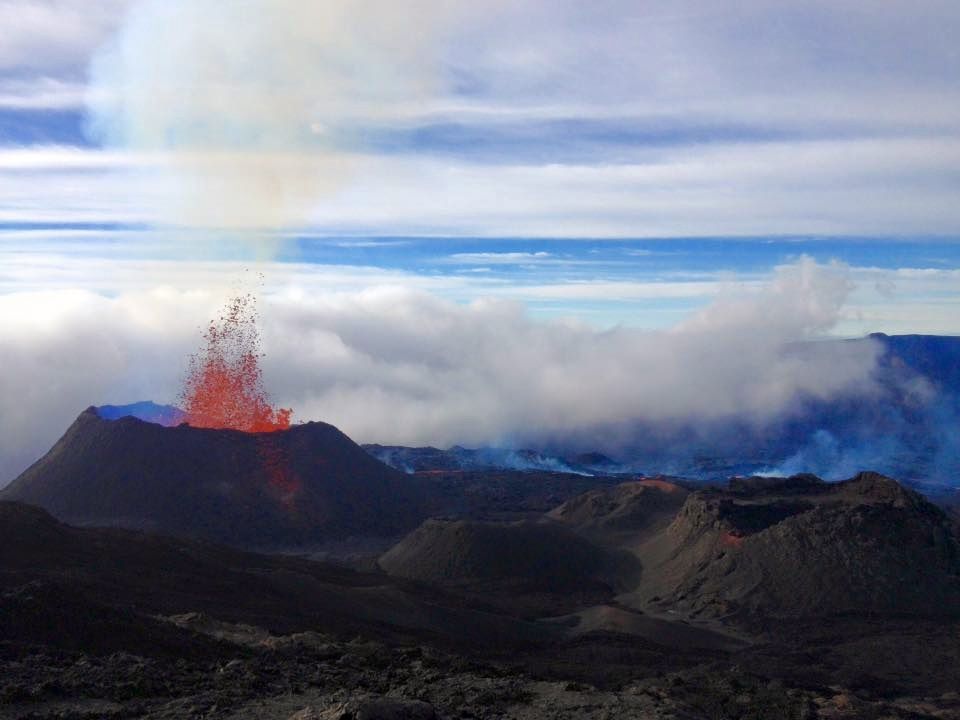 In poor visibility, a photo of the last activity of Piton in October 2015 - photo Frog 974 Photographs
Since 8:05 this morning, the volcano observatory of Piton de la Fournaise records a volcanic tremor whose strongest signal is recorded on the station Château Fort (southeast of the Enclos). This signal is characteristic of an ongoing eruption.

This signal indicates that one eruptive crack (s) have opened near the Castle cone crater.
Due to bad weather (70 mm of rain recorded in this area in the last 12 hours) no visual confirmation could be made.

The eruption was preceded by a seismic crisis that began at 23h40 May 25 (local time). This seismic crisis was accompanied by deformation resulting of an intrusion of magma towards the surface. This intrusion was also located in the southeast flank of Piton de la Fournaise (crater sector Castle).
This rapid increase followed a rise in inflation observed in recent days as well as the reversal of the CO2 activity recorded since mid-May.

The prefect of La Reunion triggered today at 8:30 am warning 2-2 Plan "ORSEC volcano" eruption underway. Public access to the Enclos Fouqué, either from the path of the Pas de Bellecombe or from any other path as well as the helicopter landing in the volcano area is prohibited until further notice. A fuller recognition will take place later. "

Sources: Thierry Sluys communication, whom I thank, and report OVPF
At Nevado Del Ruiz (Colombia) recording signals associated with fluids in motion continues. A new episode of volcanic tremor of high energy level at 07:00 (local time) on May 25 is also noticed.
These signs are associated with ash emissions, which is shown in the images captured through web cameras that are in the volcano area. The height of the column of the show today reached about 1,800 meters. It was also possible to confirm the issue and ash fall by responsible of los Nevados Natural National Park and from the municipality of Venadillo (Tolima).
Source : SGC Manizales
On May 25, 2016, two loud explosions shook the Santiaguito (Guatemala), generating a plume of ash reaching 5,000 meters asl, dispersing towards the SW over 40 km., and pyroclastic flows down the Caliente dome on the flanks east, south and west.
Sources : Insivumeh & Conred