Publié le par Bernard Duyck
The underwater volcanoes of the arc of the Mariana ... a natural laboratory for the study of ocean acidification and its impacts on species and ecosystems.

The underwater volcanoes produce places characterized by a chronically low pH, due to large amounts of magmatic gases released, including carbon dioxide and sulfur dioxyde.
In the Northern Mariana arc, the island of Maug is a great research site.
Three small emerged islands are surrounding a large submerged caldera, with an average depth of 200 meters, capping a submarine volcano whose central lava dome rises to twenty meters below the surface.
The inner walls of the caldera exposed lava flows and pyroclastic deposits intersected by radial dikes.
Vents release CO2 directly into a shallow coral reef ecosystem.

The results of an expedition in May 2014, in collaboration between NOAA and the CRED / Coral Reef Ecosystem Division, show that the pH created around the vents has an impact on health and the distribution of coral species, which grow only very little on the central dome, where the vents are located.

Maug island - coral cover, peripheral distribution and absence in the caldera - a click to enlarge - Doc. NOAA Pacific Islands Fisheries Science Center Blog http://www.pifsc.noaa.gov/
Another natural laboratory is located in the seamount Eifuku Northwest, where there is liquid carbon dioxide vents, because of the pressure exerted at a depth of 1,600 meters.

It is the only submarine volcano located on a volcanic arc where this phenomenon is known, Its production is also the highest of the underwater hydrothermal sites in the world.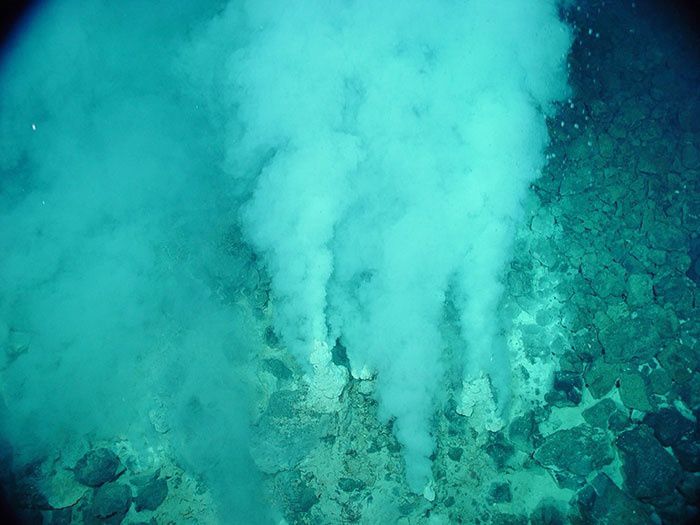 Champagne vent field on the seamount Eifuku NW emits carbon dioxide liquid droplets in a geothermal vent area of a ​​"white smoking" - Image courtesy of Submarine Ring of Fire 2014 - Ironman, NOAA / PMEL, NSF.
It houses a carpet of microorganisms and a high biomass of chemosynthetic molds ... only the shell of these molds is two times thinner than those of conspecifics localized elsewhere. She is so thin that it is translucent when backlit ; more ... when a mold of Eifuku dies, its shell dissolves so quickly that she left before the body of the mold is eaten by scavengers or rots.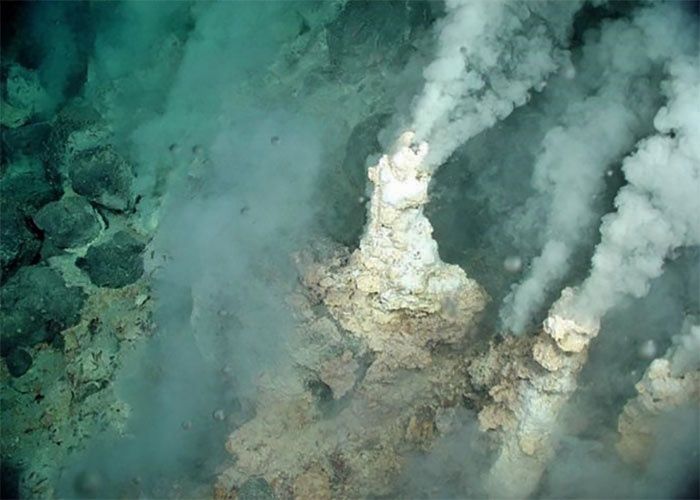 Drops of liquid carbon dioxide out of adjacent fractures in white smoking chimneys on the Champagne field / Eifuku seamount - Image courtesy of the NOAA Vents Program