Publié le par Bernard Duyck
An increased number of small earthquakes has been detected at Niigata- Yakeyama, located in the island of Honshu in Japan. According to the local observatory, the number of volcanic earthquakes is 4 times larger than usual, with 23 episodes in 24 hours. Low frequency earthquakes, in relation to the fluid internal movements, are dominant.

In addition, increased of fumarolian activity on top of the east side of the volcano and inflation were noticed.

The alert level remains at 1, but accompanied by an exclusion zone of one kilometer radius around the top.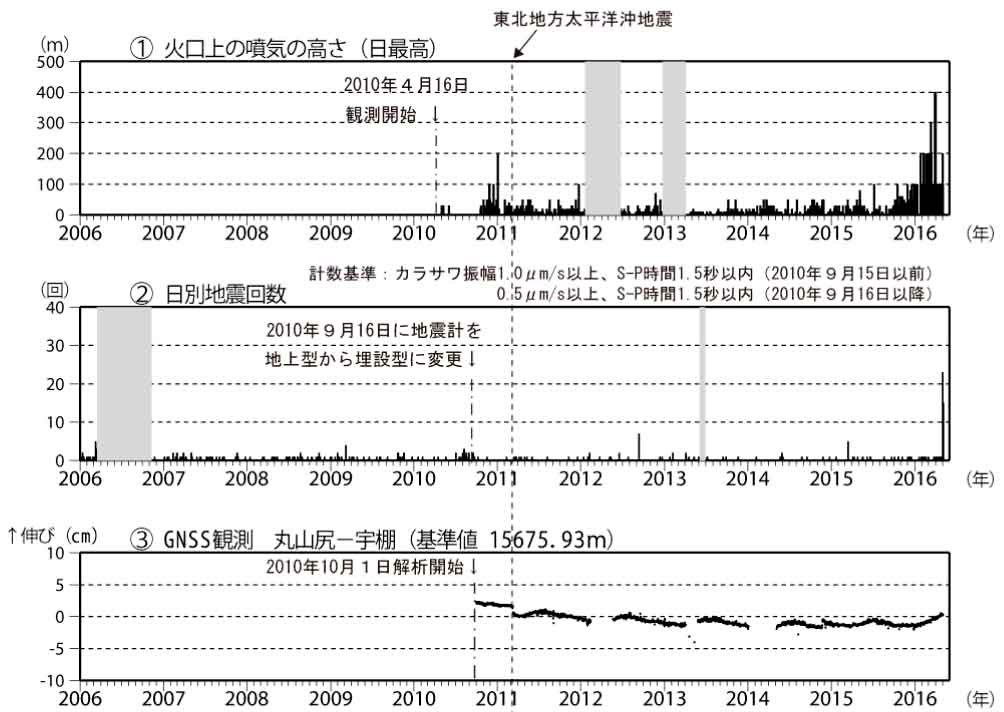 Niigata-Yakeyama - increased seismicity (the two diagrams above) and slight inflation (bottom) - Doc. Wordpress
The Niigata-Yaakeyama is a young andésito-dacitic dome above 2,400 meters. Three major eruptions took place in historical times, characterized by pyroclastic flows, surges and lava flows. The current lava dome was built during the 1361 eruption.

The last magmatic eruption dates from 1773; then the activity is summarized in minor phreatic explosions at radial fissures and explosion craters cutting the top and sides of the dome.
Sources :
- Wordpress – Seismic unrest at Niigata-Yakeyama voklcano in Honshu
- Volcanodiscovery et NHK
- Global Volcanism Program – Niigata -Yakeyama