Publié le par Bernard Duyck
During the construction of a dam in 1969 in the Kula volcanic field in western Turkey, human footprints were found in a thin layer of volcanic ash.

These footprints come to be dated according to a new method (isotope helium-3 and Berylium-10) of about 11,000 years ago by the WWU / Westfälische Wilhems Universität Münster ; the range given by previous dating was too wide, between 250,000 and 25,000 years, to be exploitable.

This study will enable archaeologists to reconstruct the history of settlement in the region. It also shows that the Kula volcanic field has had several volcanic eruptions in the last 4000 years.

The Kula volcanic field:

Among younger volcanic areas of the eastern Mediterranean, the Kula volcanic field, which covers about 360 square kilometers, consists of various maars, cinder cones and lava flows basanitic to phonotéphritic is aligned east-west to the southwest of the city of ​​Selendi. Most of the structures date of the Pleistocene, between 1.1 million years to 10,000 years.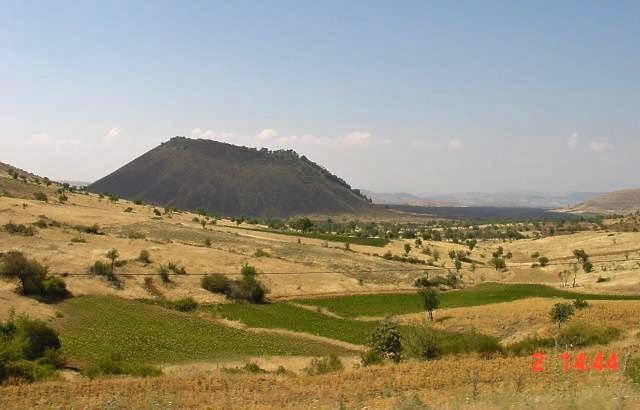 Kula volcanic field - Kara Tepe Divlit cinder cone - Photo by Samuele Agostini, 2000 (CNR, Pisa, Italy) / GVP
The volcanism it comes in three periods: the first characterized by lava flows from vents along a circular fracture of a caldera identified from satellite images. ; the second and third are related to volcanism along a graben oriented east-west.
Sources :
- GFZ – Postdam - New age dating solves the enigma of the age of a human footprint -link
- Surface exposure dating of Holocene basalt flows and cinder cones in the Kula volcanic field (Western Turkey) using cosmogenic 3He and 10Be - Caroline Heineke, Samuel Niedermannb, Ralf Hetzel, Cüneyt Akal - link
- Global Volcanism Program – Kula volcanic filed
- Petrology of the Kula Volcanic field – J.M.Dyer / State University of New York
- Kula Geopark - Turkey