Publié le par Bernard Duyck
.This June 10, 2016, a new eruptive period began in Turrialba. The tremor was recorded since 11:26, decreasing thereafter to 12.30, before rising again and continue.

Due to weather conditions,no observation is possible by webcams.

Source: RSN & Ovsicori / Costa Rica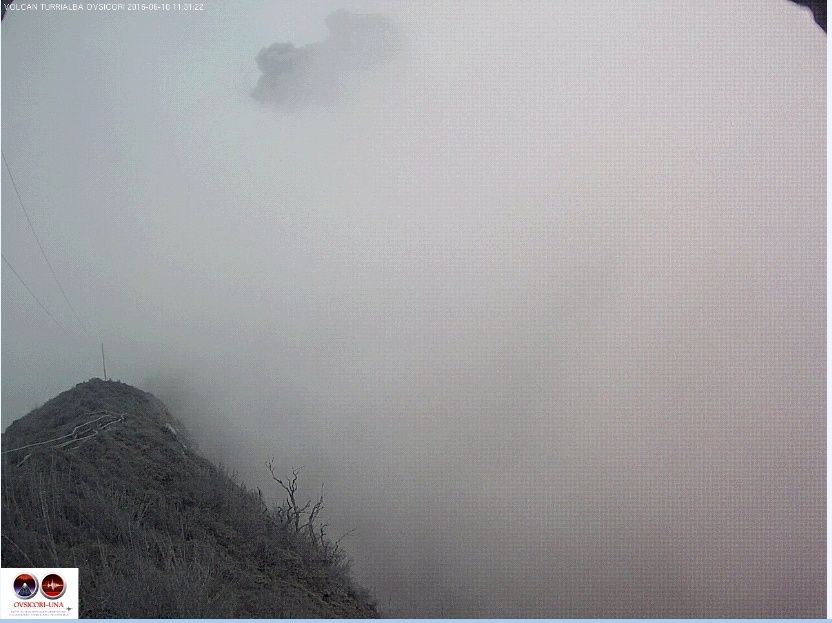 Turrialba 10.06.2016 - the summit in fog permits rather the eruptive plume (partly left top of the photo) - webcam Ovsicori
At Sinabung, the viscous magma accumulates at the summit lava dome, and forms lobes close to collapse.

According the VolcanoDiscovery guide, Andi, the unstable mass of lava has reached critical values ​​and could produce new pyroclastic flows. The observatory reports an outpouring ratio of 300,000 m³ per day; the new lava lobe unstable on the southeastern flank would have a volume of 1.5 million m³.
After the deadly pyroclastic flow of 21 May, the next is expected ... it's only a matter of time.

Source: VolcanoDiscovery and PVMBG

On Kilauea, the floor of Pu'u O'o crater continues his subsidence, this deflation is confirmed by the tilmètre.

Changes mark the lava flow of June 27 north of the East rift zone: it would no longer active, presumably his power was lost.
The pahoehoe flow on the eastern flank is active since May 24, and reaches 2,700 meters south-east, halfway between the top of the pali Pūlama. It does not threaten nearby communities. The HVO has installed a mobile webcam to monitor the casting. (HVO website / mobile cam 3)

Source: H.V.O.
In Nicaragua, a strong earthquake measuring 6.1 to 6.0 occurred on June 9 at 9:25 p.m. local, followed by a seismic swarm: between the first shock and 22 hours on June 10, the Red Sismologica of Nicaragua detected 1,300 aftershocks (link) and notes that this will continue in the coming days.
The little depth of hypocenters, which varies between 0.0 and 15 km, is worrying; these telluric movements are more noticeable by the surrounding population and up to 200 km. seismic foci.
Although close to the San Cristobal volcano, these earthquakes are not related to volcanism, but in relation to local faults, according to seismologist Ineter W.Straus.

Sources: RSNN / Simologica Red Nacional de Nicaragua Nicaragua & Geografia