Publié le par Bernard Duyck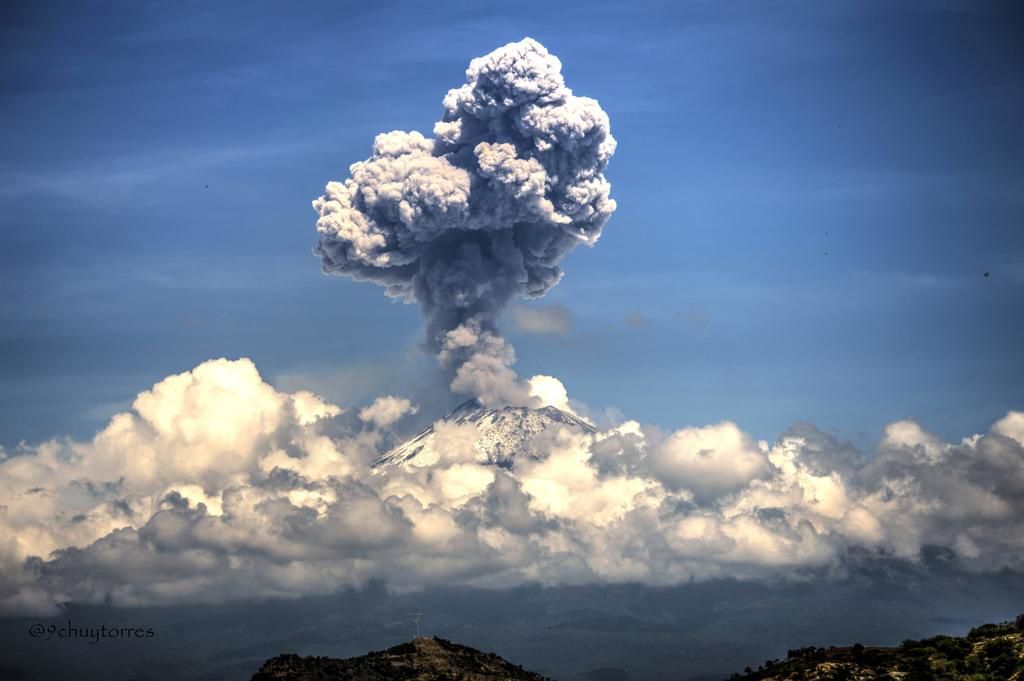 The explosion of the Popocatépetl since 06/12/2016 Atlixco Puebla in HDR - photo 9chuytorres / Twitter
In Mexico, the CENAPRED inform over episodes of incandescent Popocatépetl's crater in the night of June 11 to 12.

In the last 24 hours, the monitoring has identified 59 exhalations of low intensity, accompanied by gases and water vapor plume, with occasional minor amounts of ash, scattering toward the northwest.

At 11:17, a moderate to high explosion produced an ash plume that developed in mushroom and climbed to about 3,000 meters before dispersing to Puebla and Mexico City.

This episode has not yet been reviewed by the CENAPRED.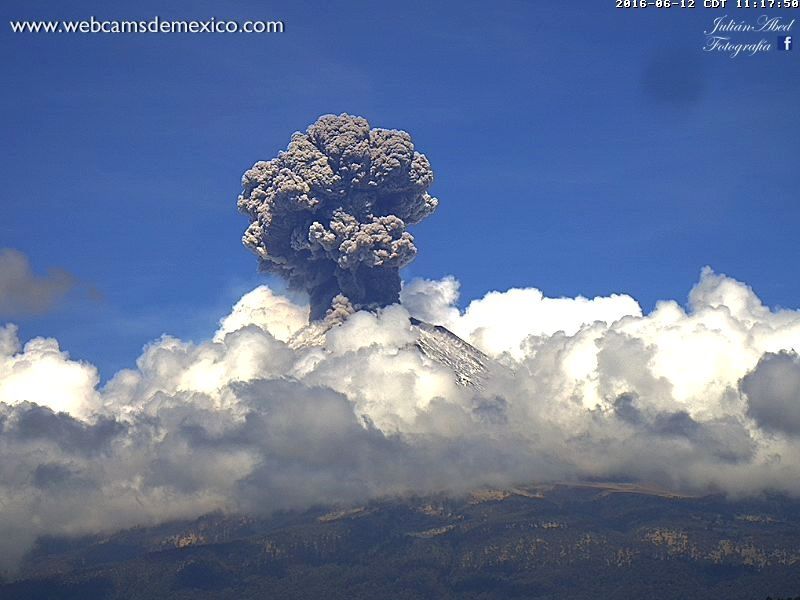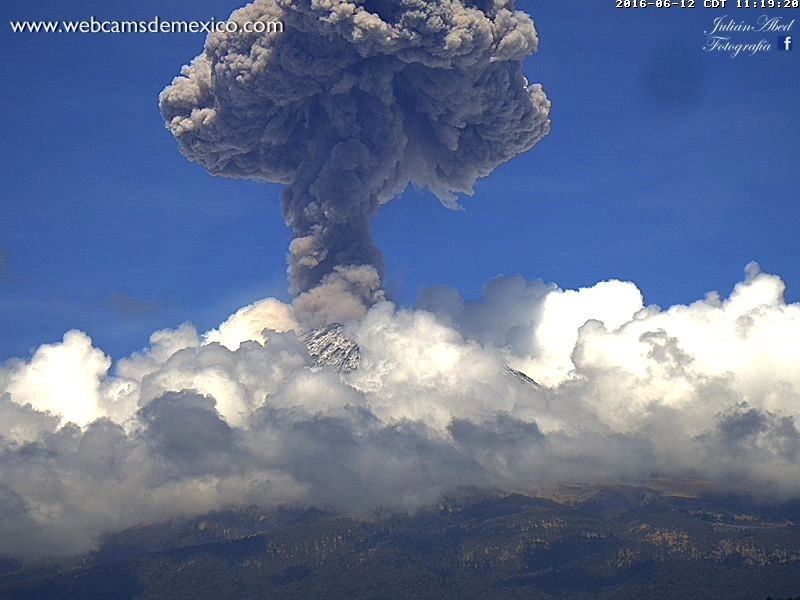 Development of the eruptive plume of Popocatepetl on 12/06/2016 at 11:17 and 11:19 respectively - photos webcams de Mexico
In Costa Rica, the activity of Rincon de La Vieja has increased, with others among the testimony of a plume rising above the massive, by three neighboring villages.

The volcanologist Gino Gonzalez, from the center of investigation in Geological Sciences, conducted a site inspection on June 10 and noticed a drop in level of the acid lake of 5 meters, discovering various terraces of volcanic materials from former eruptions or collapses into the crater.

Various reasons are given for this decline in lake level: the usual temperature of the lake, oscillating between 28 and 30 ° C, increased to 40 ° C, causing evaporation. In addition, there are 22 days, a phreatic eruption view of the northern part of Upala, expelled material on the slopes.

The sulfur accumulation on various walls of the crater and liquid sulfur jet to the melting temperature are signs of possible new eruptions.

Sulfur clusters in the fumarole are produced by the sulfur dioxide emission and hydrogen sulfide which interact. When it becomes liquid under the effect of heat, it comes down to the lake bottom, where it accumulates in the liquid state at a temperature above 120 ° C. When the system increases in temperature, sulfur heated to 180 ° C hardens again to form a plug, which is expelled during phreatic eruptions type similar to those that mark the Poas.

Source: Diario Extra - link

The phreatic explosion at Bulusan on Friday could be followed by others following the Phivolcs.
From 8 am Friday at 8 am Saturday, the seismic network recorded five volcanic earthquakes, including the explosion Friday at 11:35.

Emission of white vapor plumes amount to more than 150 meters have been seen, derived NNW.
Alert Level 1 remains in force, together with a prohibited area 4 km.

Source: Phivolcs, by the Tempo - link