Publié le par Bernard Duyck
In Costa Rica:

From 8 am June 15, the Turrialba showed an increase in seismic activity, characterized by episodes of tremor. Around 1:35 on June 16, the tremor increased marking passive ash emissions that continued until 7:15. At 8:05 and 9:05, two other episodes lasted respectively 20 and 10 minutes, with ash emissions, and again at 15:57.

Ash did not exceed the height of 500 meters above the active crater.
The winds were sustained towards the northwest in the morning, influencing the scattering of ashes. Ash fallout are reported only on the area of San Isidro of ​​Heredia. Sulfur odors are reported on San Jorge de Moravia, San Luis Santo Domingo and Tibas.

Around 17h, the Turrialba emits a plume of steam lightly loaded into ashes.
Source: Dr.M. Mora / RSN


At Poas volcano, a small phreatic eruption marked the 16 juin2016 at 5:05 local the acidic lake.

Source: Una-Ovsicori
In the Trans Mexican Volcanic Belt:

Were recorded at Popocatépetl 72 exhalations of low intensity accompanied by water vapor gas, and occasionally small amounts of ash. In poor visibility, six explosions were identified at 10:40, 11:07, 11:28, 3:14 p.m., 11:33 p.m. on June 15 and on June 16 at 1:45.

During the night of 15 to 16, the volcano was discovered by time, showing incandescence which increased during higher exhalations.

Source: CENAPRED


In Colima, the activity continues in the usual fashion.
To note, an explosion accompanied by a small dark gray plume piercing the lenticular cloud covering the summit.

Source: WebcamsdeMexico
An interesting article on the changes in morphology and structure of the summit craters and the eastern flank of Etna, on the site Etnalife.

Source: Etnalife - link article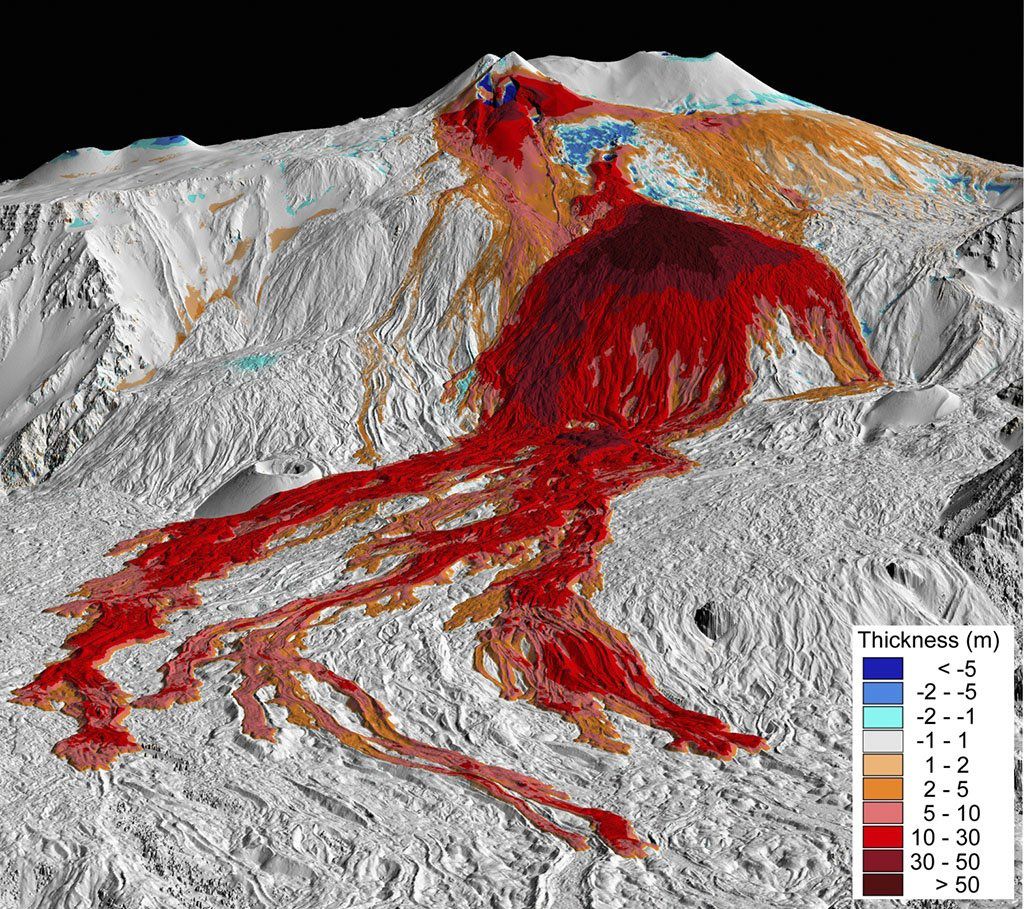 3D perspective view showing the thickness of deposits, mainly lava flows, issued between 2007 and 2010 calculated from LIDAR DEM successive differences. Source resolution DEM: 1 meter-Perspective: 105 ° azimuth and elevation angle of 15 ° - Graphical processing: INGV Pisa.
This review is deliberately not exhaustive ... other volcanoes erupting now: Alaid, Dukono, Klyuchevskoy, Sinabung ...