Publié le par Bernard Duyck
On Java, the Bromo maintains a relatively high level of activity with on June 29 to 7:41 p.m., a gray ash plume observed at about 800 meters above the crater. - link

The alert level remains at 2; together with a restricted area of ​​a kilometer from the crater ... to respect !

Sources: Jakarta Post and GAPP

The point has been made over the past week at Nevado del Ruiz by the GSC Manizales.

The unstable behavior of the volcano is confirmed by a larger internal fracturing activity, with earthquakes located mainly SW, and N of Arenas crater, between 500 m and 800 m. depth. Two major earthquakes have occurred 22 (ML 3.0) and 26 June, SW of Arenas crater and a depth of 2 to 4 km.

In addition, seismic activity linked to the fluid dynamics is characterized by earthquakes LP and VLP, and outbreaks of tremor of different energy levels, links with ash and gas emissions.

Deformations in tilt, position and shape of the volcano, measured by inclinometers, Satelite images and navigation systems, continues to show some changes.
Large quantities of steam, and gas, SO2 is emitted, without detect temperature anomalies.

Source: SGC Manizales.
In Santiaguito / Guatemala, moderate explosive eruption is registered on 29.06, irrelevant of ash fall.

The ash accumulation due to the eruptive activity of the Santiaguito has against caused moderate lahar on the Rio Nima I, characterized by its temperature, a strong smell of sulfur and chariant trunks and branches of trees , and blocks of 50 cm.to 1 meter.

Sources: INSIVUMEH and Conred

At Turrialba / Costa Rica, bad weather ofyesterday did not allow a direct observation. The VTCG seismic station recorded the tremor at 9:25 p.m. on June 29, lasting over an hour and a half, before a return to calm. Some ash falls were reported on Coronado

Sources: Ovsicori.
The lava flow from the Pu'u O'o continues to grow and expand this June 29 on Pūlama Pali, SE of Kilauea, and reached the western boundary of the subdivision of the abandoned Royal Gardens.
It is characterized by a a'a 'channeled lava flow. His lead is 600 m / day currently. A beautiful glow is visible at night on webcams, on the lava field, especially at the skylights and breakouts of lava front.

Source: HVO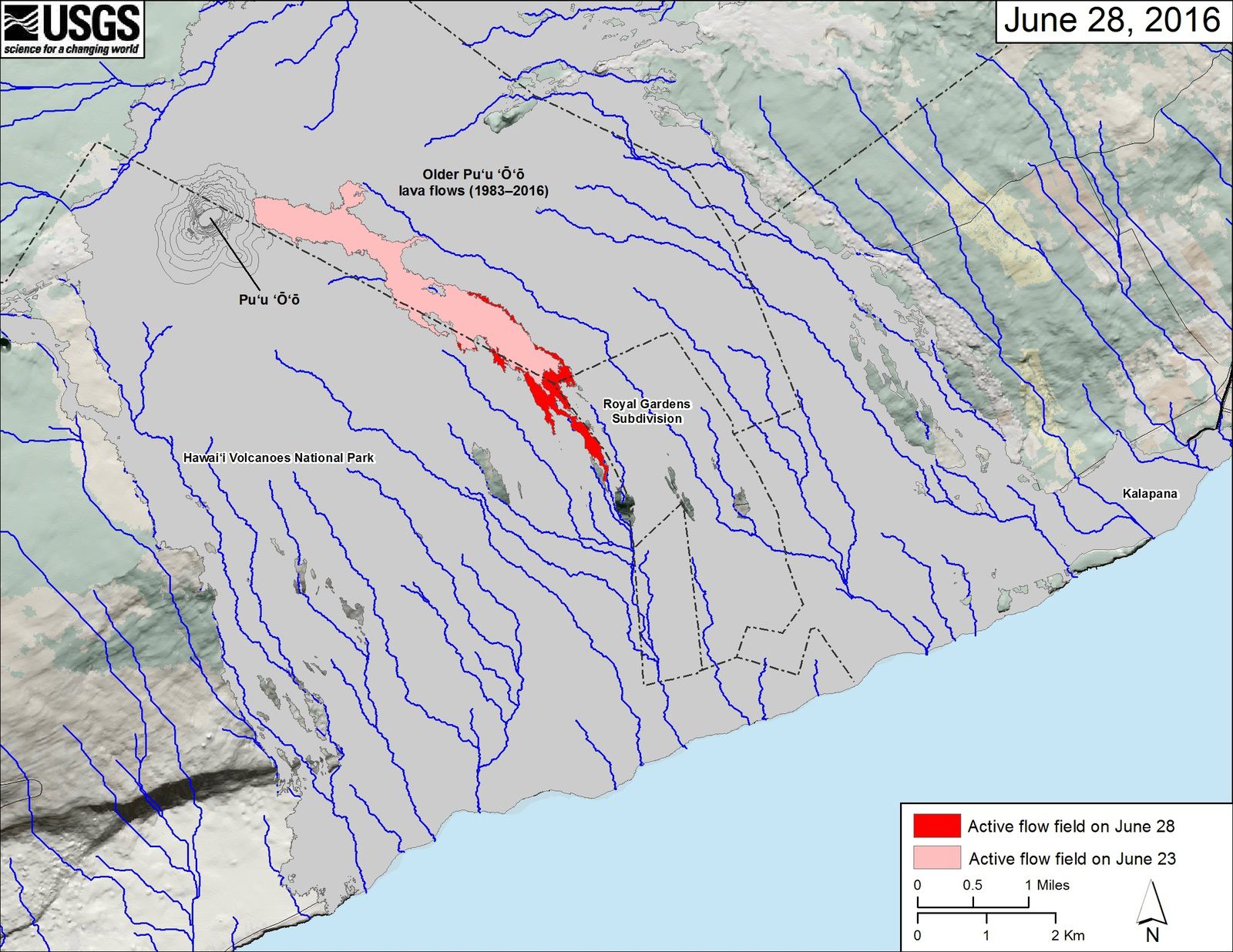 The lava fieflow channeled from the Pu'u O'o on the Pali Pūlama 28/06/2016 - active lava field of 23 June is pink; its advance to 28 June is red - HVO map
Spattering lava lake at the summit of Kilauea / USGS