Publié le par Bernard Duyck
In Chaparrastique / San Miguel, an increase of tremor late May due to the fluid flow, with a peak at 300 units, then declined from 13 June to climb to 400 units, and even up to more than 500 U on 15 and 16 June .Since June, an increase of the sulfur dioxide levels was noticed in the plume, as well as low inflation.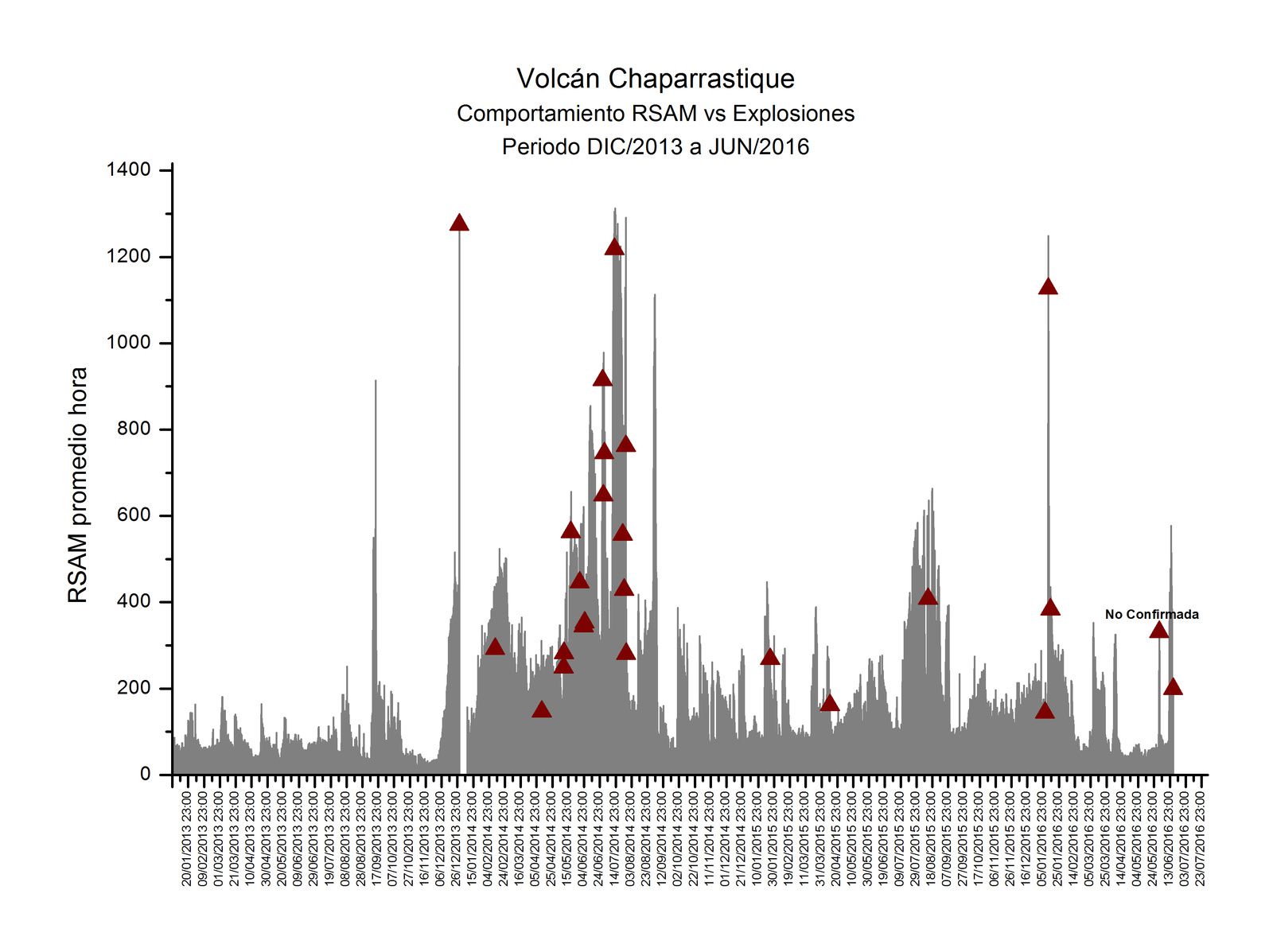 Chaparrastique - amplitude of the seismic signal / MRS and explosions between December 2013 and June 2016.
On June 18, at 4:10, a small explosion took place in the central crater, visible on the webcam of Cerro El Pacayal ... it's the 24th explosion since 29/12/2013; incandescent projections are mounted up to 350 meters before falling on the upper portions of the cone. Ash falls were reported on the north and west sides of the volcano, as well as sulfur odors on the lower parts of Chaparrastique.

According to the MARN, this activity could continue, and it is recommended to stay away from high parts of the cone to prevent emissions of materials, and respiratory risks associated with high concentrations of magmatic gases.

Source: MARN / Ministerio de Recursos Naturales y Medio ambient El Salvador - Informe Especial No. 5 & 6
At Kanlaon, after a series of phreatic eruptions yesterday from 9:19, which lasted 27 minutes and ash falls on the western slopes of the volcano, in Ara-al, Brgy. San Miguel and Brgy. Yubo, La Carlota City, Brgy. Sag-ang, La Castellana, and Brgy, the seismic network recorded during last 24 hours eight volcanic earthquakes, including explosion-type earthquakes.

The volcano is still marked by a small inflation and the emission of a white steam plume rising 400 meters before drifting westward.

Source: Phivolcs
Saturday, June 18, three phreatic eruptions were observed in ultra-acidic lake of Poas / Costa Rica. The first 7:48, the second at 7:49 ET to 10:34 third. The expelled material, water, sediment, sulfur and weathered rock fragments, are mounted around 100 meters above the lake level.
Since April 2016, emissions of steam and gas, and calorie intake has increased to the acid lake, with phreatic eruptions. The color of the lake rose to milky gray, stirred by vigorous convection currents, evaporation and the presence of sulfur on the surface. The current temperature of the acid lake varies around 50 ° C.
Source: OvsicoriOvsicori
The activity does not weaken at Sinabung with ash plumes issued on 19 June respectively to 2:26 and 7:04 local time.

Sources: Endro Lewa and PVMBG / Instagram