Publié le par Bernard Duyck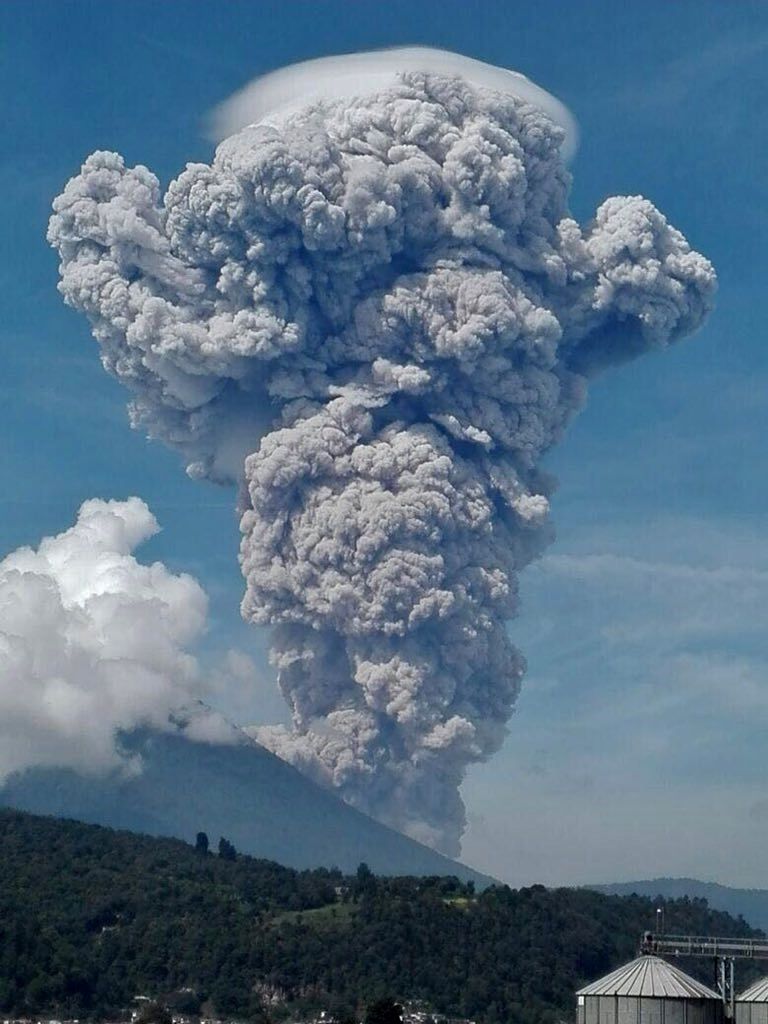 Santiaguito and the plume of ash and gas, wearing his pileus - photo by EU 06/17/2016 Xela / Clima Guatemala via Twitter
In Guatemala:

Santiaguito had on June 17, 2016 at 15:15 UTC a loud explosion reported from Retalhuleu, Suchitepequez and Quetzaltenango.

The eruptive column is climbing to 5,000 m. asl. The explosion was accompanied by shock waves, and pyroclastic flows on the eastern and western flanks of the volcano. Santiaguito propelled bombs to 2 km from Caliente dome. Ash falls are possible on Quetzaltenango. The plume was headed by a beautiful pileus (*), witness to the high speed of its release.

(*): A pileus (Latin headgear) is an annex of low cloud horizontal and vertical extension, shaped hat or cap that grows above the top of a convective cloud. It can pierce and quite often observed several superimposed pileus. Pileus may form the top of a volcanic plume rising at a significant rate.

Heavy rains generated significant lahars on the Rio Nima I, through remobilization of volcanic debris deposited by past eruptions. The lahar reached a width of 30 meters and carries blocks of 50 to 70 cm, and the trunks and branches of trees. (Wordpress)

This is the first explosion of this June, the activity of the Santiaguito having resumed in February, 2016.

These heavy rains caused a lowering oof materials produced by the Cerro Chingo. This small volcano is located on the border between Guatemala and El Salvador. These materials have affected the municipality of Jeréz, Guatemala.

This cone has not recorded eruptions in recent centuries, and is covered by forests and scrub. From the top, you can see a part of Salvador, the Lake Guija, the south coast and some volcanos.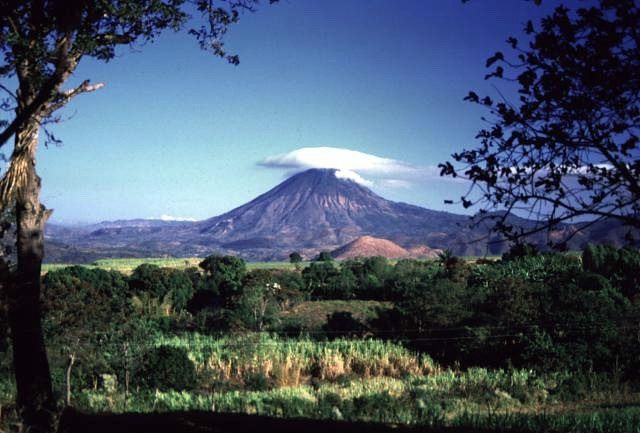 Cerro Chingo to the Guatemala-El Salvador border - Photo by Giuseppina Kysar 1999 (Smithsonian Institution).
In the Philippine archipelago, the seismic network registered, on 17 June, 3 volcano-tectonic earthquakes in Kanlaon volcano and the emission of a low steam plume amount to a hundred meters before drifting into a western sector.
GPS data confirms inflation.
The alert level remains at 1, the level corresponding to instability probably caused by hydrothermal processes that can lead to minor eruptions.

On Sumatra, the Sinabung had a partial collapse of the dome, which caused an avalanche of incandescent blocks on June 17 to 23h 32.

Klyuchevskoy's photos were uploaded by the site Volkstat : the eruption continued on 12 -13 June following direct observers. The lava flows on the southeast flank of the volcano.

According KVERT, the ash plume extended 13 June on 47 km to the west, and a strong thermal anomaly was observed by this Mirova June 17.