Publié le par Bernard Duyck
The Colombian Geological Service informs a change in the behavior of volcanic activity of the Nevado del Santa Isabel.
On June 13 at 2:52 local, a volcano-tectonic earthquake of magnitude of 3.3 and a depth of 4.6 km, linked to internal fracturing of rocks, was recorded in the east of the volcano. It was felt by residents. The level of volcanic activity is green (IV): behavior change.
The Nevado del Santa Isabel is an andesitic shield volcano overshadowed by its neighbors, the Nevado del Ruiz to the NE and the Nevado de Tolima to the SE. Three lava domes occupy the summit region covered by glacier, which rises to 4,944 meters. Its last eruption was dated radiocarbon 850 BC.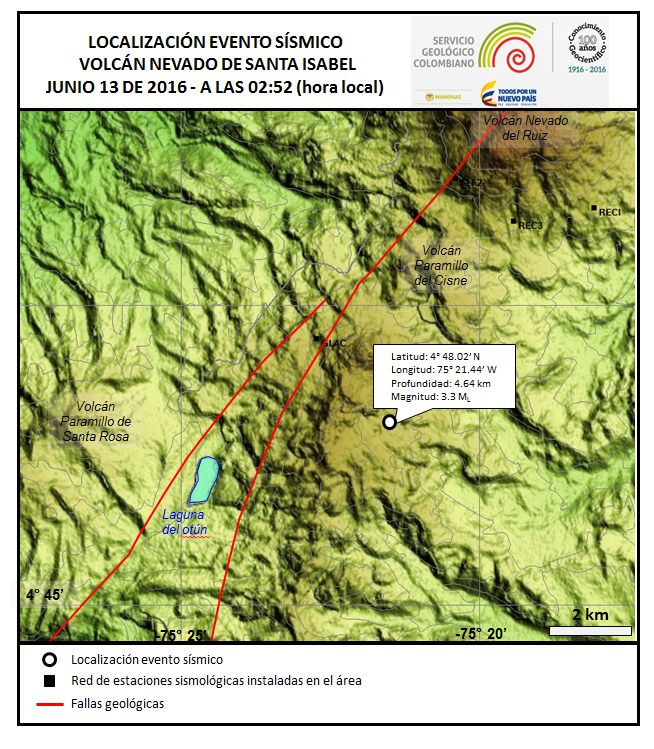 The alert level of Suretamatai was raised to 1 on a scale of 4, 27 May 2016. This volcano is also known Vanua Lava. It is located in the archipelago of the Banks Islands in northern Vanuatu.

Vanuatu Geohazards Observatory recorded a high seismic activity, and recommends that residents and tourists stayed out of the crater and avoid Sulphur River on the eastern flank, where there is a risk of emission of volcanic gases.
The Suretamatai occupies most of the island Vanua Lava, one of the largest of the Banks Islands. Unlike other volcanoes in Vanuatu, the volcano, also called Soritimeat, shows no summit caldera. A small chain of stratovolcanoes mainly basaltic to andesitic, oriented on a NNE-SSW line, giving it an irregular profile.
The most recent cone, located at the north end of the chain, is also the largest; its summit crater, 900 m wide. and depths of 100 m., contains a lake. It started in the 19th century, and caused only moderate explosive eruptions, the last between 1856 and 1864 and from 1965 to 1966. In 1965, an ash plume was emitted from a new crater appeared on the NW flank of the cone, while in 1966 small explosions (caused by water-magma interactions?) occurred. Recent activity is reduced to that of solfatara. Currently the main geothermal area located along the Sulphur River, on the eastern flank of Suretamatai, this fumaroles, hot springs and boiling pools.

Sources:
- VolcanoDiscovery - 13.06.2016
- Vanuatu Geohazards Observatory - Vanua Lava
- Global Volcanism Program - Suretamatai
Copious rains on the upper parts of Santiaguito have created significant lahars in the Rio Nima I, a tributary of the Rio Samala.
This lahar is composed of abundant fine and pasty, warm, material , of 50 to 70 cm blocks and he also carries branches and tree trunks.

Sources: INSIVUMEH and Conred
The Klyuchevskoy entered this morning in eruption; the eruption column reached 6,000 meters before drifting about 47 km to the west, according to Ria Novosti.
The aviation code went to orange.

Sources: KVERT - VAAC Tokyo - Ria Novosti