Publié le par Bernard Duyck
Bordered to the south by the Mariana Trench, at a place where the Pacific plate sinks beneath the Mariana-Philippine sea plate, the volcanic complex Fina Nagu is explored in 2016 by the NOAA ship Okeanos Explorer.

Fina Nagu means "beginning, or child" in Chamorro (Austronesian language of the Marianas) ... what a program!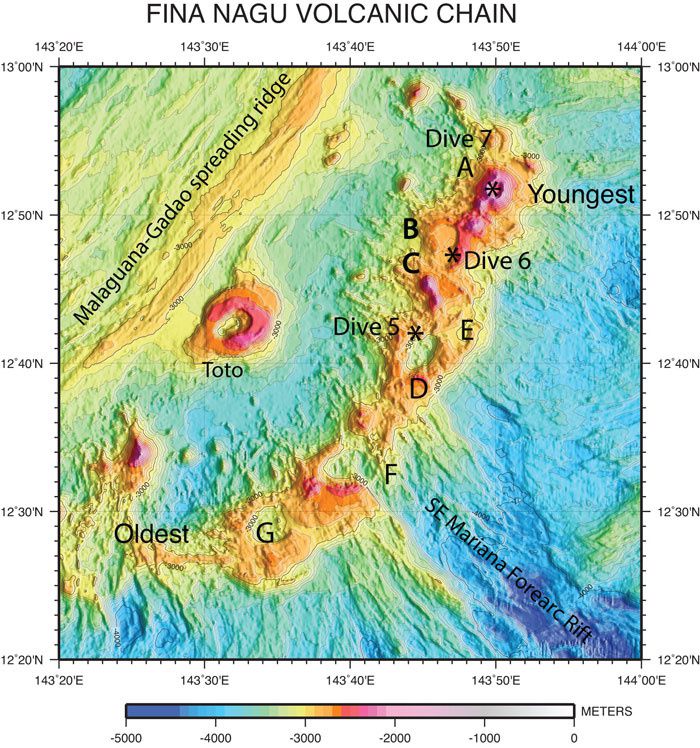 Volcanic Chain Fina Nagu and caldera Toto - Doc.courtesy of NOAA's Office of Ocean Exploration and Research, 2016 Deepwater Exploration of the Marianas.
Fina Nagu volcanic complex is in a high volcanic and tectonic activity area; it is bordered to the southeast by a fault area along the pre-arc rift southeast of the Marianas, and northwest, with a volcanic region concentrated on the Toto caldera and the expansion of the axis back-arc basin, Malaguana-Gadao ridge.

Seven calderas are spread over 65 km and a NE-SW axis, designated by the letters A to G. The ROV Deep Discoverer enabled exploration of calderas A to D.

Towards least 2,370 meters, the caldera A - the youngest - has at its center two resurgent domes. The eastern dome sees its slopes composed of volcanic sediment and basalt blocks, and is surmounted by the chimney of a hydrothermal vent of 14 meters high. The Western dome is covered by deposits and hydrothermal chimneys collapsed; at its peak, a vent present a diffuse flow of 3 to 5.5 ° C, where tube worms live.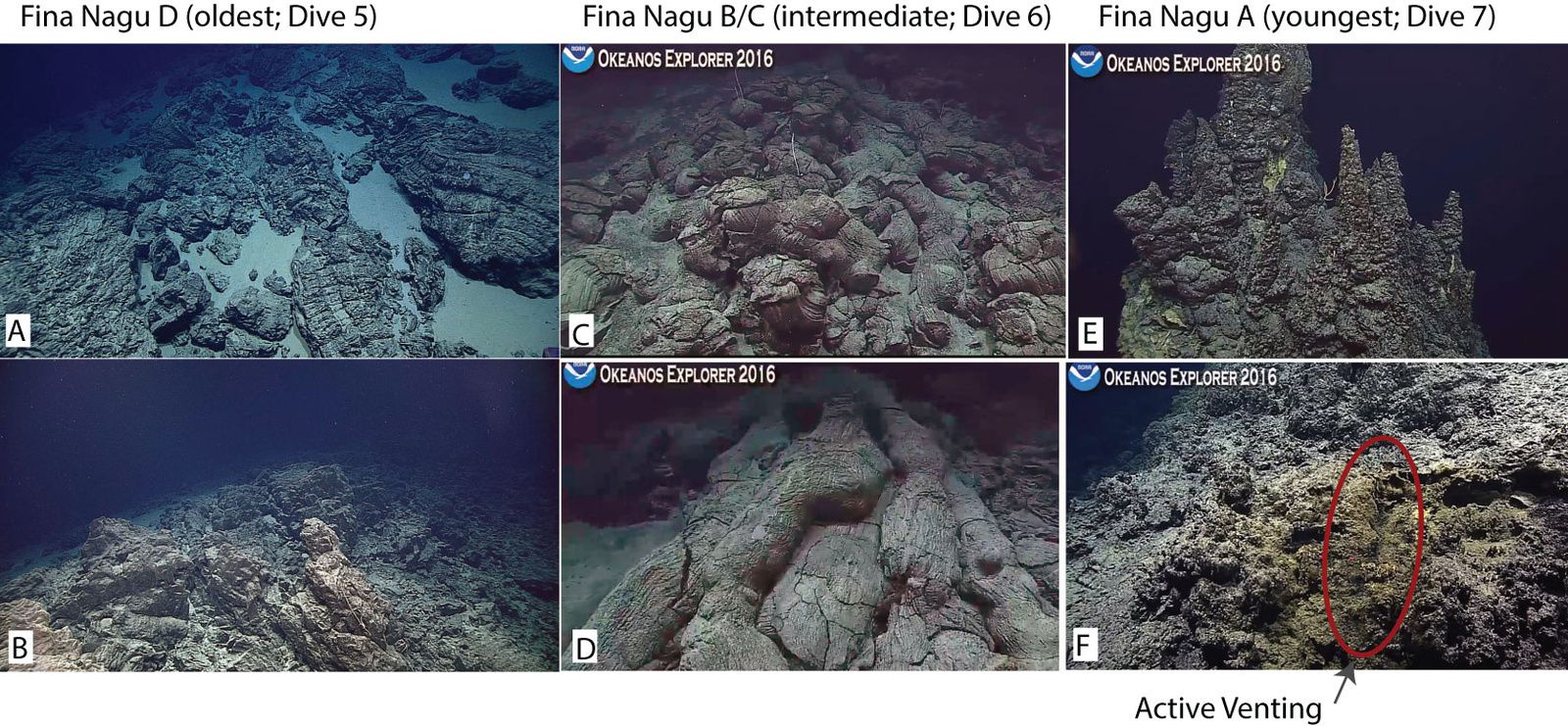 The seafloor photographed during dives 5-7: The north wall of the caldera D consists of pillow lava fractured and clear sediment (photo A) and dykes (photo B) - The dorsal between calderas B and C consists of pillow lava well preserved (picture C), some form tubes along the slopes (photo D) - the East resurgent dome of the caldera at present a large extinct hydrothermal vent (top photo E), and a light flux hydrothermal on the west (photo F) dome - Image courtesy of NOAA Office of Ocean Exploration and Research, 2016 Deepwater Exploration of the Marianas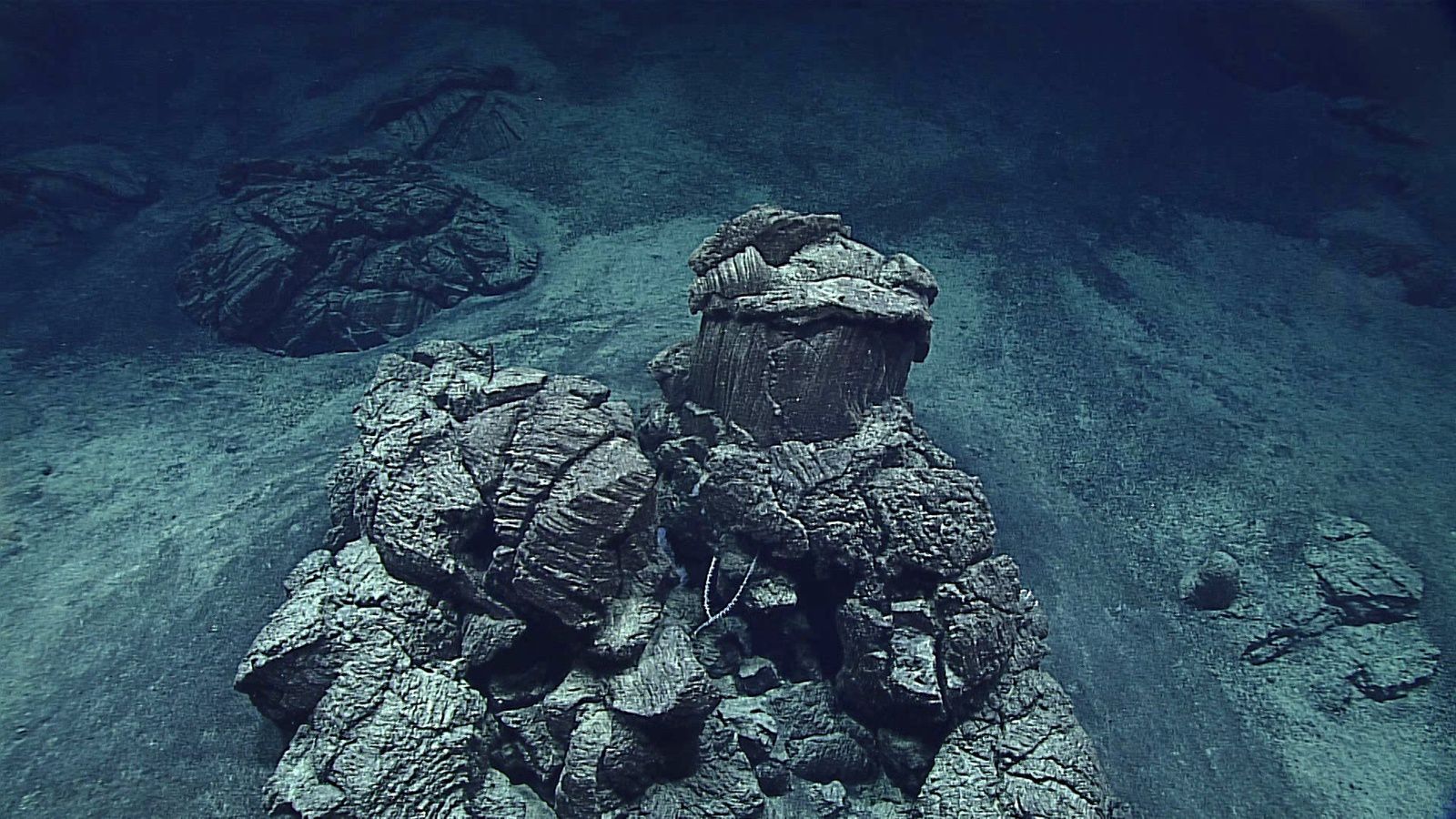 Fina Nagu C - isolated outcrop of pillow lava surrounded by sediments, called "mushroom pillow " - Image courtesy of NOAA Office of Ocean Exploration and Research, 2016 Deepwater Exploration of the Marianas
Caldera C, of middle age and a depth of less than 2,575 meters, has different morphological types of lava: pillow lava, viscous lava flows, volcanic organs in connection with a dyke, volcaniclastic sediments produced by an explosion.

Caldera D, the oldest in principle, present to the robot a recent appearance with a light crust and little sediment. Different morphology of lava meet there: pillow lavas, viscous lava flows , dykes. On the slopes, scree, with moderate to significant sediment, and embankments are visible.

To follow: other news of this expedition NOAA

Sources: NOAA Okeanos Explorer - 2016 Deepwater exploration of the Marianas - link