Publié le par Bernard Duyck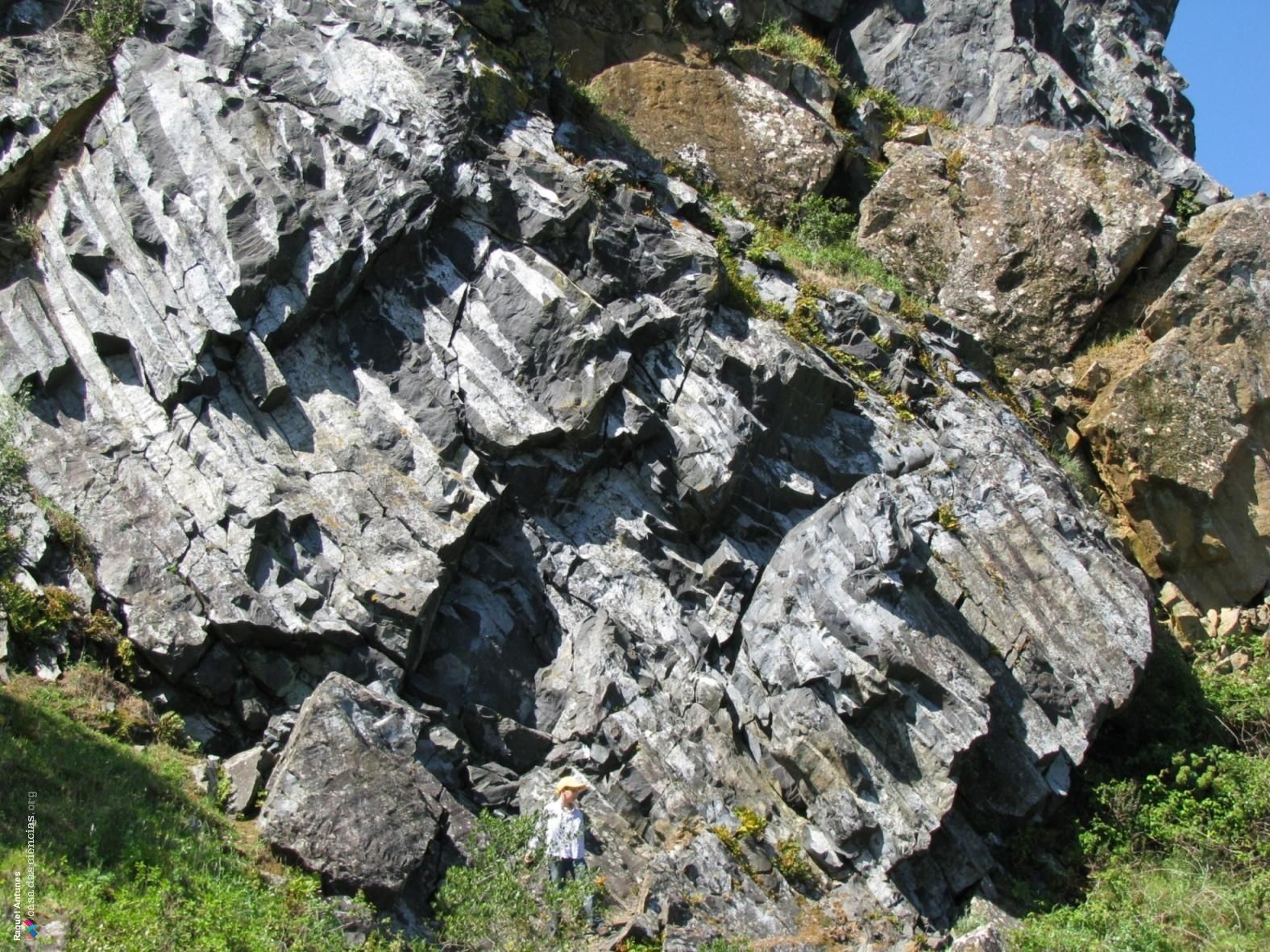 Penedo do Lexim, the rock of Lexim, is located 30 km north of Lisbon.

He is part of the Lisbon volcanic complex, which is an intraplate magmatic set of the Upper Cretaceous to Eocene - there are 72 million years - including alkali basalts, trachybasalts, trachytes and rhyolites. The magmatic activity is linked to intra-continental rifting.
The volcanic complex covers about 200 km² between Lisbon, Sintra, Mafra and Runa. Subaerial volcanism is divided into at least six effusive and explosive events, giving a sequence of 400 meters thick flows and pyroclatiques deposits.

Measuring 230 meters high at the top, Penedo do Lexim is a volcanic neck, or the remains of a volcanic pipe composed of téphrite. The remains of the volcano have been eroded by the elements and amputees by human activities (quarrying). The outcrop is part of the filling of the vertical duct of a former volcanic unit, solidified in deep.

Studies indicate that the volcanic vent originally measured 30 meters in diameter and 2000 meters deep.
Columnar disjunction is characterized by an index of hexagonality of 1,03, indicating the maturity of the fracturing model.

The evolution of the deep cooling process (2,000 meters deep, under a 600 bar pressure) is responsible for the development of organs, which present different aspects of the subaerial lava prismations, as "the Giant's Causeway" in Ireland with 30% pentagonal forms and on index of hexagonality of its outcrops of 0.78 (Budkewitsch & Robin 1994).

The rock has a porphyritic texture with phenocrysts of olivine, pyroxene and ulvite. The matrix consists of microcrystals of olivine, pyroxene, plagioclase and ulvite. The mesostasis is defined by the combination of calcite, apatite, alkali feldspar, plagioclase, analcime, natrolite and is interstratified with chlorite / smectite. These hydrated minerals (zeolites and clay minerals) are not formed by hydrothermal alteration, or modified by weather, the final steps resulting of a fractional crystallization process (SHINE, 1997)
Penado do Lexim is a key site for understanding the late Neolithic and Bronze Age in the Iberian Peninsula, a time which date the various artifacts found.
Sources :
- A disjunção colunar na chaminé vulcânica de Penedo de Lexim (Complexo Vulcânico de Lisboa) Morfologia e Génese - Brilha J.B., Sequeira Braga M.A., Proust D., Dudoignon P. – link
- Les basaltes portugais (Aspects et chronologie des éruptions) - A. A. d'Oliveira Machado e Costa
- Geochemistry of Lisbon basaltic complex : some relationships between magma generation and geotectonic setting – Britaldo rodrigues, C.A. Matos Alves, J.Munha, T.Palacios.