Publié le par Bernard Duyck
The eruptive phase began on July 28 at Fuego continued during the night and in the morning of 29 July.

The observatory OVFGO reports fountains of lava high 500 meters above the crater, which feed lava flows reaching about 3,000 meters in the ravines Santa Teresa and Las Lajas. This activity is accompanied by explosions, impacts and shock waves. The eruptive plume reaches 5,500 meters a.s.l., then moving westward over about thirty kilometers. Ash falls were reported on San Pedro Yepocapa.

The Observatory considers this eruptive phase as one of the strongest and most energetic of the 11 previous, with the risk of pyroclastic flows in the ravines, where it is advisable not to park.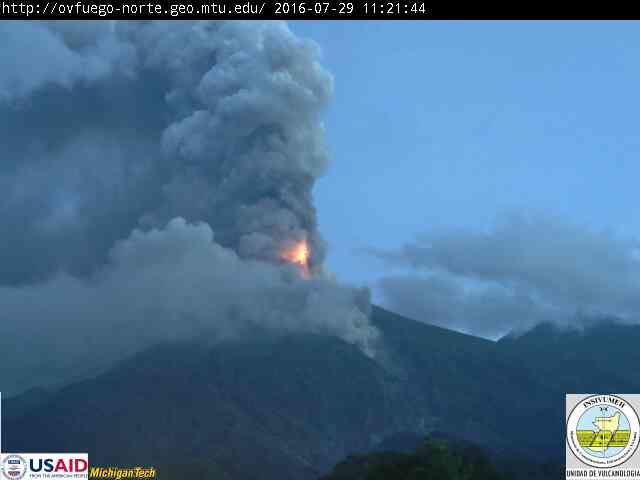 Fuego - 07.29.2016 / 11:21 - lava fountain and the ash plume; on the right, lava flow toward the barranca Las Lajas - webcam INSIVUMEH / USAID / Michigan Tech
Maps of scattering of ashes on 29/07/16, and Guatemala under the ashes of Fuego / Conred - a click to enlarge.
Around 15h on 29 July, the graph of the RSAM shows that the level of activity tends to decline. The explosions are reported as moderate to 20h local, generating ash plumes rising to 4,600 meters asl.

Sources: INSIVUMEH & Conred
The Nevado del Ruiz issued ashes on 29 July at 5:58. This issue was captured by the webcam of Pirana-Azufredo sector.

Source: SGC Manizales
At 11:50 on July 29, seismometers of the RSN recorded an eruption in Turrialba; it could not be seen by the webcam because of heavy cloud cover.

Source: RSN