Publié le par Bernard Duyck
The summer residence of the Popes and the Vatican Observatory is located on the shores of Lago Albano, Castel Gandolfo ... actually the newest vent of Colli Albani (the Monts Albans) whose activity dates back to about 22,000 years at the stage hydromagmatic, long considered as "final."
Update by INGV on 19.07.2016 - The Colli Albani is a dormant volcanic area located only 20 km southeast of Rome and, despite myths and legends that have suggested the occurrence of eruptions in ancient Roman times, it has remained completely quiet during the last 36,000 years

The volcanic complex has not recorded eruptions in historical time, but it is far from being considered as extinct ... recently, steam vents were observed, seismic swarms have marked the region for several years, and in 1989-1990, soil uprisings were recorded with a maximum at the center of the volcanic complex.

An article in Geophysical Research Letters / AGU Journal reports that the complex Colli Albani does not come so often in eruption, and would have a cycle of eruption and dormant stage of +/- 31,000 years.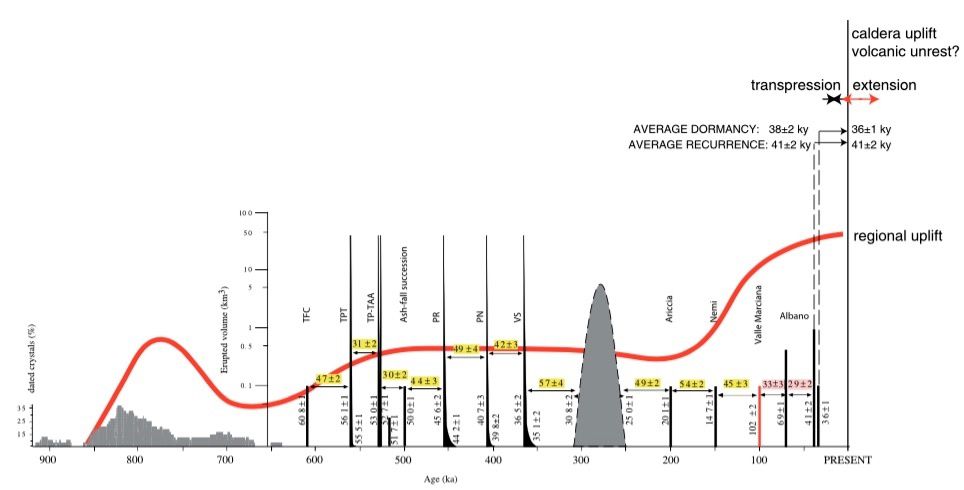 Eruptions at the Colli Albani over the past 900,000 years. The recurrence interval of eruptions is marked in yellow since ~600,000 years. The red line represents uplift in the area while the grey peaks represent the volume and duration of eruptions.Marra and others (2016), Geophysical Research Letters
The scientists reported the age of the rocks of past eruptions and scrutinized satellite images of the region. The cyclical nature of the volcano is due, following the volcanologist Fabrizio Marra of INGV Roma, to the particular geology of the area.
Periodically, an underground bubble of pressurized magma try to make their way through fractures. The presence of this bubble magma is displayed by the regular swelling of the soil, with a ratio of 2 mm per year. What has changed in the last two thousand years, is the fact that both sides of the fracture slide against each other, with a magma release opportunity, rather than compress, preventing its release .

No immediate risk, but a moderate volcanic activity is likely to mark the area ... in an indeterminable time in the next millennium. Rome, located at thirty kilometers, is not under direct threat.