Publié le par Bernard Duyck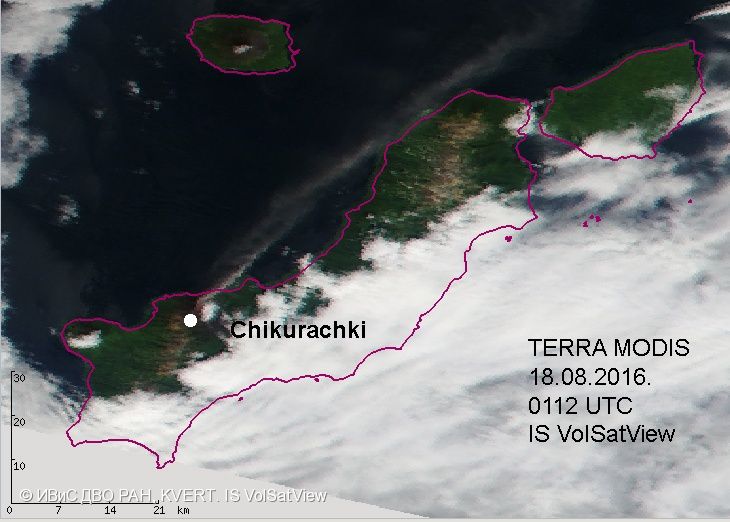 The Chikurachki's ash plume stretches on 08/18/2016 100 km to the NE - Doc. VolSatView IS / IVS FEB RAS / KVERT
After the issue of a gas and steam plume from 10:32 p.m. UTC on August 17, a strong explosion took place on August 18 from 5:20 UTC at Chikurachki volcano, accompanied by an ash plume extending 100 km to the NE.

The height of the volcanic cloud is 2,000-2,500 meters, determined by the satellite Himawari-8; the aviation code is orange.

On 19 August, from 11.30 UTC, no more ash plume was detected, according to the VAAC Tokyo. The KVERT considers that the explosive episode is probably over; Volcano monitoring continues, but the Aviaition code is returned to Yellow.

Source: KVERT

The Bagana volcano has been erupting for several weeks on the island Bougainville, Papua New Guinea.

The threat comes not from lava, but from the ash emitted by the volcano that make the culture impossible and contaminate freshwater supplies. The rain and flooding on the coast tarnish the situation. This could continue, other eruptions being announced.

As in 2014, population was invited to leave the village and settle temporarily in a rescue center.

A meeting with the IOM / International Organization for Migration is expected in a few months ... a possible permanent relocation of residents was mentioned, but these are not favorable because Others From the issue of ownership of the Earth.

Source: Radio Australia - Volcanic eruption in Bougainville: the people called to shelter - link

The site Mirova reported a moderate thermal anomaly between 13 and 18 August at the Ol Doinyo Lengai, Tanzania. On August 18, the VRP was 5 to 29 MW.
It is located between 12 and 20 km from the summit.

In the absence of observers on site, doubt remains regarding the type of activity (Flank activity - bushfire) responsible for this thermal anomaly.