Publié le par Bernard Duyck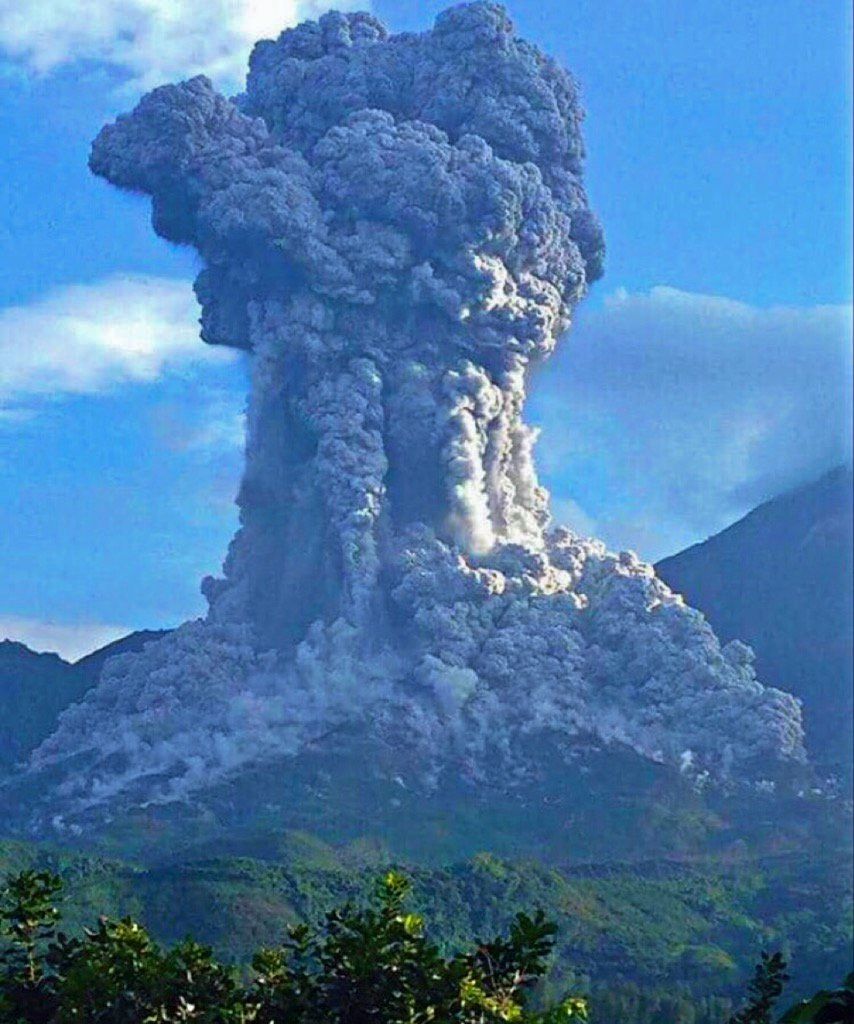 Santiaguito - 08.16.2016 / 6:58 loc. - Dynamic panache with budding at the top - two pyroclastic flows are visible on both sides of its base - the center of the image, fall of blocks leave impacts - photo INSIVUMEH
The explosive activity continues at Santiaguito with a strong explosion on August 16th at 6:58 local, recorded by the seismic station STG3; she was accompanied by an ash plume rising about 5,000 meters asl., wearing a pileus, and dispersing to the west and southwest of the volcano, over 40 km, with spillovers to Chiapas.

Pyroclastic flows went down the west and southwest sides taking the courses of the rivers Nima and San Isidro II, over approximately 2,000 meters.

A second explosion occurred in the morning.
Santiaguito - 08/16/2016 - left, sismo / INSIVUMEH - right, ash dispersal area to Mexico / doc. SEGOB - a click to enlarge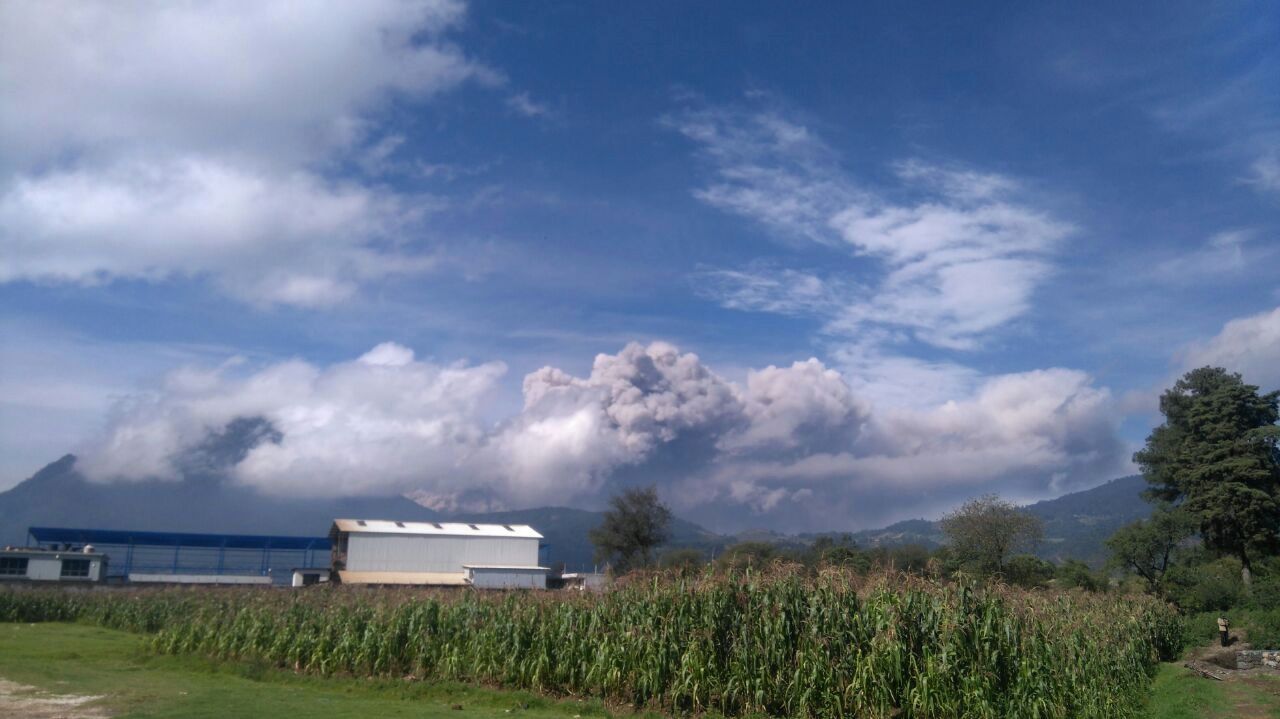 Santiaguito - plume of the 2d explosion of 16/08/2016 - photo @OswaldoCelQ via elQuetzalteco / Twitter
Side lahars caused by heavy rains, INSIVUMEH report on August 15 to 8 am local an episode due to remobilization of the ashes of Santiaguito.He is 23 meters wide, up to 1.5 meters, hot and pasty, form waves and rolling blocks of one to two meters diameter.

In the vicinity of Fuego, large lahars are reported the same day in the ravines El Jute, Las Lajas and Trinidad; these are lahars of 30 to 40 meters wide, an height of 3 meters, carrying pasty material, blocks with a diameter between 1 and 2.5 meters, branches and tree trunks.
At Etna, Boris Behncke confirms a glowing vent, degassing, but not in eruption on the eastern rim of the crater of the Voragine, in the evening of 16 August.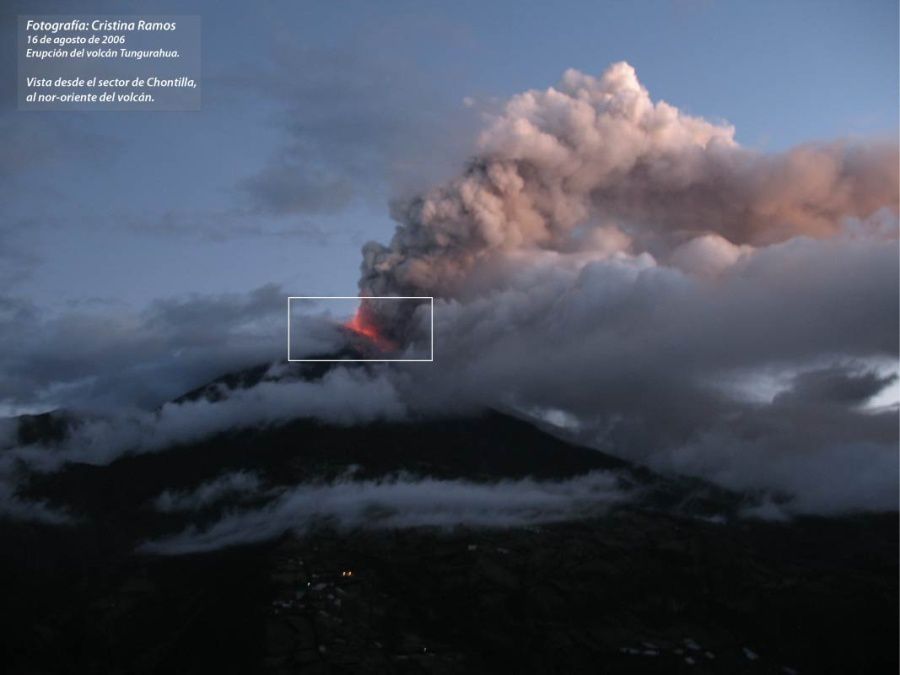 Tungurahua - 16.08.2006 - view of the eruption from the Chontilla sector - photo Christina Ramos / IGEPN
Ten-year anniversary of the largest eruption of the Tungurahua:

The eruptive process, began in Tungurahua in September 1999, caused only falls of ash and lahars up in July 2006.
In July and August 2006, two explosive eruptions were responsible of lava flow and pyroclastic flows affecting populations and local infrastructure.
Sources:
- IGEPN - los Diez años Conmemoración of erupción más grande del Tungurahua volcán: 16 agosto 2006 - link
- Ceniza-ecuador - informacion sobre la volcanica ash in Ecuador - link