Publié le par Bernard Duyck
In Santiaguito, eruptive activity continues, with a strong explosion that August 23, 2016, recorded by the seismic station STG3 at 2:30 local.
The ash plume that accompanied it rose to about 5,000 meters, according to INSIVUMEH, before spreading to the west and southwest of the volcanic complex. The explosion generated pyroclastic flows on the eastern flank of the Caliente dome.

Another eruption occurred early in the day, without ash fall or explosion following the Conred.


Heavy rains have caused on 22 August a large lahar, twenty meters wide and one meter high, which borrowed the bed of the river Cabello de angel, a tributary of the Rio Nima I, carrying a "pasty substance" and trunks and branches of trees.

Sources: INSIVUMEH & Conred

Vanuatu Geohazards Observatory raised the alert level of Ambae volcano to 2 this August 21. This alert level characterizes a major instability state, which can vary in the coming days in increasing or decreasing mode.

The Ambae, also called Aoba, is a massive basaltic shield volcano of 2,500 cubic kilometers, forming an elongated island 16 of 38 km. A large pyroclastic cone has three crater lakes on top of the shield within the younger of two nested calderas : the Manogoro, Vui (which houses a tuff cone, formed in 2005) and Manaro Lakua lakes.

The Observatory reported that the risk area is around Manaro lakes; approach the volcano is not safe, because of gas, ash and other projectiles that may be issued.


Sources:
- Vanuatu Geohazards Observatory - link
- Global Volcanism Program - Aoba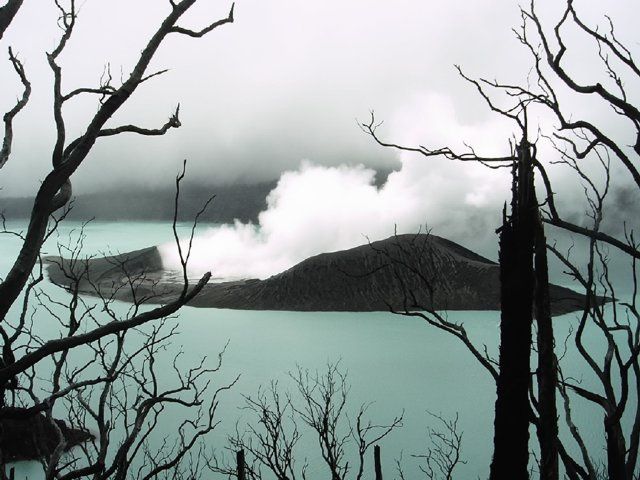 Ambae - tuff cone in Lake Vui on 18.01.2006 and his internal steaming lake. - Courtesy Professor Alain Bernard / ULB / in GVP
In the last 24 hours, Popocatépetl monitoring systems have registered 40 exhalations of low intensity and three explosions, respectively on 23.08 at 7:15 am, 7:17 and 8:01.

At seismology level, three volcano-tectonic earthquakes of magnitude between 1.2 and 2.5 are reported. During the night, glow is occasionally present above the crater.


Source: CENAPRED