Publié le par Bernard Duyck
Over the past two days, the Sinabung presented a series of glowing avalanches and pyroclastic flows on the SE and SE flanks.

On 24 August, the PVMBG are three episodes, at 3:06 p.m., 10:50 p.m. and 10:28 p.m. local.

August 25, a few episodes are reported:
at 13:22, a pyroclastic flow of 1,200 meters is accompanied by a seismic signal 185 sec.
at 2:40 p.m., a pyroclastic flow runs 1,000 meters to the east, and is accompanied by a seismic signal 53 sec.
at 4:44 p.m., the pyroclastic flow traveled 2,500 meters to the E, the seismic signal lasts over 244 seconds.
at 5:09 p.m., the pyroclastic flow descends 2500 meters towards the east, accompanied by a seismic signal of 268 sec.
at 5:14 p.m., the pyroclastic flow slides over 2,500 meters on the E-SE, the earthquake lasts over 257 seconds.
at 5:20 p.m., the covered volcano fog does not allow observation, but an avalanche earthquake lasts over 369 sec
at 5:49 p.m., new pyroclastic flow about 2,500 meters to E-SE, and a seismic signal of 358 sec.
at 7:17 p.m., the pyroclastic flow down to the E-SE of 2,500 meters, accompanied by a 273 sec signal.

The alert level is at its highest, level 4 Awas. There were no reports of increasing numbers of refugees over the past three days, with a total of 9,318 inhabitants divided in 9 evacuation positions

Source: BNPB
In Kamchatka, the explosive-effusive activity continues at Klyuchevskoy, always in orange aviation code.

Ejections per puff of bombs are found at the top and above the cinder cone in the gully Apakhonchich and a strong degassing with different amounts of ash.

Throughout the week, a thermal anomaly was observed at the volcano, and confirmed by explosions and a lava flow on the upper side from the cone of the ravine Apakhonchich.

Source: KVERT 08/25/2016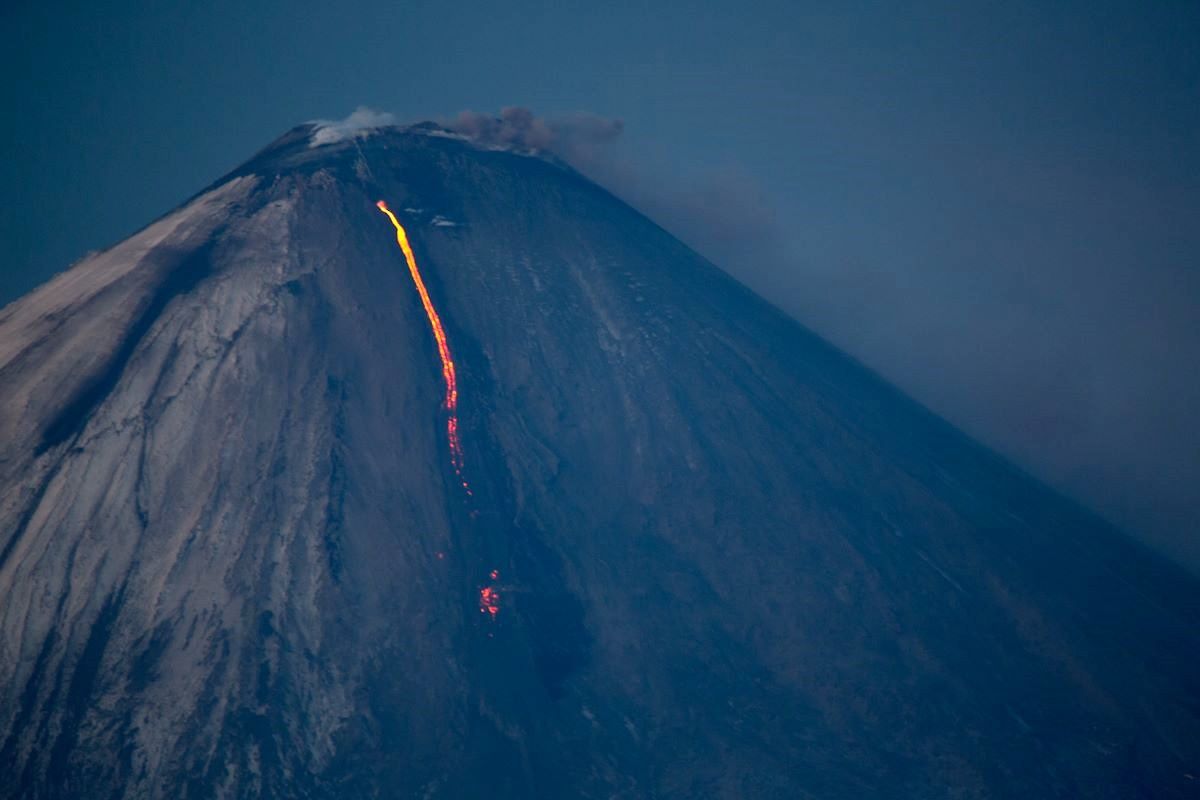 Klyuchevskoy - summit degassing laden in ash and lava flow from the cone of the ravine Apakhonchich - photo Денис Будьков 08/25/2016
Some brief news faded into the background with the earthquake that hit central Italy:

On the island of Montserrat, the heavy rain caused a lahar that slid down the Belham River Valley on August 24; he cut an important access road for residents.

A smell of volcanic gas is collected on the same day because of wind from the south maintening the plume above populated areas.

Source: MVO / Montserrat Volcano Observatory.


Guatemala's Santiaguito has experienced a strong explosion on August 24 at 18h.

Source: Conred

In the DRC, observers signals the return of activity in the secondary vent of Nyiragongo, with lava flows reaching the main crater

Sources: Olivier Stefens & Chris Baron / 20-21.08.2016