Publié le par Bernard Duyck
In Sinabung, the situation continues, with an explosion that night at 4:51 and another to 7:34 local / 08.29.2016.

Comparative photos show the evolution of the morphology of the summit 10 days.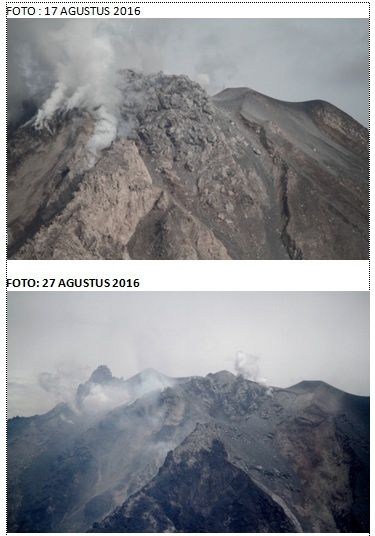 Sinabung - photos of the top 17 and 27.08.2016 - slightly shifted perspective, with reference to the flat zone right - Doc. Hasron David Ginting via Komunitas Beidar Sinabung
Volcanologists of the OVI / INGEMMET went observe in situ the presence of a new fumarole field at the foot of the northwest flank of Sabancaya.
Emissions have increased there as a result of earthquakes of 14-15 August, which caused damage in the Colca Valley.
Volcanologists have noticed an increased of activity in one of three fields fumaroles, which covers an area of ​​300 meters by 60. This zone is characterized by the presence of sulfur, which gives it a yellow tint and a temperature above 80 ° C .

The emergence of two new points of emission of SO2 and water vapor, one located on the edge of the crater, the other in the lower part of the northern flank.

The OVI recalls that the appearance of such fumaroles is common during an eruptive process, and recommends that the authorities implement prevention and disaster managements before a possible volcano eruption.

Sources:
- OVI / Observatorio Volcanologico INGEMMET
- Diario Correo Peru - Sabancaya: nuevas en el fumarolas registra INGEMMET volcano.

Video Juau Wilfredo Parqui Dueñas.
In Iceland, a small earthquake swarm marked the Katla, under the icecap Myrdalsjökull without tremor detected.

A small glacial debacle flows in the Gígjukvísl river , from Grímsvötn.