Publié le par Bernard Duyck
The city of Orvieto (from the Latin Urbs Vetus / old town), situated in Umbria in central Italy, is built atop a rock that gives it a look of natural fortress.

Built on a limited surface of rock, about 1.3 km², by the Etruscans between the 9th and 8th century BC, the city could not develop along an horizontal plane... he still had the possibility to do verticallyt, digging the soft tuff, relic of the eroded Alfina plateau.

An underground city, consisting of some 1,200 caves, home to oil presses, wine cellars, large warehouses and many wells connected to tanks, ensuring the water supply which allowed to resist in case of siege.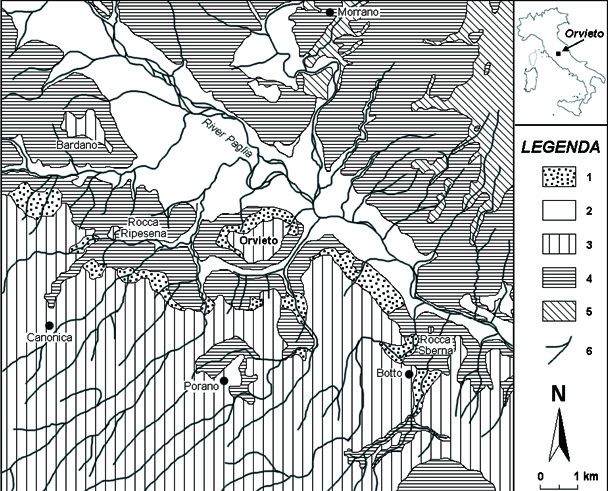 Geological sketch of the Orvieto area, at the boundary between Latium and Umbria (central Italy). LEGENDA: 1) talus (Olocene); 2) recent and present alluvial sediments, also terraced (Olocene - Upper Pleistocene); 3) volcanic rocks of the Alfina Plateau (Middle Pleistocene); 4) gravels, sands and clays (marine clastic sediments, Lower Pleistocene – Pliocene); 5) marls and sandstones (pre-Pliocenic bedrock); 6) River Paglia and its main tributaries. - Doc. Corrado Cencetti & al.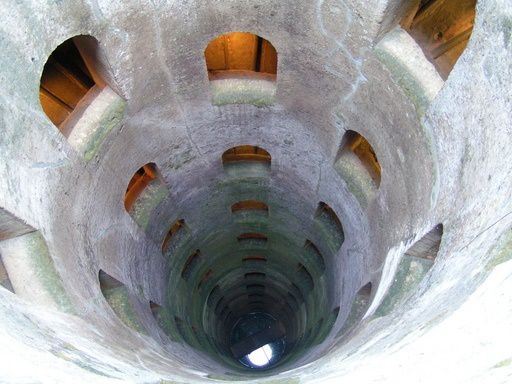 Orvieto - Well said Pozzo di San Patrizio. A double helix staircase allowed the animals to raise water from 53 m. depth without ever meeting- Photo Bob Tubbs
Geomorphology of Orvieto:

The geological setting of the area is the result of tectonic and volcanic events dating from the Quaternary. The bedrock is composed of marine clays deposited during the Pliocene. After the withdrawal of the sea, a tectonic extension period, in the Pleistocene, caused a NW-SE fault, with a raised block. This one was a wall opposing to the pyroclastic and lava flows from the volcanic complex Vulsini (*), there are 315,000 years.

The rock of Orvieto, makes of pyroclasts of trachyte-phonolite composition, is the result of the cooling of a pyroclastic flow ignimbritic, partially hardened immediately after its deposit. We can see two evenly distributed facies: the first appearance of reddish to yellow rock marked by cracks sub-vertical , the other, without cracks, of dark gray color (pozzolan).


Schematic evolution of the Orvieto's area during Quaternary age. From CATTUTO et alii (1994), modified
The River Paglia, a major tributary of the Tiber, has eroded the tuff plateau, leaving an oval mesa, 1500 m long, 700 m wide. and maximum thickness of 40-70 m., gently sloping and joining an alluvial plain formed by the river Paglia. This structure prone to landslides, had to be stabilized by drainage, anchoring and retaining wall construction.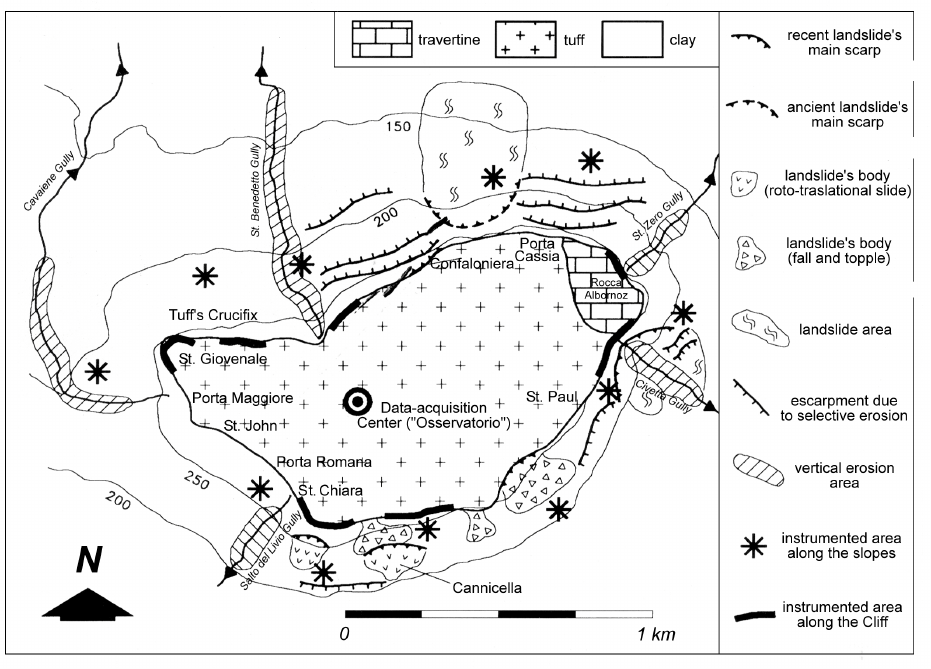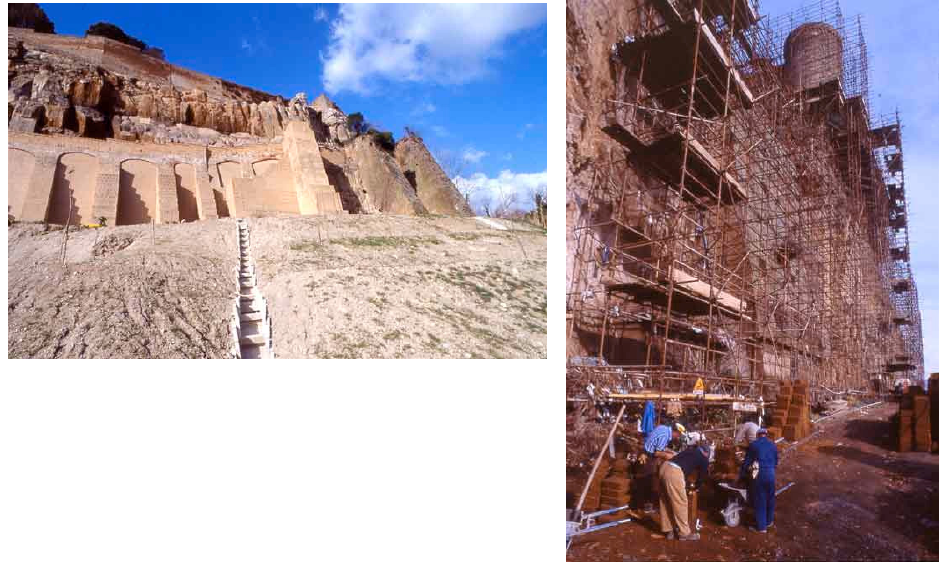 Geomorphological pattern of Orvieto rock - vertical erosion zones and landslide / According Conversini et al. 1995 - and stabilization works / photos P.Marconi - a click on documents to enlarge
(*) To follow: the Vulsini volcanic complex
Source:
Giornale di Geologia Applicata 1 (2005) 103 -112 - The Rock of Orvieto (Umbria, central Italy) - by C.Cencetti, P.Conversini and P.Tacconi - Universta di Perugia - link