Publié le par Bernard Duyck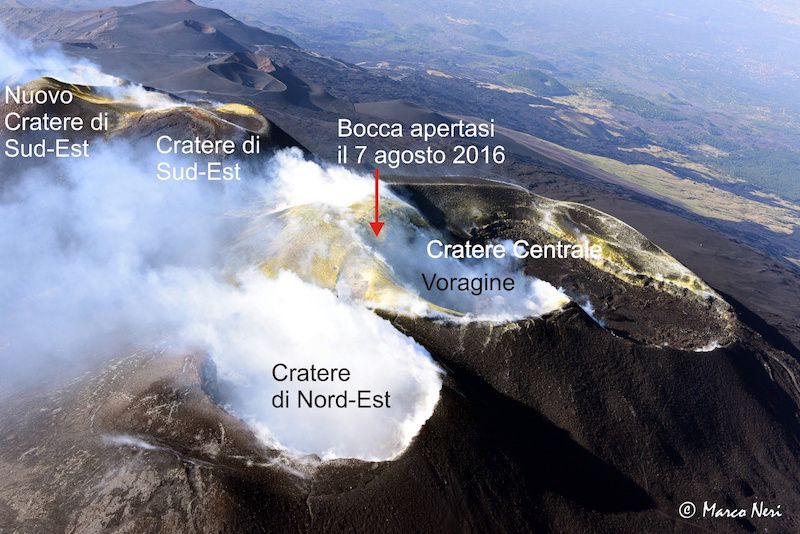 Etna - Overview of the summit July 14, 2016 by an AW139 helicopter provided by the 2 ° Nucleo Aereo della Guardia Costiera di Catania. A fracture field crosses the summit area since the eruption in May 2016, with widespread emission of fumaroles. The red arrow indicates the position of the mouth open on August 7, 2016 within the fracture zone - photo Marco Neri / La Gazzetta Siracusana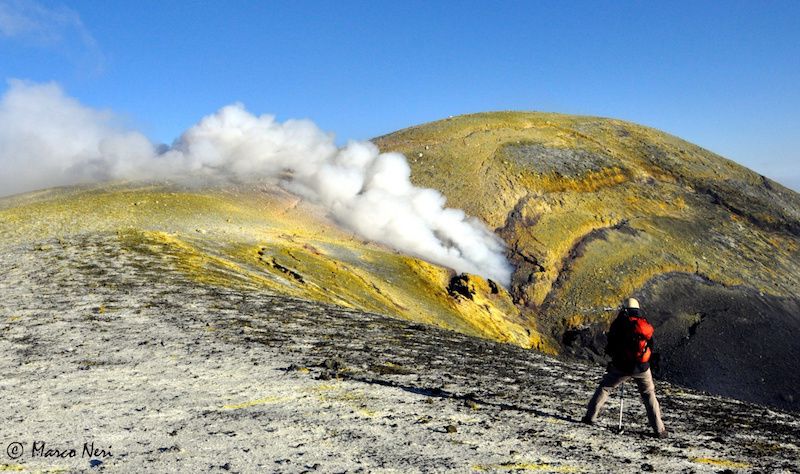 Etna Voragine - the new pit crater and gas emission - photo Marco Neri in the Gazzetta Siracusianana
In an article in the Gazzetta Siracusana, Marco Neri summarizes the activity of Etna since the eruption of May. Lava flows filled the central crater, then overflowed and spread on the west side for kilometers. In addition, all the summit area has become cracked, with a wide fractures field wide of 300 meters over a length of 2 km, emitting large quantities of gas.

This fracture field has since evolved ; the Voragine began to collapse. This process of subsidence open the way for the opening of a new little mouth on the eastern flank of the Voragine; off 20 -30 meters, it emits since August 7, a gas plume of high temperature and illuminated in red lights the summit area during the night. Around the mouth, eruption at his opening left fresh lava slag.

The eruptive phenomenon which marks the activity of Etna is modest for now, but is interesting enough to attract many tourists to the Sapienza refuge area.

In Hawaii, the lava flow 61G crossed the coastal road in three places and formed several lava deltas at the foot of the cliff.

In addition to the initial entry point into the ocean near Kamokuna, a breakout is responsible for another entry point 400 meters south west.
New entry of lava of the 61G flow on August 11 - Video Mick Kalber
Some of today's ocean entry EpicLava - video Epiclava 13/08/2016 https://www.facebook.com/Epiclavatours/videos/514684498714818/
The Observatory recalls the prudential rules to visitors.

It is risky to walk on uneven and unstable surfaces near steep cliffs and extremely fractured in places. Explosions created by the meeting between the lava and sea water may occur and projecting incandescent debris.
The new lava deltas are unstable, as built by unconsolidated fragments of lava and sand. Easily eroded by the waves, they can suddenly slide at sea ... a collapse of a delta on Tuesday afternoon has produced a plume that darkens briefly place.
The acid plume loaded in small particles of volcanic material can cause irritation to eyes, skin and lungs.

These dangers are well illustrated in an article by the USGS, accessible here: http://pubs.usgs.gov/fs/2000/fs152-00/
A container of 2.4 tonnes has been placed on White Island by a helicopter of the Royal New Zealand Air Force.
It can serve as an emergency shelter in case of eruption, and be used to store security equipemenrs, extra clothing, food and relief items.