Publié le par Bernard Duyck
In Colima, the summit dome continues its rapid evolution. The night glow is permanent and intermittent rockfalls crumbling from the dome more frequent.
Comparing the pictures earlier in the day and made the evening, one can think that the dome begins to stretch on the upper slope, forming a dome-flow.

Source: WebcamsdeMexico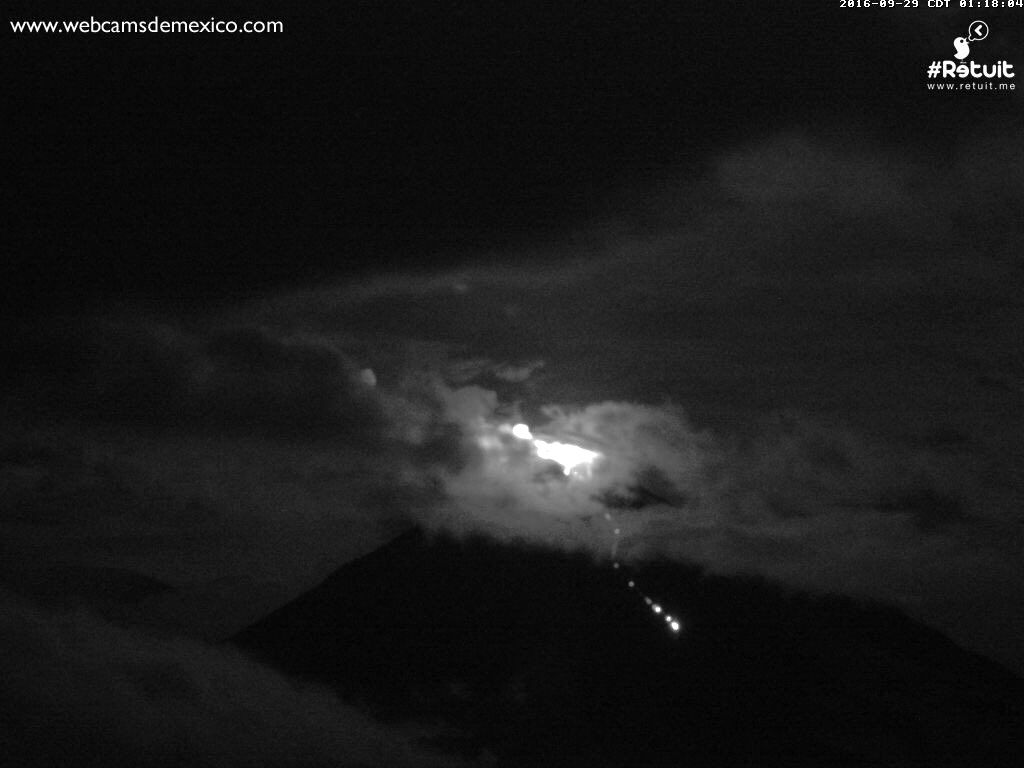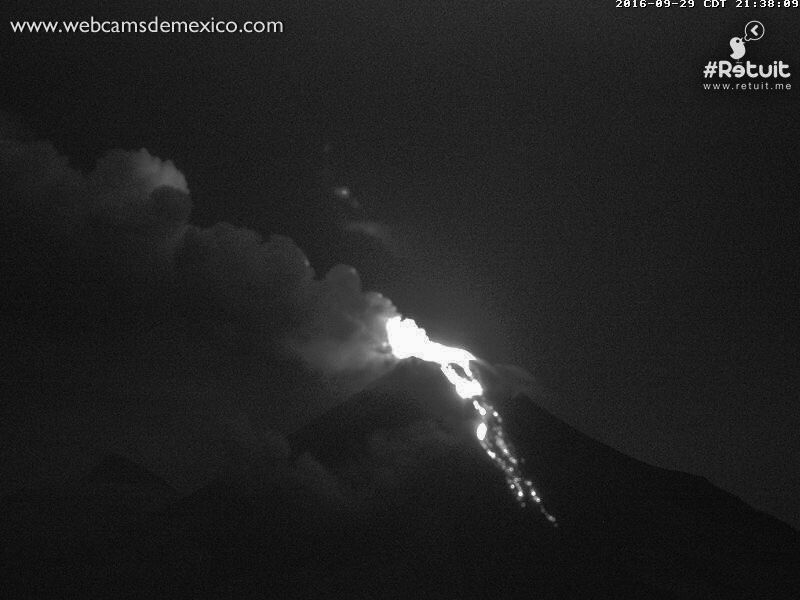 Colima - evolution of the dome between 0:17 and 9:38 p.m. on 09/29/2016 - on the right picture, we see the expansion of the dome on the upper slope - webcamsdeMexico
In Turrialba, the eruptive activity is maintained since September 26, but with a variable energy.

On September 29, from 9 am, the tremor continues with an average amplitude, while ash emissions weaken and form a plume low rising above the crater.
Ash falls are reported in various localities of the Valle Central, needing to take protective measures. A strong sulfur smell is noticeable.

Sources: Ovsicori & Conred

The Observatory of Manizales reported an emission of ashes at Nevado del Ruiz this September 29 at 5:58 local. The dispersion is heading west and southwest.

Source: OVS Manizales.
In Peru, the Ubinas present again a fumerolian activity.
On September 28 at 9am local, there has been a magmatic gas and water vapor plume high than 1,000 meters above the crater.
In September, 13 Ubinas presented similar episodes, but of lesser magnitude.

Source: Diario Correo & IGPeru
A seismic swarm marks the center of the caldera of Katla in Iceland : about 200 earthquakes were detected in 24 hours and the activity continues. The largest earthquakes were of magnitude 3.1 and 3.7 at 4:40 to 4:41 this september 30, and 3.0 at 16:28 on 29.09 and 3.2 to 2:43 tonight.
All these earthquakes are shallow.
The IMO also indicates a conductivity of water higher than normal glacial rivers at this time of year.
So far, no harmonic tremor, nor eruption.

Source: IMO
Update September 30 afternoon:
Because of the unusually high level of instability, the IMO has passed the aviation alert of Katla from green to Yellow, on September 30.