Publié le par Bernard Duyck
During the morning of September 4, an emission of ash was observed at Nevado del Ruiz, along with low-energy impulses of tremor around 6:47; eruptive column of Arenas crater spreading to the northwest.

Source: OVS Manizales.

Ash emissions continue at Dukono / Moluccas, placed by the Darwin VAAC in orange aviation alert.

VAAC: DARWIN
VOLCANO: 268010 Dukono
PSN: N0141 E12753
AREA: INDONESIA
SUMMIT ELEV: 1335M
ADVISORY NR: 2016/879
INFO SOURCE: HIMAWARI-8
AVIATION COLOUR CODE: ORANGE
ERUPTION DETAILS: CONTINUOUS EMISSIONS OBS VA TO FL080 EXT
110nm TO DO AT 05 / 0100Z.
In Iceland, a harmonic tremor pulsion was detected near the Grimsvötn, recorded at various points on the Vatnajökull. It is not defined whether these earthquakes are to be related to magma movements, movements of the glacier, or a possibility of ice breakup.

Sources: IMO and Iceland volcanic blog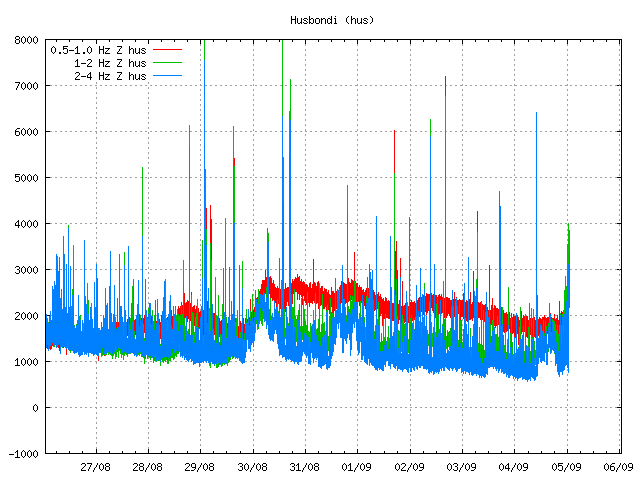 Tremor diagram registered on 09.05.2016 / 1:29 UTC to Húsbóndi SIL station. - Doc.Icelandic Met Office.
In Sinabung, new photos show the "disappearance" of the pit craterl and the establishment of the new lava dome ... thanks to Endro Lewa.
Since July, fumaroles mark the Niigata Yake yama (several volcanoes are called Yakayama in Japan); on September 4, the places marked by vigorous fumaroles are three in number.

JMA reported ash found about 1.5 km around the summit of the volcano, witness of a small eruption in July.

To follow in the coming months.