Publié le par Bernard Duyck
The eruption that began at Piton de la Fournaise yesterday at 8:41 (local time) continues. After decreasing by a factor of 4 in the day of yesterday, the volcanic tremor (indicator of eruptive surface intensity) has been stable since 9:00 p.m. yesterday (11 September).

Evolution of the RSAM (indicator of volcanic tremor and the intensity of the eruption) from 7.00 (3h UTC) on September 11 and 6:00 (2 hours UTC) September 12th for seismic station Faujas, located on the north side of the volcano . - Doc OVPF / IPGP
The deformations observed before the start of the eruption halted at the opening of eruptive fissures.

The emission rate of SO2 recorded by OVPF the station at Piton Partage were close and sometimes superior to those of the most intense phase of the eruption of August to October 2015, that is, say of the order of 10 kton / day.

A dozen lava fountains, high of 15 to 30 meters in height, are spread over the cracks in levels on the northern flank of the Dolomieu crater.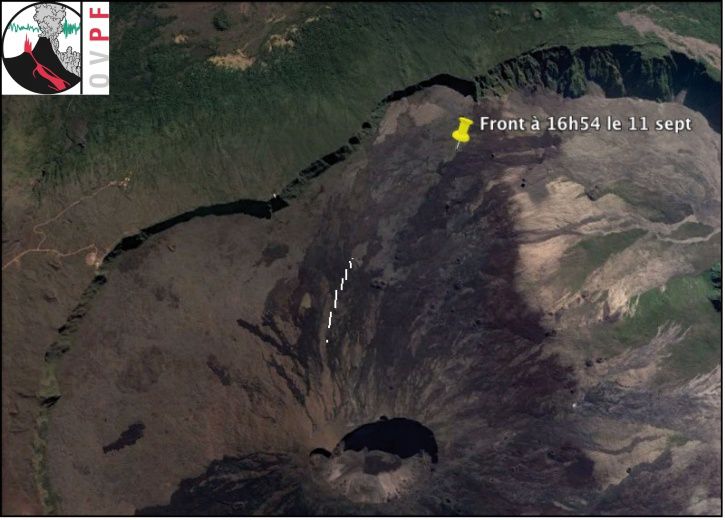 Location Map of eruptive fissures (white lines) and the flow front at 16: 54, 11 September 2016 - Doc. OVPF / IPGP
The flow front was located on September 11 at 17:30 250 meters from broken Grandes Slopes

Because of the risk of wildfire on the walls that can be caused by an accumulation of lava inside the enclosure Fouqué and because of the danger of fire, the smoke that emerges, and instability potential of the land, the Nez Coupe trail of Sainte-Rose is forbidden to pedestrian traffic from the trailhead to the No Bellecombe.
Moreover, any presence of hikers in the east of Pas de Bellecombe is prohibited (on trails and off trail) because of the presence of noxious gases emitted by the eruption ongoing and high temperatures related to the proximity of lava flows.

Public access to the Pas de Bellecombe remains however possible.

Source: OVPF

In Iceland, Katla knew that September 11 a new seismic swarm during the day; this seismic activity, almost normal, is characterized by earthquakes of magnitude less than 2. The most important took their seats at 3:57 p.m. UTC with a M3,0 and 4:12 p.m. UTC of M3,3.

Source: IMO