Publié le par Bernard Duyck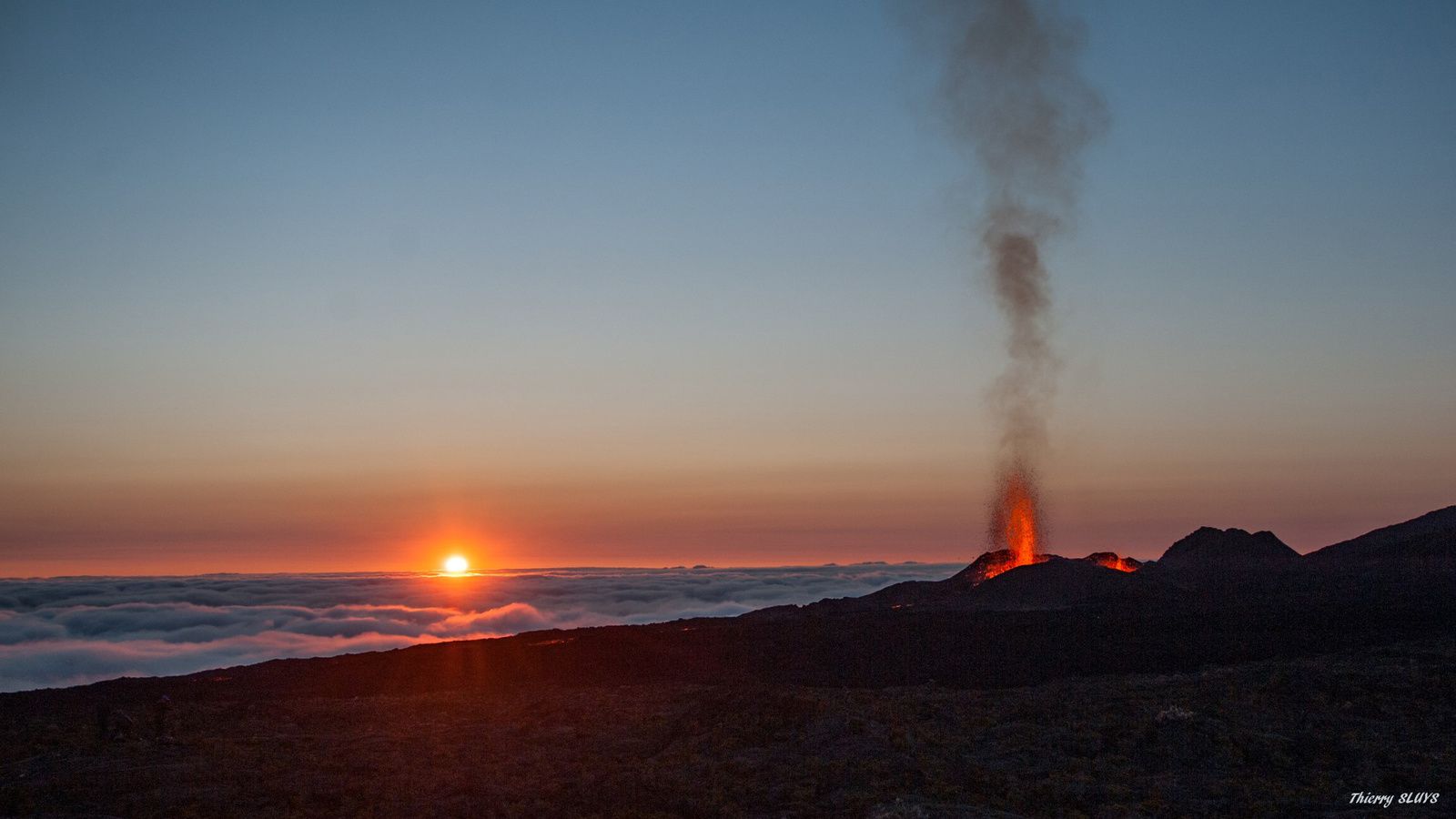 Sunrise on the cone erupting at Piton de la Fournaise - © Thierry Sluys / All rights reserved - 09/15/2016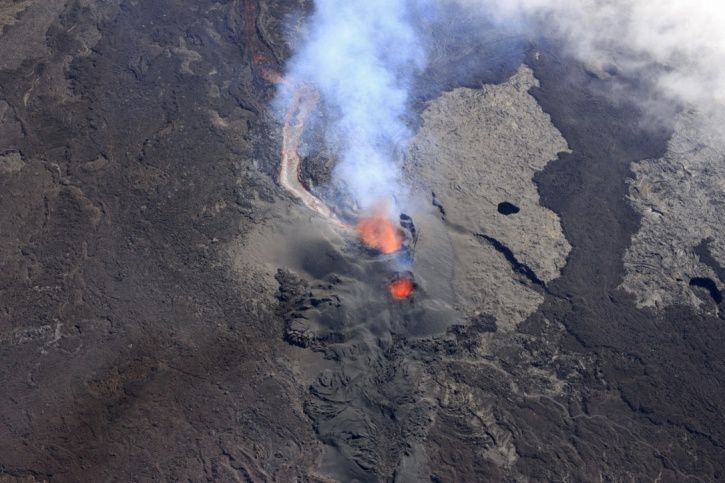 Piton de la Fournaise - eruptive site on 09/15/2016. at 9:30 am (local time). View of the two active cones and the channel - photo © OVPF-IPGP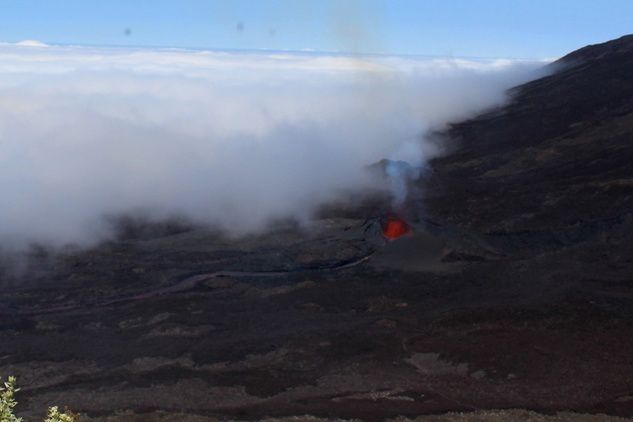 Piton de la Fournaise – progressive closure ot the northern cone and reduction of the lava flow - according to the image of the webcam Piton Partage the 15.09.2016 / to 9:54 TU / 1:54 p.m. local - OVPF
The surprises of La Fournaise this 15 September.

In summary, the closure of the northern cone, followed by the collapse of the newly formed lip.

The accumulation of spatters gradually closed the northern cone during the day, and reduces the lava supply of the flow.

The activity of the lava fountain has increased progressively as the closing the cone, reaching to 15h.a height of 60 to 80 meters, vertically.

Around 16 am, only a small stream of pahoehoe lava overflowed the spatter cone, cascading in the channel. The level of the lava, being the lowest in the channel, allows to observe the measurements: wide from 6-7 meters to a height of 3 meters, the bottom lined with a flow in gratons moving slowly.
A summary of the activity of Piton de la Fournaise, September 15 at 16h, by Ludovic Leduc on site.
The pressure of the lava lake formed in the cone lets escape a small lava flow ... but the pressure is too high, and that is the entire north side that is pushed. Multiple meltdowns allow the lava to make their way towards the channel, which fills with lava pahoehoe.

The newly formed thin wall has not held, and the northern cone is again breached.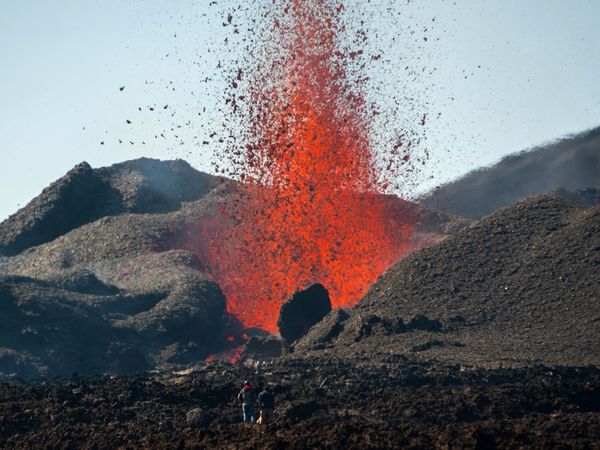 Piton de la Fournaise - the undermining of the cone with the rise of a large block that will be swept away by the flood - a click on the photo to enlarge - © Thierry Sluys / All rights reserved - 15/09/2016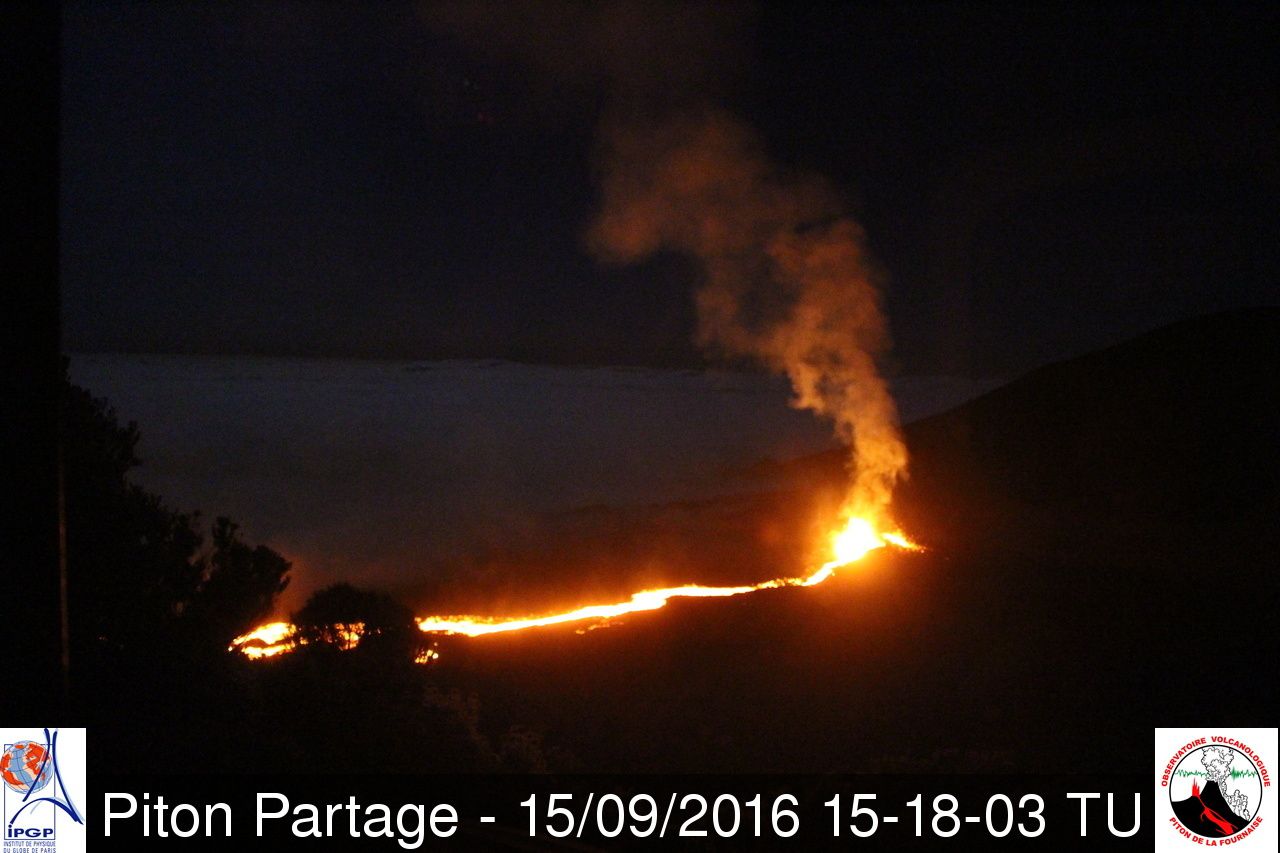 Piton de la Fournaise on 09/15/2016 / 3:18 p.m. GMT / 7:18 p.m. local - after the collapse of the wall, the lava flow is well powered - webcam Piton Partage OVPF
Piton de la Fournaise this morning 16/9/2016 at 6:24 GMT / 10:24 Local - from a picture of the webcam Piton Partage - OVPF
Source: Thanks to the to volcanologist Ludovic Leduc for his observation report / 09.15.2016.