Publié le par Bernard Duyck
Boris Behncke reported on October 12 an active subsidence of the floor of the Bocca Nuova of Etna, causing frequent collapses from the steepening crater walls and exposing still-incandescent lava from the may 2016 eruptions.
On October 15, a publication of Marco Neri in the Gazetta Siracusana explicit this phenomenon and tells the story:
Bocca Nuova was founded in 1968 as a small glowing mouth to quota 3.100 meters on the western flank of the central crater. In thirty years of activity, it went from a few meters in diameter at 300-400 meters wide and a depth of 100-200 meters.
The last 15 years have been calmer, characterized by low explosions and lava effusion on the crater floor.
The eruptions in December 2015 and in May 2016 filled the Bocca Nuova of 4 to 5 million cubic meters of lava, creating a flat and blackish lid. Explosion of October 10 broke the cap which closed the Bocca Nuova which gradually "craterised" ... the bottom sank at least 20-30 meters down and continuous his subsidence.
The collapse of Bocca Nuova could be related to fracking that affects the area of ​​the summit craters: after the deep subsidence of the crater of Voragine in June-July 2016, and opening of a small mouth on the eastern edge of this crater, today is the turn of the Bocca nuova.

Sources: Boris Behncke and Marco Neri / Gazetta Siracusana.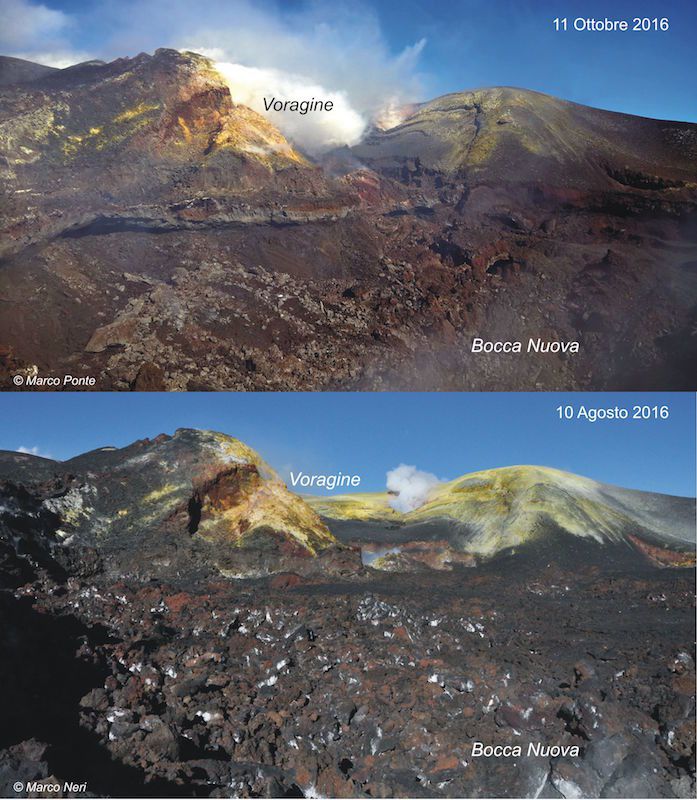 Summit area of ​​the Bocca Nuova - comparison between 10 August / Photo M.Neri and 11 October / Photo Marco Ponte - in La Gazetta Siracusana.
At Kilauea, the tilt meters recorded an inflation continues, marked by a high level of the lava lake of Helema'uma'u just at 13 meters from the edge of Crater Overlook floor.
The casting 61 g continues to fuel the arrival of lava into the ocean at Kamokuna, with this week, an illustration of the dangers of this area: significant toxic outgassing of a mixture of steam / hydrochloric acid / fine particules, explosions in arrival of lava in the sea, new and unconsolidated terrace that can collapse at any time, carrying a part of the cliff.
https://vimeo.com/187432418