Publié le par Bernard Duyck
Some volcanoes are turbulent in Central and South America ...

In Colima / Mexico, seismicity remains stable, although at high levels.
A constant issueof gas and steam is finding and block collapses from the flow.
Sources : Univ de Colima & webcams de Mexico
In Guatemala, INSIVUMEH records this October 3 on Fuego, besides a white degassing, 10 explosions which 2 moderate, who expelled a column of ash to 4,900 meters asl, dispersing south on 12-15 km and incandescent materials at 300 meters high, causing small avalanches around the crater.
At 5:50 on October 3, the Santiaguito has an eruption without impact or explosion, accompanied by a plume 1,000 meters above the crater.
An accumulation of volcanic material and ash is shown on El Palmar Quetzaltenango and Retalhuleu San Felipe, following the Conred.

Sources: INSIVUMEH & Conred

In Peru, after more than seven months of calm, the Ubinas presented between 2 and 3 October an exhalation, and three explosions.

Sunday, at 19:21, the first release of energy is saved (0.6 MJ / megajoules).

Then follow the explosions October 2 at 22:50, an energetic explosion (19 MJ) was accompanied by a large amount of ash that are impact on Santa Rosa de Phara and Yanapuqui, villages to NE of the volcano.

On 3 October, two explosions occurred, respectively 4:24 and 5:52. The second was accompanied by a plume rising to 2.000 meters above the volcano base and released an energy of 3 MJ. There was a fall of fine ash on the town of Ubinas, then to the SW of the volcano, following a change in wind direction.

Source: OVS / IG Peru

The Sinabung / Sumatra is currently presenting a relatively peaceful appearance, but the summit dome is still growing, with low night-time glow. New pyroclastic flows are to be feared.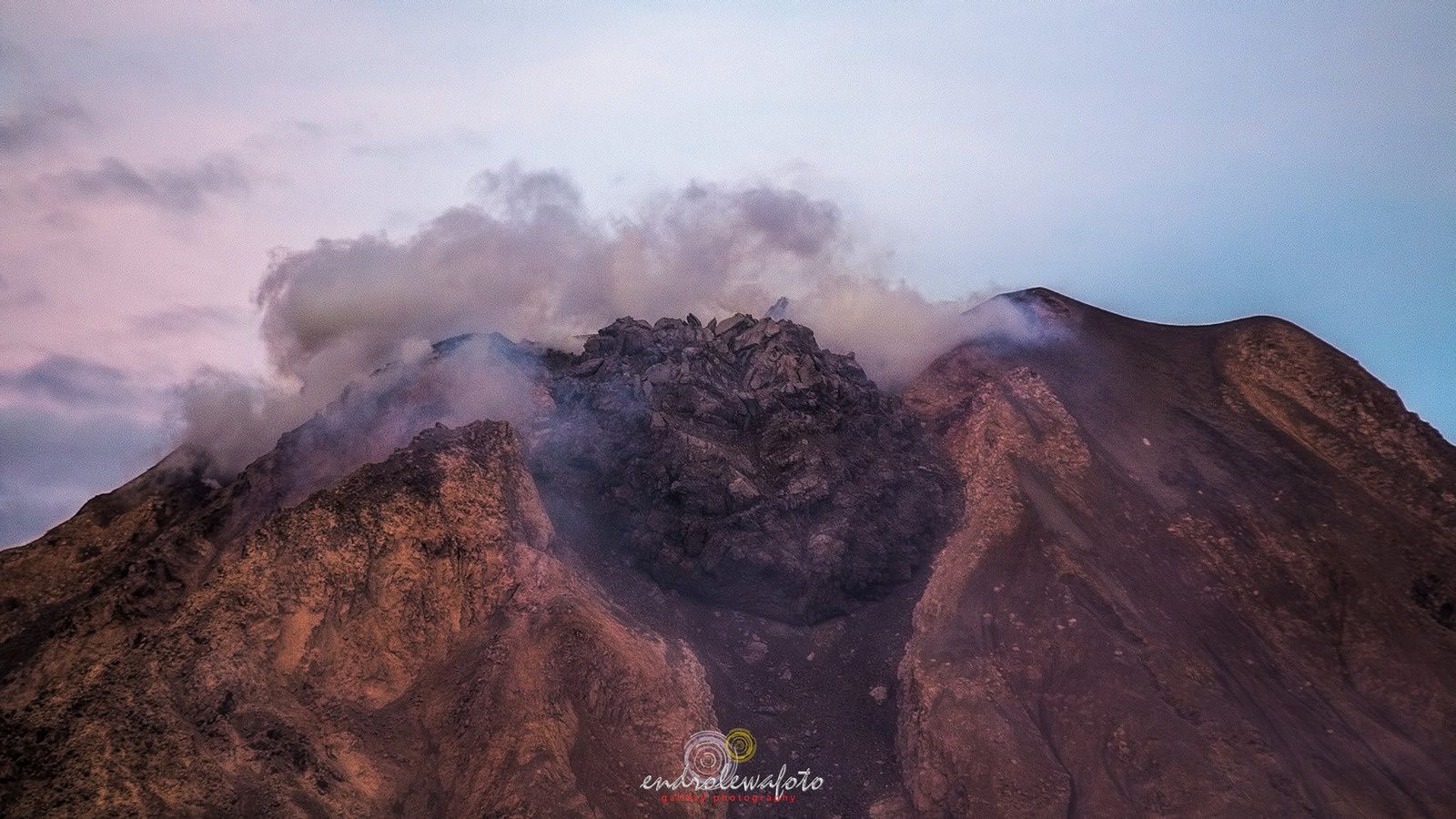 Sinabung - a threatening dome contrast with the calm of the previous picture - 02.010.2016 / 6:07 - photo Endro Lewa.
On Whakaari White Island, the lake of the Bay of Plenty volcano has completely disappeared.

About 3 meters deep, it started to fall on September 24, leaving only a few small ponds two days later.

During a visit of a team of GNS on September 30, volcanologists observed another change: the majority of gas come from a single vent to the back of the crater, so stronger and louder than during the degassing by multiple vents. Although impressive, this evaporation of the lake did not change the alert level, which remains at 1 / aviation code yellow.

Source: GNS / A.Mazot & Brad Scott