Publié le par Bernard Duyck
The Colima continues its activity with some photogenic explosions yesterday, 18 October.
Source WebcamsdeMexico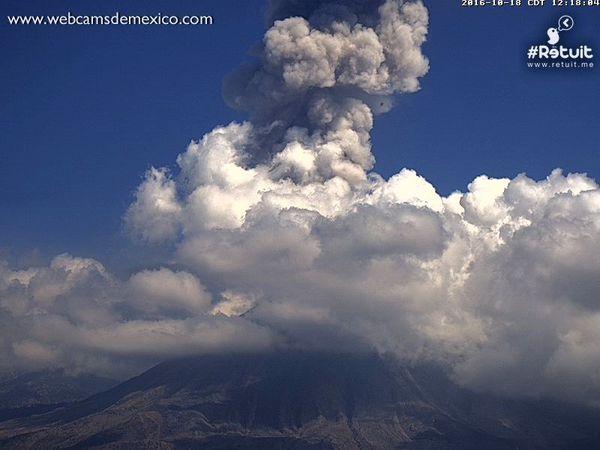 Explosive activity in Colima 10.18.2016 respectively at 5:58, 11:04 and 12:18 local time - a click to enlarge - webcamsdeMexico
In Turrialba, after a slight decrease in the night of 15 and morning of 16 October, the activity has again intensified from 19h loc on 16 October.
Members of the RSN have moved to the top, to deliver the equipment in condition affected following ash emissions ... images of October 19 show the impact of falling ashes on the summit, and on the surveillance teams, who perform work in difficult conditions.
Source: RSN & Ovsicori
The Phivolcs reported a phreatic eruption, on October 19 at 4:58 local, localized to the vents on the upper flanks southeast of Bulusan.
Cloud cover did not allow continuous observation of this event, which marked the seismographs for 9 minutes. A plume estimated at 1,000 meters could be seen during an observation near the active vent.
The permanent danger zone (PDZ) is maintained at 4 km, but extended danger zone (EDZ) of 2 km, encompassing Mapaso, San Roque and Patag, was declared due to phreatic eruption hazards.
On Heard Island, the site Mirova inform of a moderate thermal anomaly that 18 October. On the chart, we can see an increase in abnormalities since mid-July 2016.