Publié le par Bernard Duyck
Some details about the eruption of the volcano Aso on October 7 and 8 - link - posted by the JMA after analyzing images taken during an overflight on 8 October.


The ejecta have a total volume estimated at 510,000 tonnes; issued along with gas and steam, they are considered as humid and of high temperature.

Their thickness at the evacuation bunkers and access road does not exceed one meter. By cons, traces of collision / impact craters up to one kilometer from the crater were formed by volcanic rocks. The tephra have broken a window in a youth center located at 5 km from the crater, and caused damage to farms greenhouses located at 6-8 km.

The GVP reports ash fall with a thickness of 2 cm. at the police station located 6 km NE of Aso. ; ash falls were reported up to 320 km from the volcano.

Analysis of samples by AIST / Institute of Industrial Science and Technology and the NIED / Research Institute for Earth Science and Disaster Reduction reveals they contain 10% of juvenile magma, which suggests explosions of phreatomagmatic type.

At the crater, observation indicates the presence of a white plume (steam and gas) amount to 300 m high above the rim, the presence of water and sulfur floating on the surface.

Sources: JMA - thank you to Shérine France for the transmission of the link - & GVP weekly report.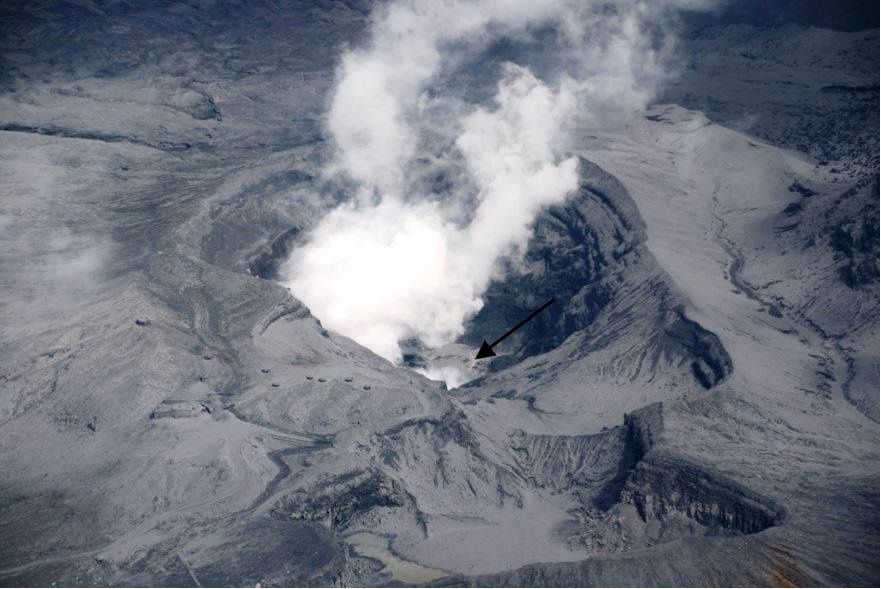 Aso, the crater Nakadake during the overflight - the presence of water and floating sulfur (arrow) - Doc. JMA
In Turrialba, ash emissions continued during the day of 13 October, with a plume rising to an average altitude of 500 meters above the crater, with a high point around 10:30, when it reached about 1,000 meters.

Sources: Ovsicori and RSN


To Nevado del Ruiz, yhe surface activity is marked on October 13 by a column of gas, primarily sulfur dioxide, and water vapor. This degassing is within the standards of the alert status of the volcano (Amarillo), no other parameters indicating an imminent eruptive activity.

Source: Observatorio Vulcanologico and sismologico Manizales.