Publié le par Bernard Duyck
In Colima, despite a considerable reduction in seismicity compared to the previous day, emissions persist with glow around the edges of the flow and collapses.

Communes of La Yerbabuena and La Becerrera in the state of Colima and Juan Barragan in that of Jalisco have been evacuated.

Source: SEGOB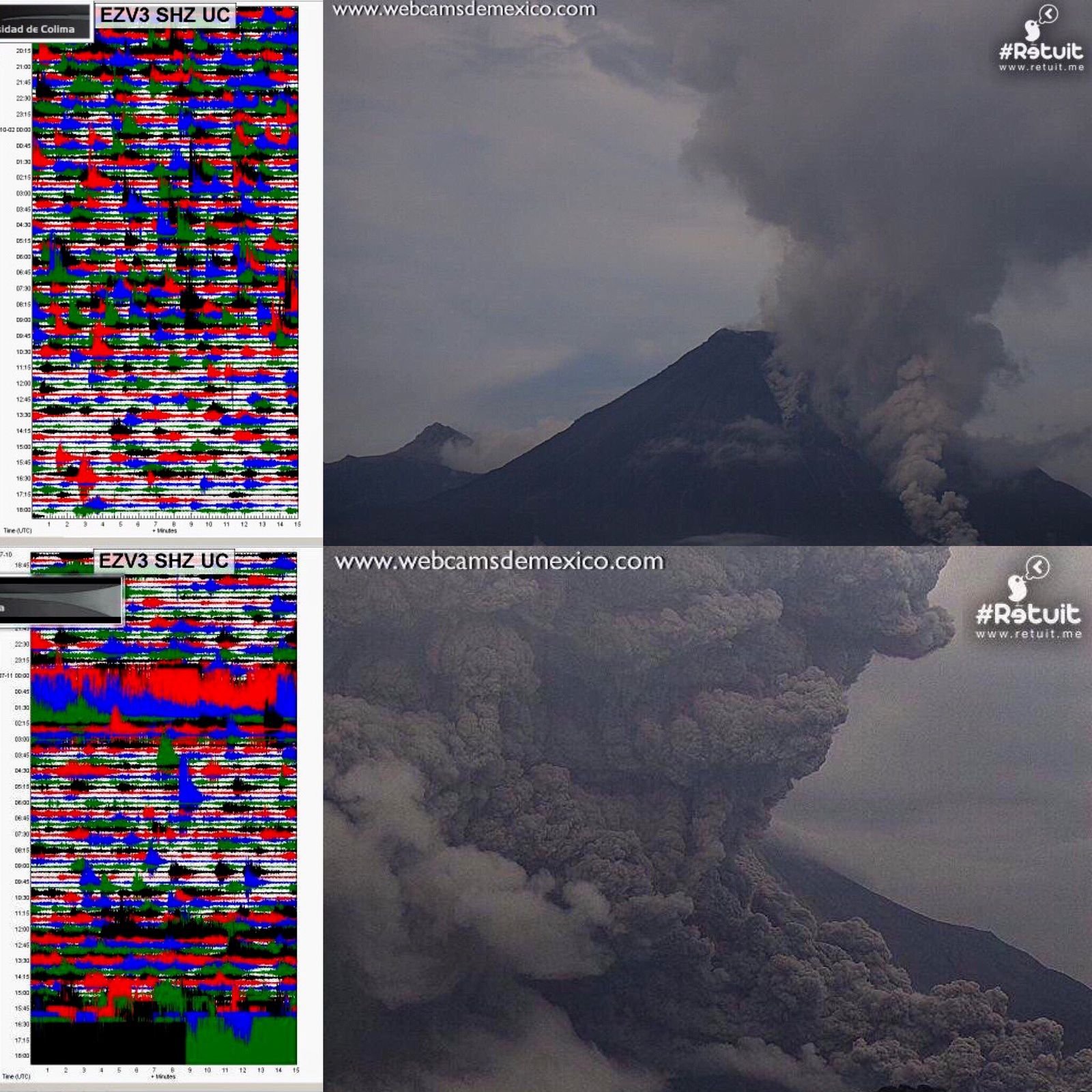 Colima - comparisons of seismic registers and visual observations between the 2015 eruption and that of 10/02/2016, much more energetic - Doc. volcano de Colima / Twitter
In Turrialba, after a fall of volcanic activity and the magnitude of the tremor on October 1, vapor of water and gas emissions are maintained.

On October 2, the activity is intermittent with variable duration emissions of ash. Ash falls affecting Santa Cruz, La Pastora, Cervantes, Alvarado Jimenez, Cartago, Tres Ríos, Paraíso, Taras, Tejar del Guarco, Dulce Nombre de Cartago, Ran Rafael de Oreamuno, Alto Ochomogo, Orosi sctors.

From 8:08 p.m. local, a new eruption is underway, with scattering of ashes to the southwest.

Sources: RSN and Ovsicori.


In Guatemala, Fuego presented an explosion this November 2nd, which was accompanied by a column of ash 3,000 meters above the cone, and drop of ash on surrounding communities.

Source: Conred.

A false color image (band 7-2-1 Modis) taken by the Aqua satellite of NASA on 29 September 2016 reveals an activity characterized by the emission of ash plumes, on three volcanoes of South Sandwich Islands.

The Zavodovski distinguished himself in early 2016 threaten a chinstrap penguin colony, and emissions since late September.

On Saunders Island, Mount Michael has also thermal anomalies since September 25 and a plume on 30.09

Source: NASA Modis Aqua

A new to take carefully: following the eruption of Barujari / Rinjani earlier this week, 13 tourists are still reported "missing" by the head of the Emergency Unit of the Province of West Nusa Tenggara, for not having reported returning to officials of Rinjani National Park.

Disappearance or administrative omission ... to confirm.