Publié le par Bernard Duyck
The eruption continues at Sheveluch with ash explosions forming a plume rising above 6,000 meters asl. before drifting 20 km to the west-northwest.
The aviation alert code is orange
Source: KVERT
In Turrialba, ash emissions have continued on October 20, reaching about 500 meters up the crater and characterized by a permanent tremor of moderate amplitude and intervals of relative calm. Ash falls were reported on Guapiles, Moravia and siquires.
On October 21, the amplitude of tremor is not constant, and the plume of gas and steam is maintained below 500 meters above the crater.
Source : RSN
Turrialba - earthquake of 21/10/2016; and cameras maintenance visit to the crater by RSN teams - one click to  enlarge
An overview of two active volcanoes in the avenue of the Ecuadorian volcanoes was achieved by IGEPN on October 17; The comments were posted yesterday.

In Cotopaxi, a series of landslides, caused by glacial melt marks the western flank of the volcano over 5,200 meters asl. The measures by the thermal camera shows a sidewall temperature decrease from previous measures.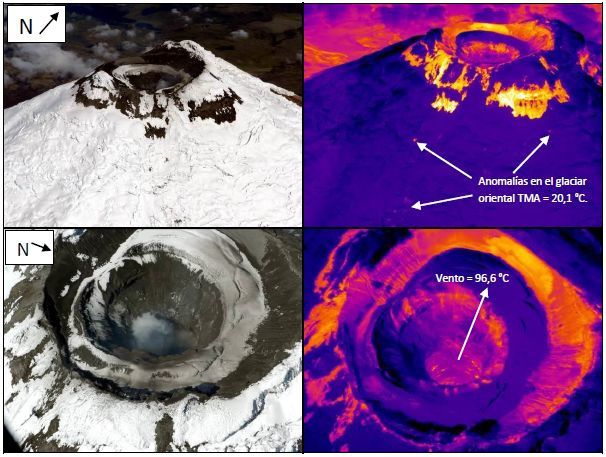 Cotopaxi - temperature measurements by the thermal camera and correspondence with images in natural light - photos and thermic images Almeida, P. Ramón / IGEPN
In the Tungurahua, thermal images reveal that the maximum effective temperature values ​​are located inside the crater, reaching 51.3 ° C. Fumaroles of southwest and south sides respectively have temperatures of 31.9 and 38.2 ° C.
Those of fumarolic fields located at the inner edge of the north peak of the volcano are between 37.1 and 22.6 ° C.

Source: report IGEPN 21/10/2016

Tungurahua - temperature measurements by the thermal camera and correspondence to images in natural light - photo and thermic image Almeida / IGEPN
SERNAGEOMIN reports a low-energy ash drive to Nevados de Chillan on 21/10/2016.
For your viewing pleasure, Etna offer us some beautiful lenticular clouds on October 21, and a snow-covered peak.